The latest round of pro-Trump rallies are slated to take place on January 6—the day Congress will certify Joe Biden's win—prompting a swath of street closures downtown on Tuesday and Wednesday.
Closures extend from 3rd Street NW to 18th Street NW, and from L Street NW to Independence Ave SW—a massive blockade that basically stretches from the Capitol to the Tidal Basin, and from Farragut Square to slightly past the Mall.
In short, car travel in the heart of DC will be next to impossible for two days this week. DC Mayor Muriel Bowser is recommending people stay away. There are, indeed, plenty of reasons to avoid engaging with demonstrators.
Take a look at MPD's map of street closures, marked in purple: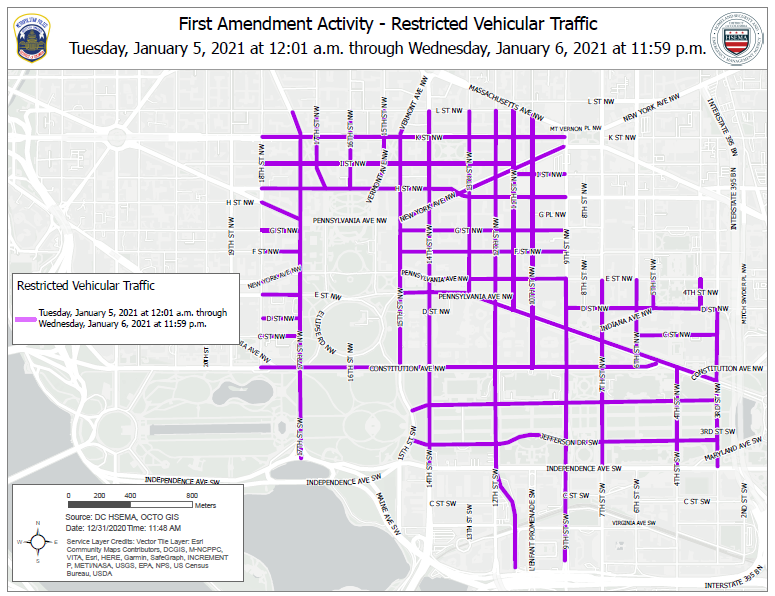 The full list of street closures:
Constitution Avenue from Pennsylvania Avenue to 18th Street, NW
K Street from 9th Street, NW to 18th Street, NW
I Street from 9th Street, NW to 18th Street, NW
H Street from 9th Street, NW to 18th Street, NW
New York Avenue from 9th Street, NW to 15th Street, NW
New York Avenue from 17th Street, NW to 18th Street, NW
G Street from 9th Street, NW to 15th Street, NW
G Street from 12th Street, NW to 15th Street, NW
G Street from 17th Street, NW to 18th Street, NW
F Street from 9th Street, NW to 15th Street, NW
F Street from 12th Street, NW to 15th Street, NW
F Street from 17th Street, NW to 18th Street, NW
E Street from 9th Street, NW to 15th Street, NW
E Street from 17th Street, NW to 18th Street, NW
D Street from 5th Street, NW to 9th Street, NW
D Street from 17th Street, NW to 18th Street, NW
C Street from 3rd Street, NW to 6th Street, NW
C Street from 17th Street, NW to 18th Street, NW
Pennsylvania Avenue, NW from 3rd Street, NW to 15th Street, NW
Pennsylvania Avenue, NW from 17th Street, NW to 18th Street, NW
Indiana Avenue from 3rd Street to 5th Street, NW
3rd Street from Independence Avenue, SW to D Street, NW
4th Street from Independence Avenue, SW to Pennsylvania Avenue, NW
4th Street from Indiana Avenue, NW to E Street, NW
5th Street from Indiana Avenue, NW to E Street, NW
6th Street from Constitution Avenue, NW to E Street, NW
7th Street from Independence Avenue, SW to E Street, NW
9th Street from Constitution Avenue, NW to E Street, NW
10th Street from Constitution Avenue, NW to L Street, NW
11th Street from Pennsylvania Avenue, NW to L Street, NW
12th Street from Constitution Avenue, NW to L Street, NW
13th Street from Pennsylvania Avenue, NW to L Street, NW
14th Street from Independence Avenue, SW to L Street, NW
15th Street from Independence Avenue, SW to L Street, NW
16th Street from H Street, NW to L Street, NW
Vermont Avenue from H Street, NW to L Street, NW
Connecticut Avenue from H Street, NW to L Street, NW
17th Street from Independence Avenue, SW to L Street, NW
Madison Drive from 3rd Street, NW to 15th Street, NW
Jefferson Drive from 3rd Street, SW to 15th Street, SW
12th Street Tunnel
9th Street Tunnel
Here's MPD's map of no-parking zones: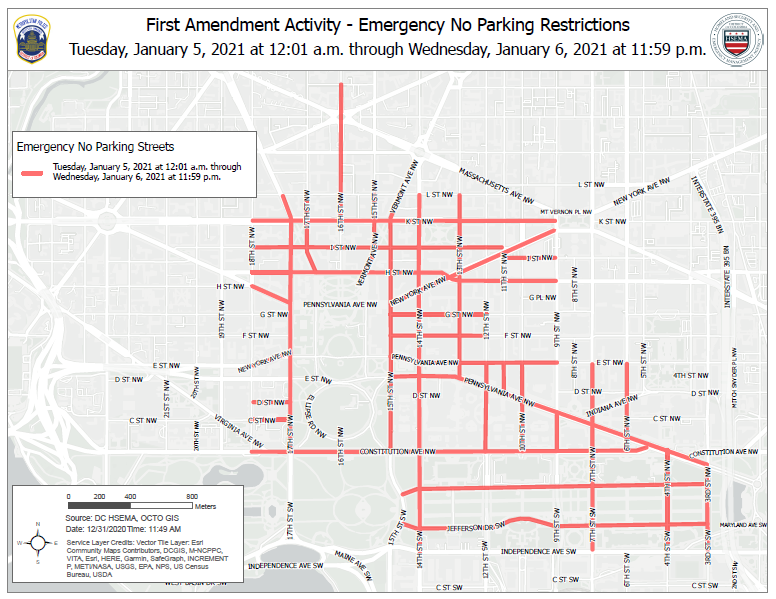 The full list of no-parking areas:
Constitution Avenue from Pennsylvania Avenue, NW to 18th Street, NW
Pennsylvania Avenue from 3rd Street, NW to 18th Street, NW
E Street from 9th Street, NW to 15th Street, NW
F Street from 12th Street, NW to 15th Street, NW
G Street from 12th Street, NW to 15th Street, NW
I Street from 9th Street, NW to 15th Street, NW
I Street from 17th Street, NW to 18th Street, NW
H Street from 9th Street, NW to 15th Street, NW
H Street from 17th Street, NW to 18th Street, NW
K Street from 9th Street, NW to 18th Street, NW
New York Avenue from 9th Street, NW to 15th Street, NW
17th Street from Constitution Avenue, NW to L Street, NW
(west side of Farragut Square)
15th Street from Constitution Avenue, NW to L Street, NW
(east side of McPherson Square)
16th Street from K Street, NW to O Street, NW
14th Street from Independence Avenue, SW to L Street, NW
13th Street from Pennsylvania Avenue, NW to L Street, NW
12th Street from Constitution Avenue, NW to E Street, NW
11th Street from Pennsylvania Avenue, NW to E Street, NW
10th Street from Constitution Avenue, NW to E Street, NW
9th Street from Constitution Avenue, NW to Pennsylvania Avenue, NW
7th Street from Independence Avenue, SW to E Street, NW
6th Street from Constitution Avenue, NW to E Street, NW
4th Street from Independence Avenue, SW to Pennsylvania Avenue, NW
3rd Street from Independence Avenue, SW to Pennsylvania Avenue, NW
New York Avenue from 18th Street, NW to 17th Street, NW
C Street from 18th Street, NW to 17th Street, NW
D Street from 18th Street, NW to 17th Street, NW
Madison Drive from 3rd Street, NW to 15th Street, NW
Jefferson Drive from 3rd Street, SW to 15th Street, SW