Steve Goldberg and Irene Cramer purchased their Hill East condo in 2020. The couple, both retired lawyers—Goldberg is 68 and Cramer is 66—were looking to downsize from their home in the New Jersey suburbs, and knew they wanted to move into a DC condo in a building with amenities, concierge service, storage, and parking (plus, it had to be pet-friendly so Georgie, their 6-year-old Goldendoodle, could move in, too). Also important: finding a location with a neighborhood feel, walkability, and Metro access. "This condo checked all the boxes," says Goldberg of the two-bedroom, two-bathroom, 1,300-square-foot spot.
The couple did a gut renovation of the unit before moving in and worked with their daughter, interior designer Hannah Goldberg of Hannah Charlotte Interiors, to create a new space influenced by their collection of art, furniture, and rugs. "The goal of the renovation was to create a neutral yet crisp and contemporary backdrop to let our [things] really shine," says Goldberg.
Here, we chat with Goldberg about the condo: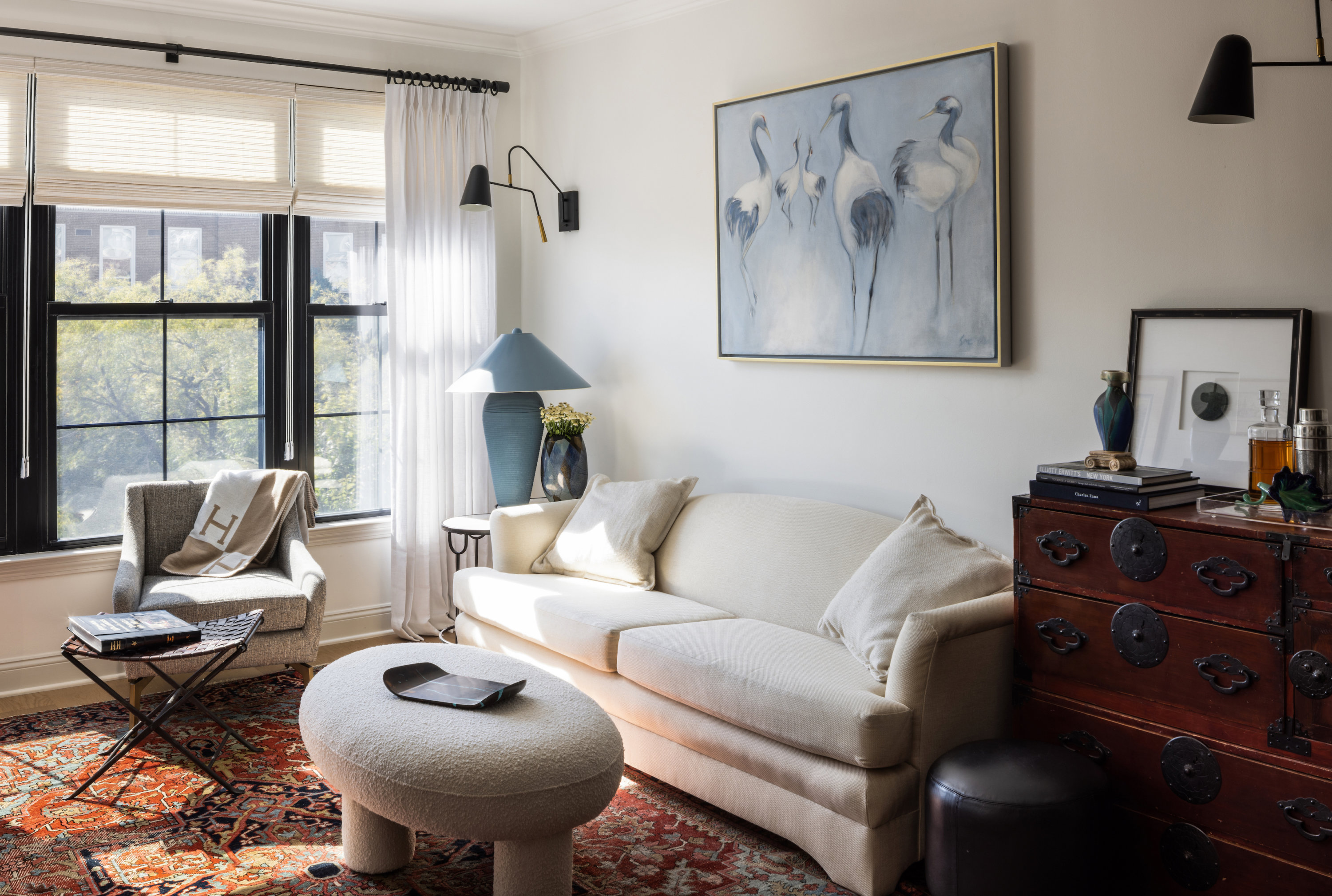 What was your inspiration for the home's aesthetic?
"Our daughter, Hannah, was inspired by our authentic heirloom Persian rugs to create the decorating scheme for the unit. We paired creams, greiges, and light blues with rich wood, dark stone, and mixed-metal hardware to highlight and amplify the rug and the furniture scheme.
"When furnishing the space, the goal was to create a layered and curated yet uncluttered feel by pairing our existing craftsman, mid-century, and East Asian furnishings, rugs, and art pieces with more contemporary, sculptural pieces, such as the bouclé ottoman, natural steel living room shelves, and the new primary bedroom Crate & Barrel winged bed.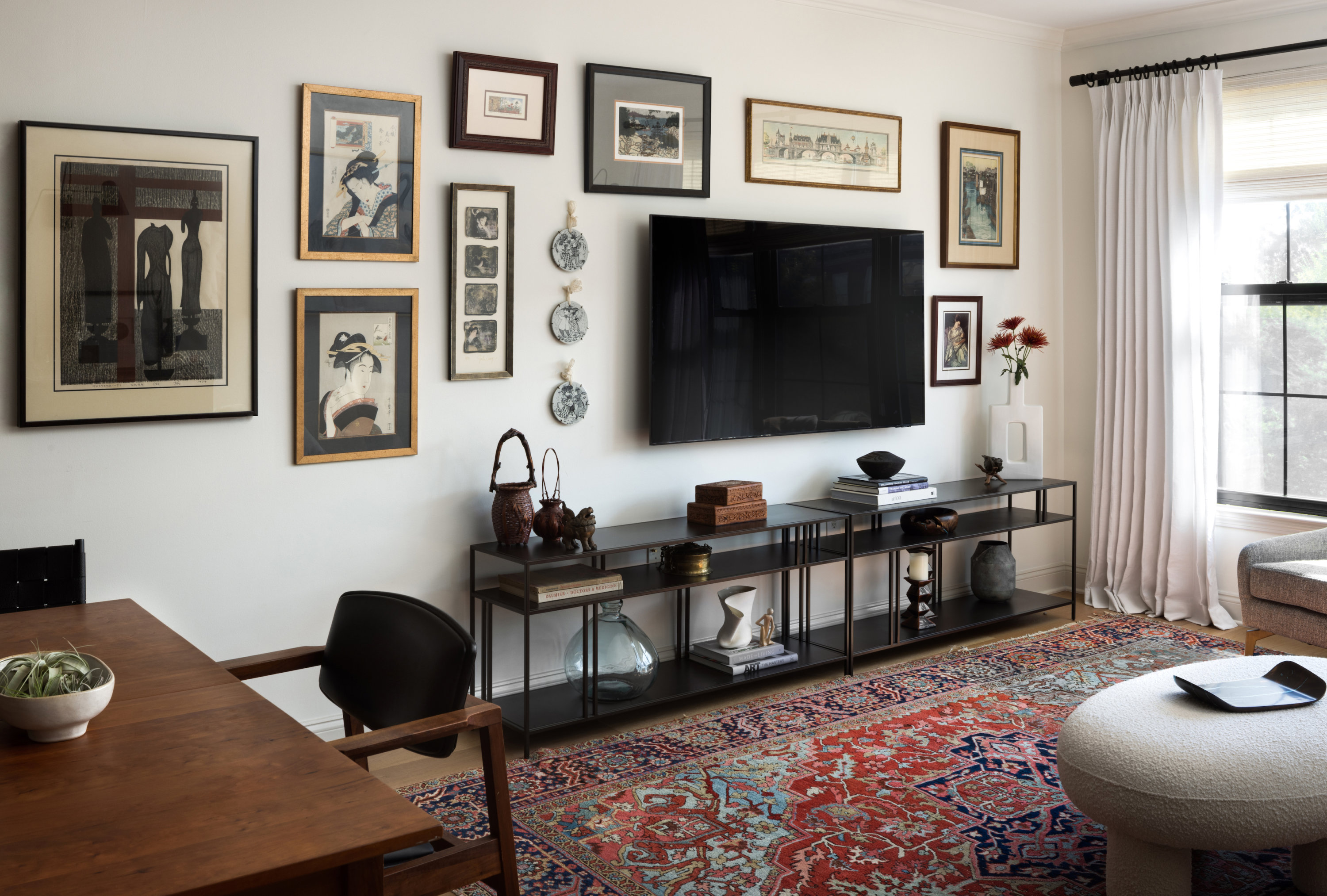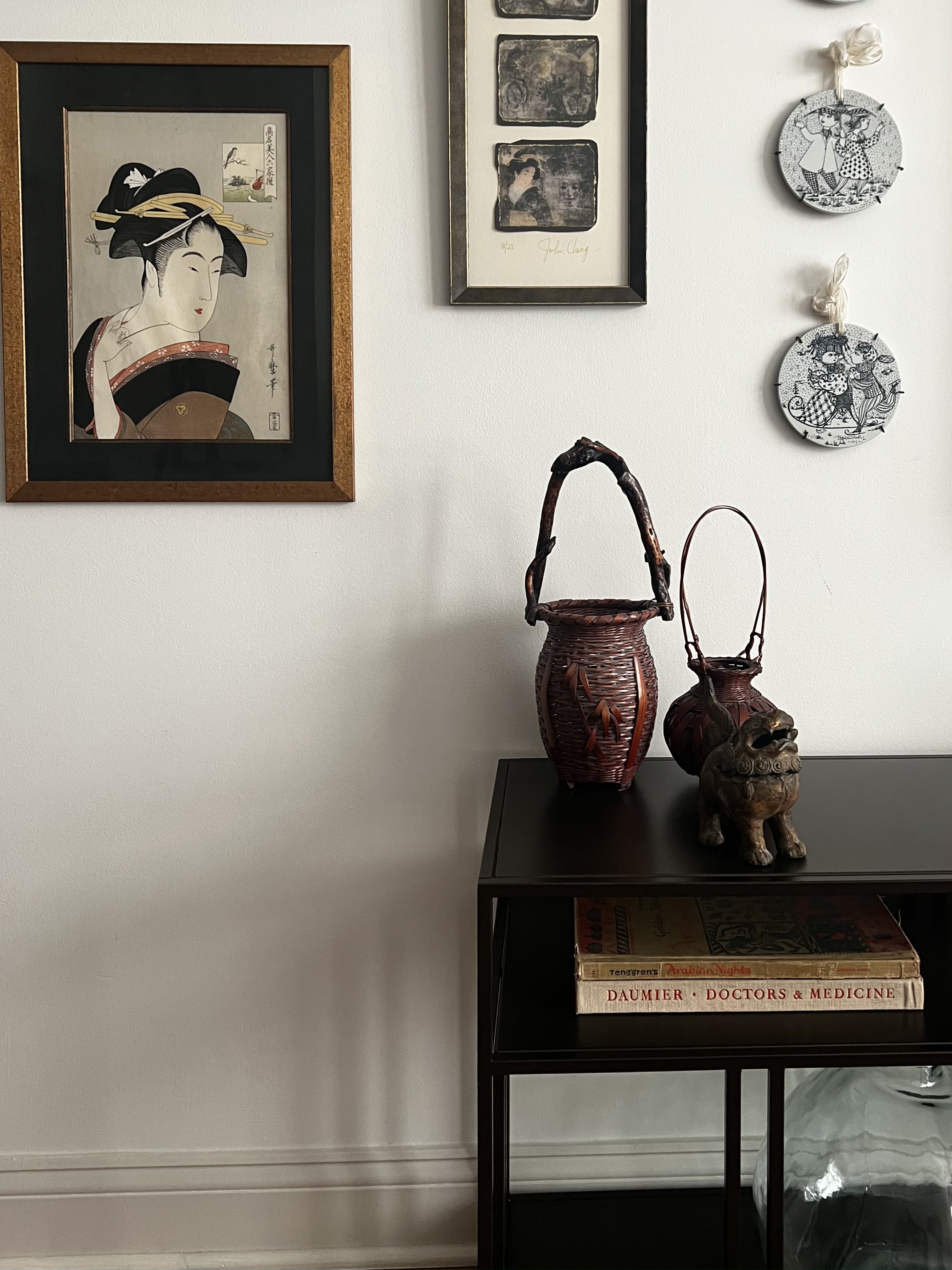 What's the biggest splurge you purchased for your home?
"The custom window treatments. Our unit faces due south, and we get a lot of direct sunlight. We are also on the third floor opposite a busy charter school. We love the flexibility of our Hunter Douglas top-down, bottom-up shades to create the right level of privacy, comfort, and light. Additionally, the woven wood was an important, albeit subtle, added layer of texture to the space. Because of our high ceilings, we paired these with custom linen drapes from Fabricut to add softness to the space.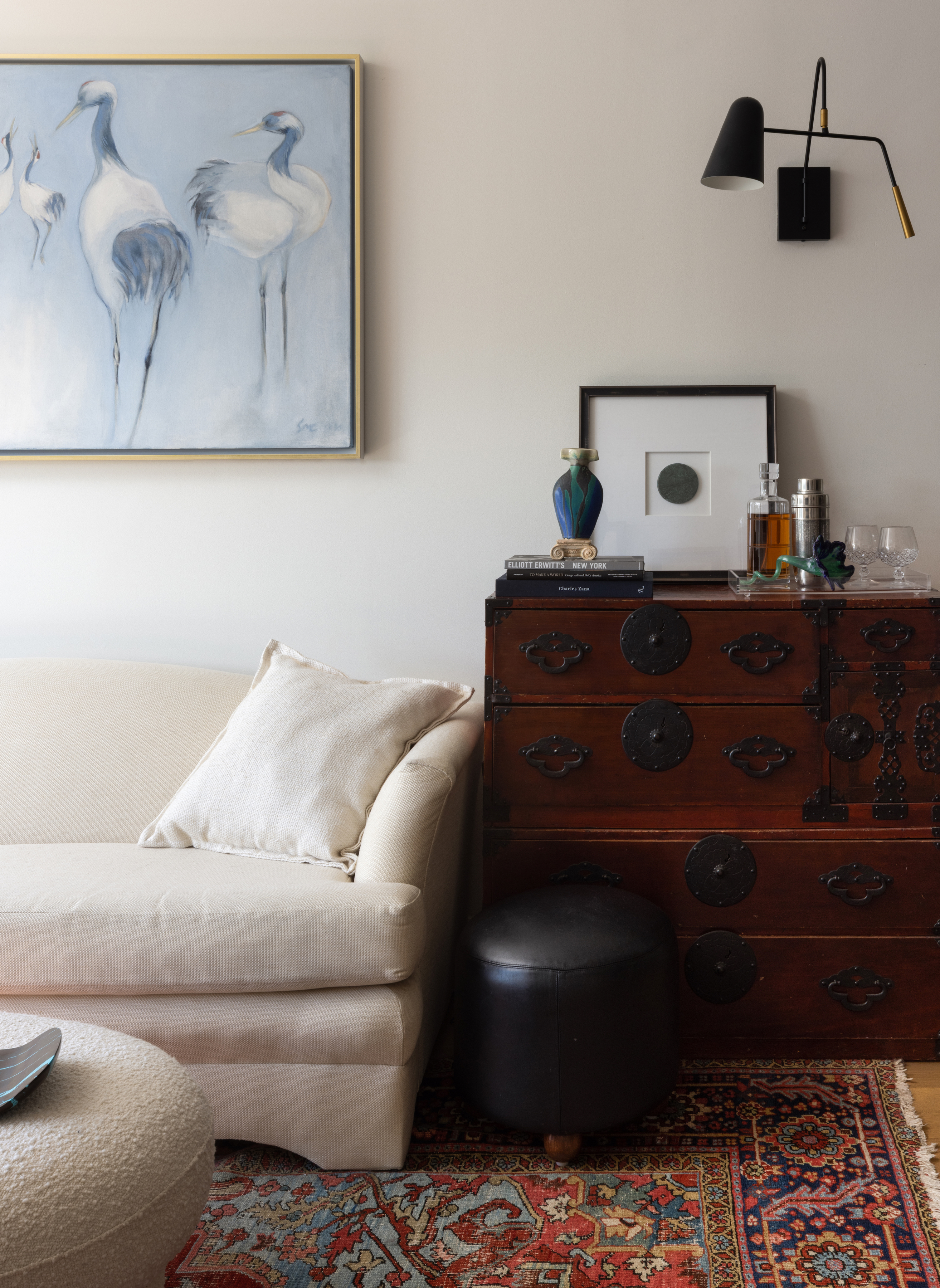 What's the best deal you've received on an item for your home? 
"The kitchen pendants were an amazing find. Hannah sourced them from a sidewalk sale from another local DC design firm, Lisa & Leroy.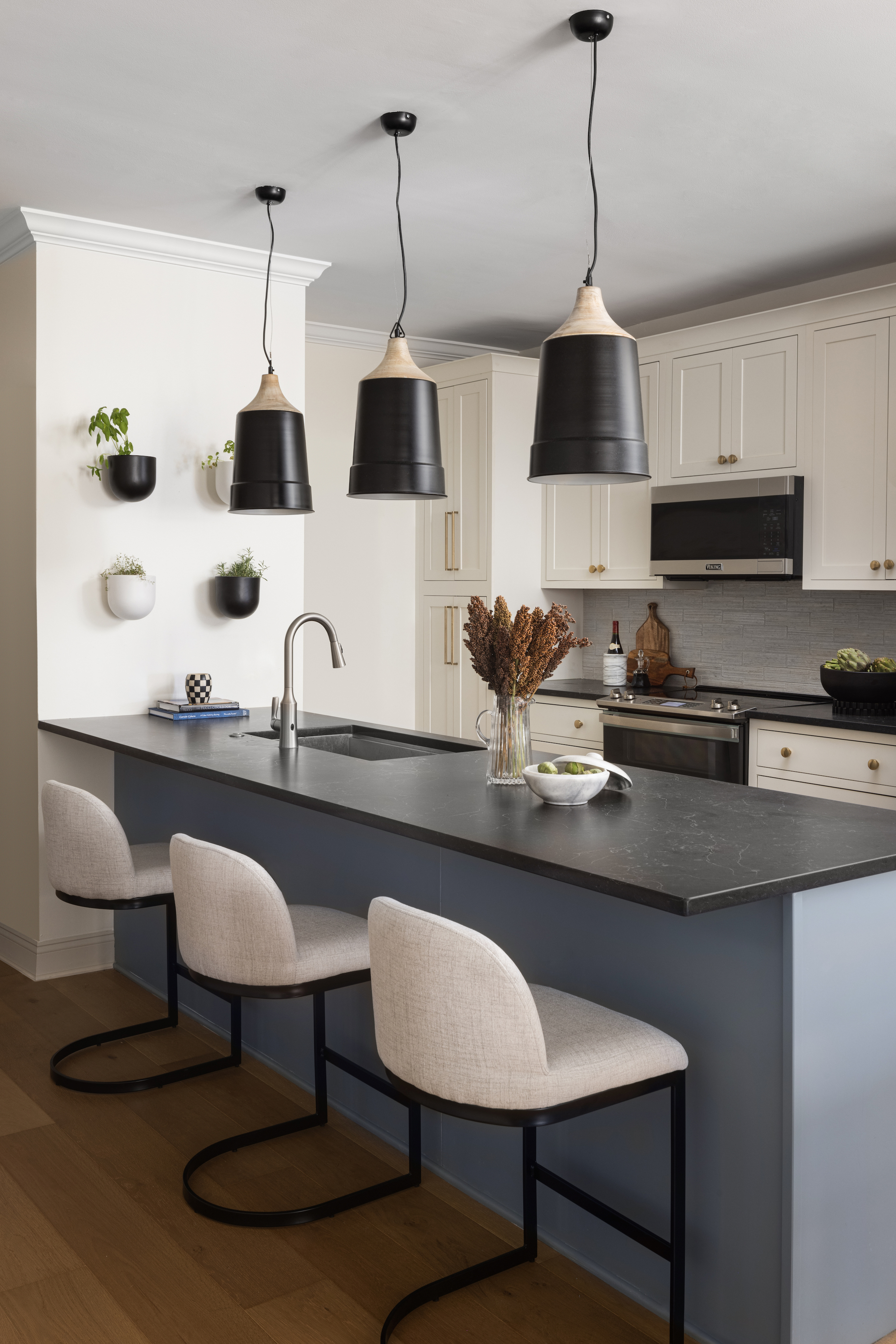 What renovations did you do to the home?
"We treated the unit as a blank slate and essentially underwent a gut renovation. We installed new wide-plank hardwood flooring: We removed an awkward transition from wood to tile at the kitchen and ran the wood lengthwise in the unit to visually enlarge the space.
"We also installed a completely new kitchen and updated the cabinetry, countertops, appliances, and backsplash tile. A lot of thought went into the space-planning to maximize its usability: We enlarged the island to extend it to the side wall and create a galley-style kitchen with lots of counter space and room for guests, added height to the upper cabinets for extra storage, and replaced the former pantry with cabinetry.
"Our primary bathroom renovation was equally important. The previous finishes were dated and the shower felt cramped. Hannah suggested lowering the knee wall and relocating the frameless shower glass to create a built-in shower bench—it's a vast improvement. Using bright, oversized wall tiles with horizontal stripes helps make the bathroom feel even larger.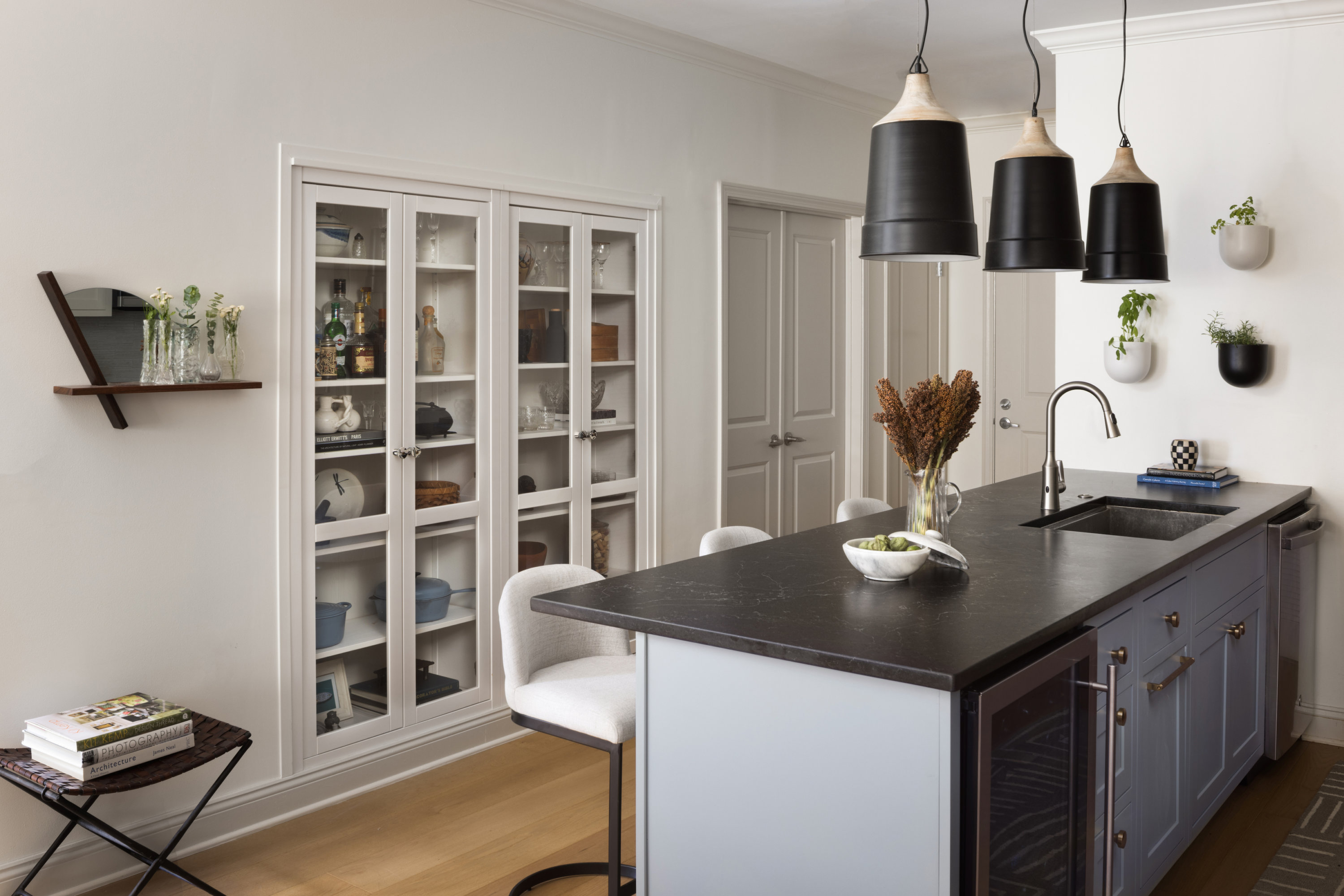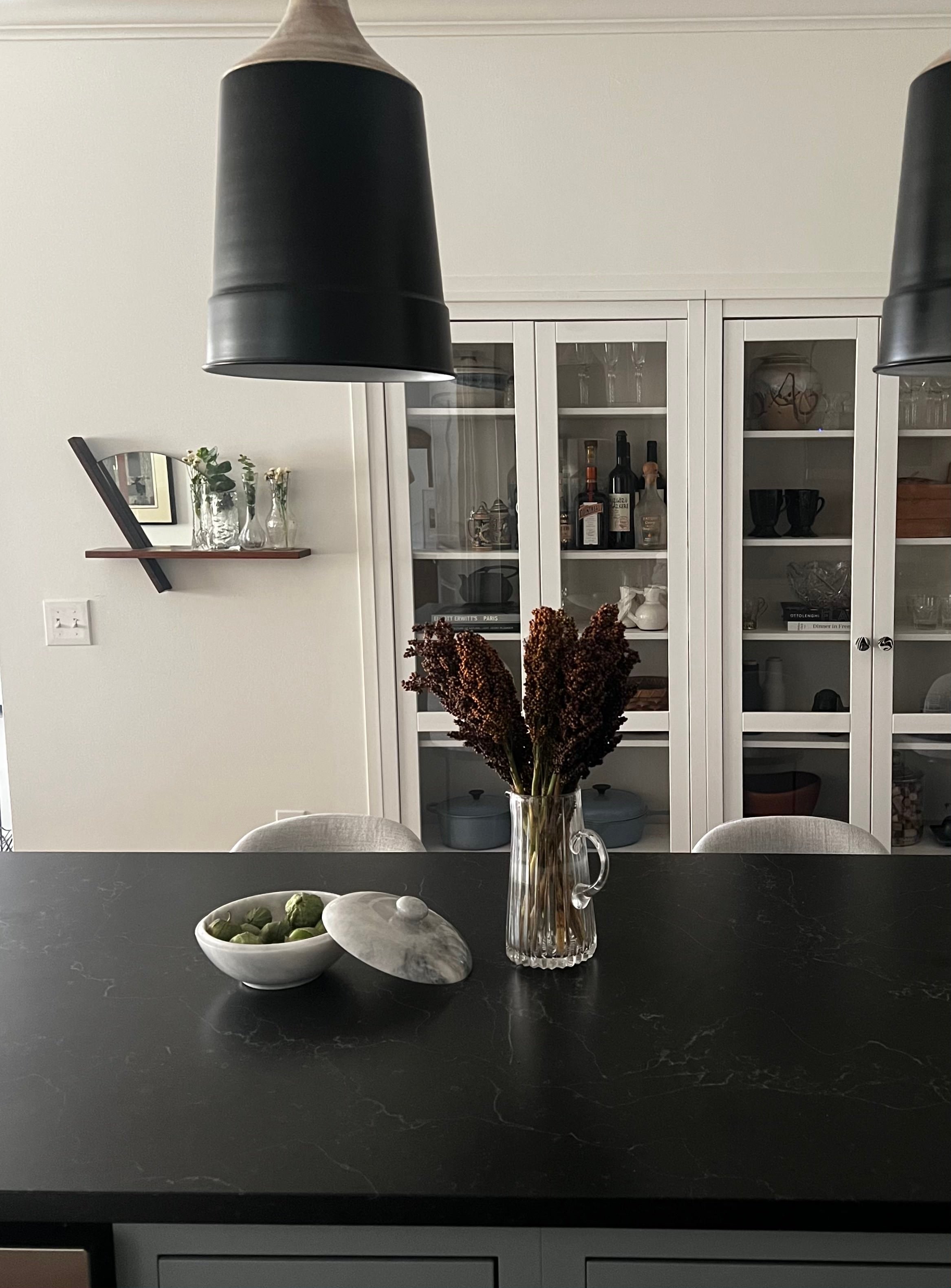 What DIYs did you do in the home?
"Not a DIY, per se, but we integrated a clever Ikea hack in the renovation. Hannah worked closely with the building engineer to reroute several water lines to take space from the den and the guest bathroom to dedicate to a built-in china cabinet. Instead of having expensive custom millwork and glass installed, we designed the unit using Ikea Pax cabinets framed with moldings to integrate it into the space.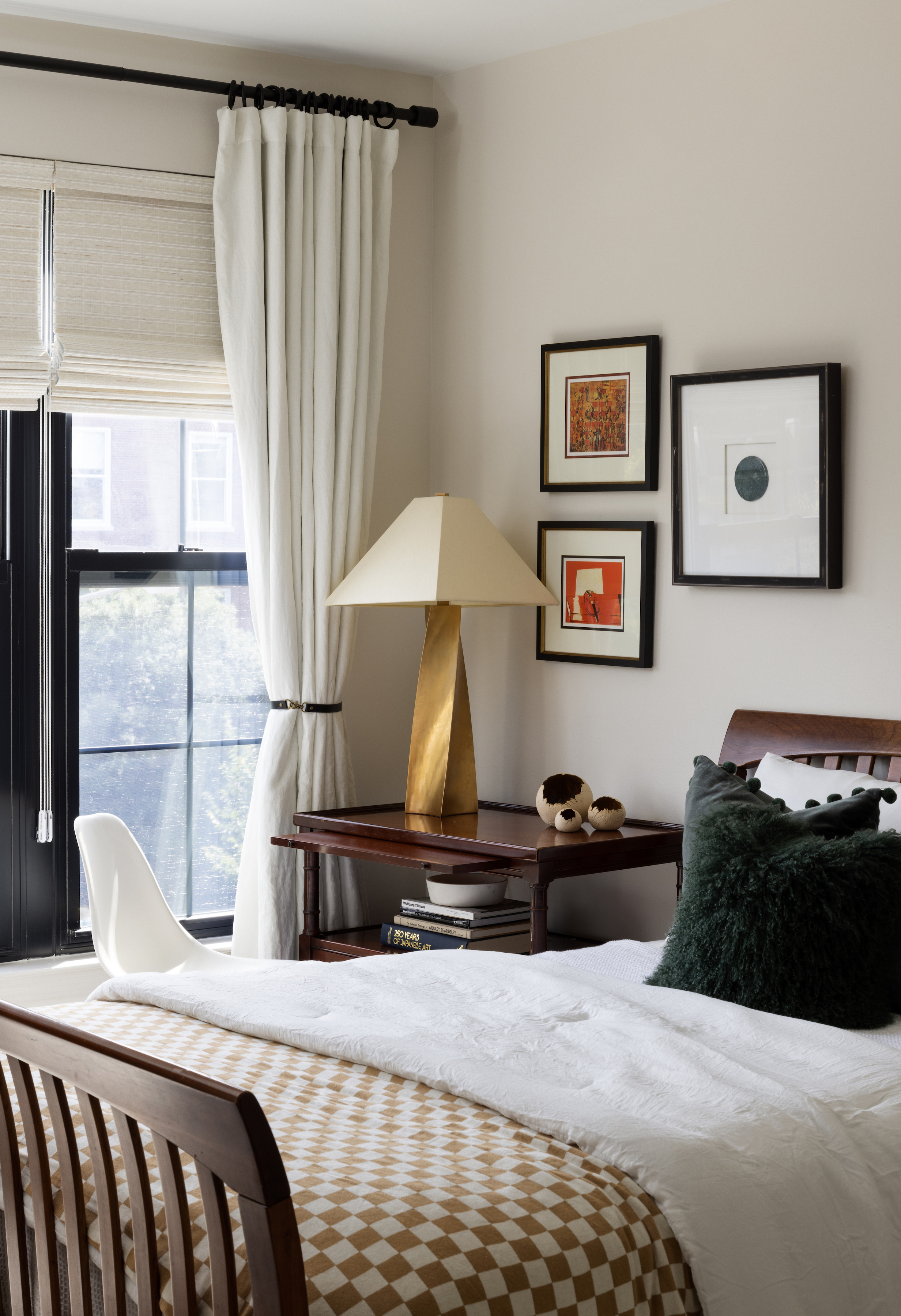 What's your favorite part of the house?
"We love the living room gallery wall; it allows us to showcase art collected and commissioned over the years that mean a lot to us: a Kiyoshi Saito original print from 1959 that Irene's parents brought back from Japan when her father was stationed there in the foreign service, as well as a wood block print of a mother and baby we purchased at a craft fair from a Baltimore artist, Janice Cline, to commemorate Hannah's birth.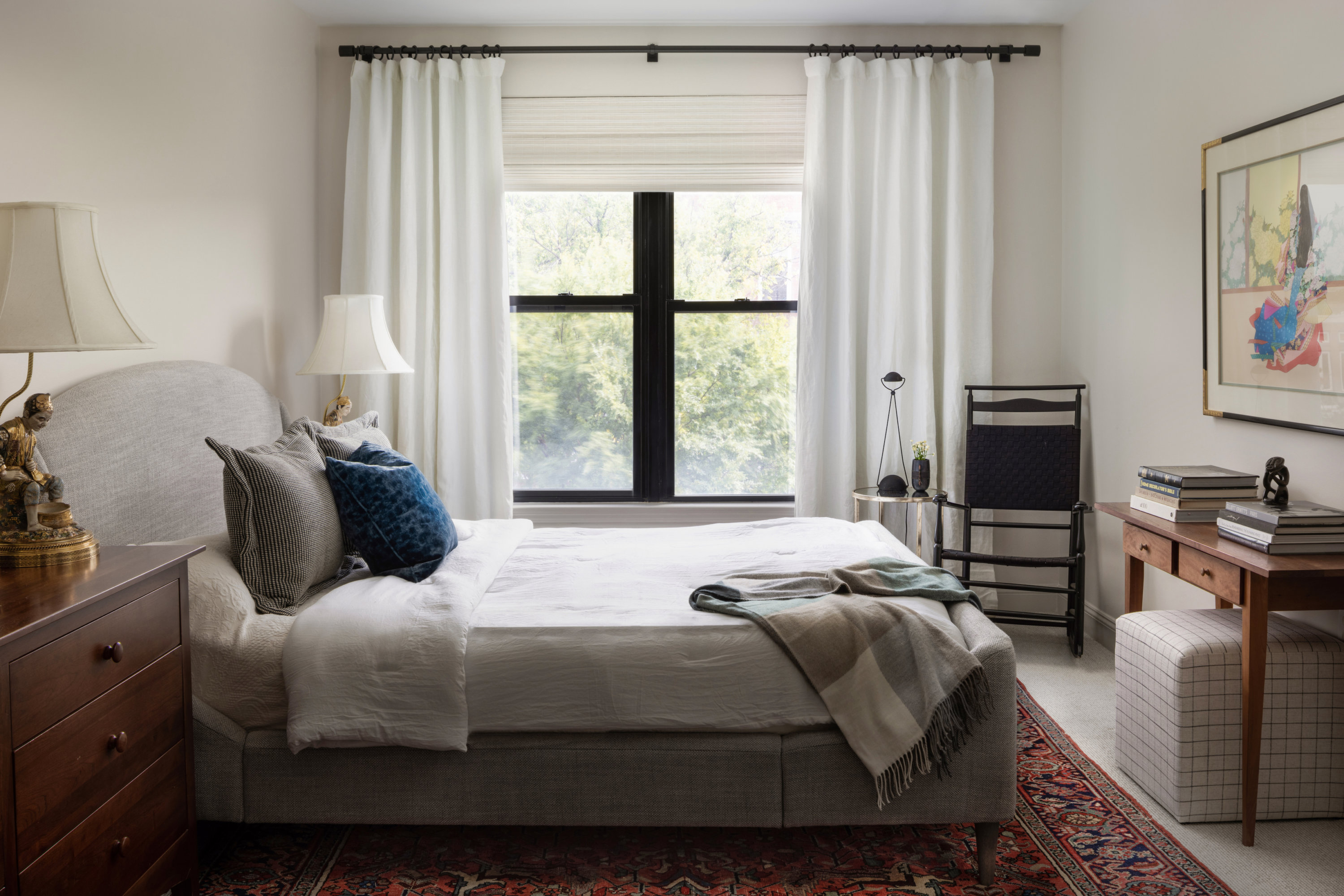 What's your favorite item in your home?
"I would say my built-in wine refrigerator, but if my wife and I had to agree on a piece with more history, then it's our Japanese Tansu chest. We purchased this antique from an estate sale while living in our home in Evanston, Illinois, and it's moved with us across several homes. Beyond being a beautiful antique that adds richness to a space, it serves many purposes: a sofa side table, a display console, and valuable linen storage for the dining area.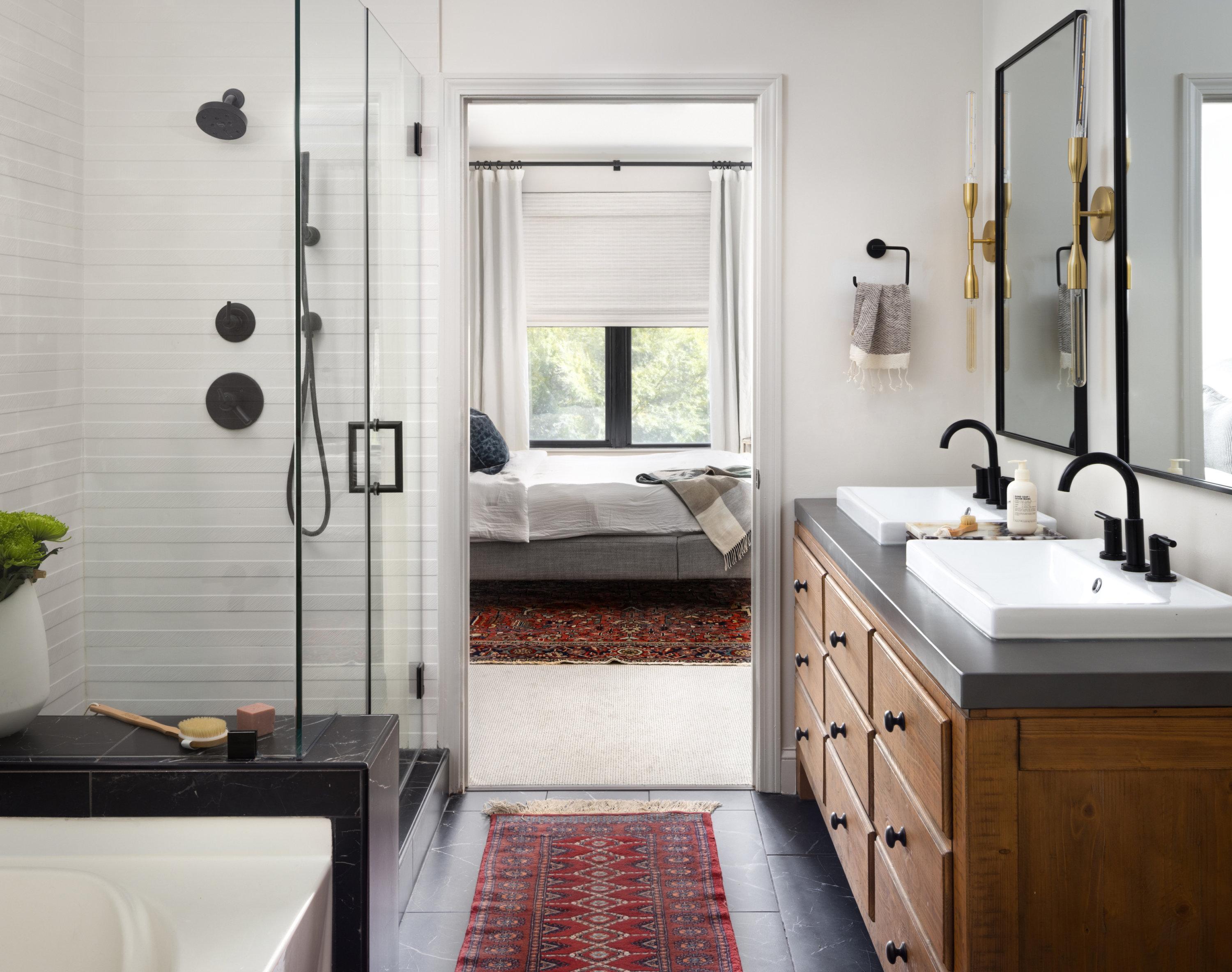 What's your favorite thing to do in your home?
"We have always loved to cook, but didn't often have the time during our working lives. So we have been able to re-explore our love of cooking and have even started baking. We're really enjoying discovering new recipes, using our double oven, and taking advantage of the variety and freshness of foods from the amazing vendors at nearby Eastern Market.
"Georgie says her favorite activity is to appropriate our new living room chair and intently watch the squirrels and passing dogs on the street below.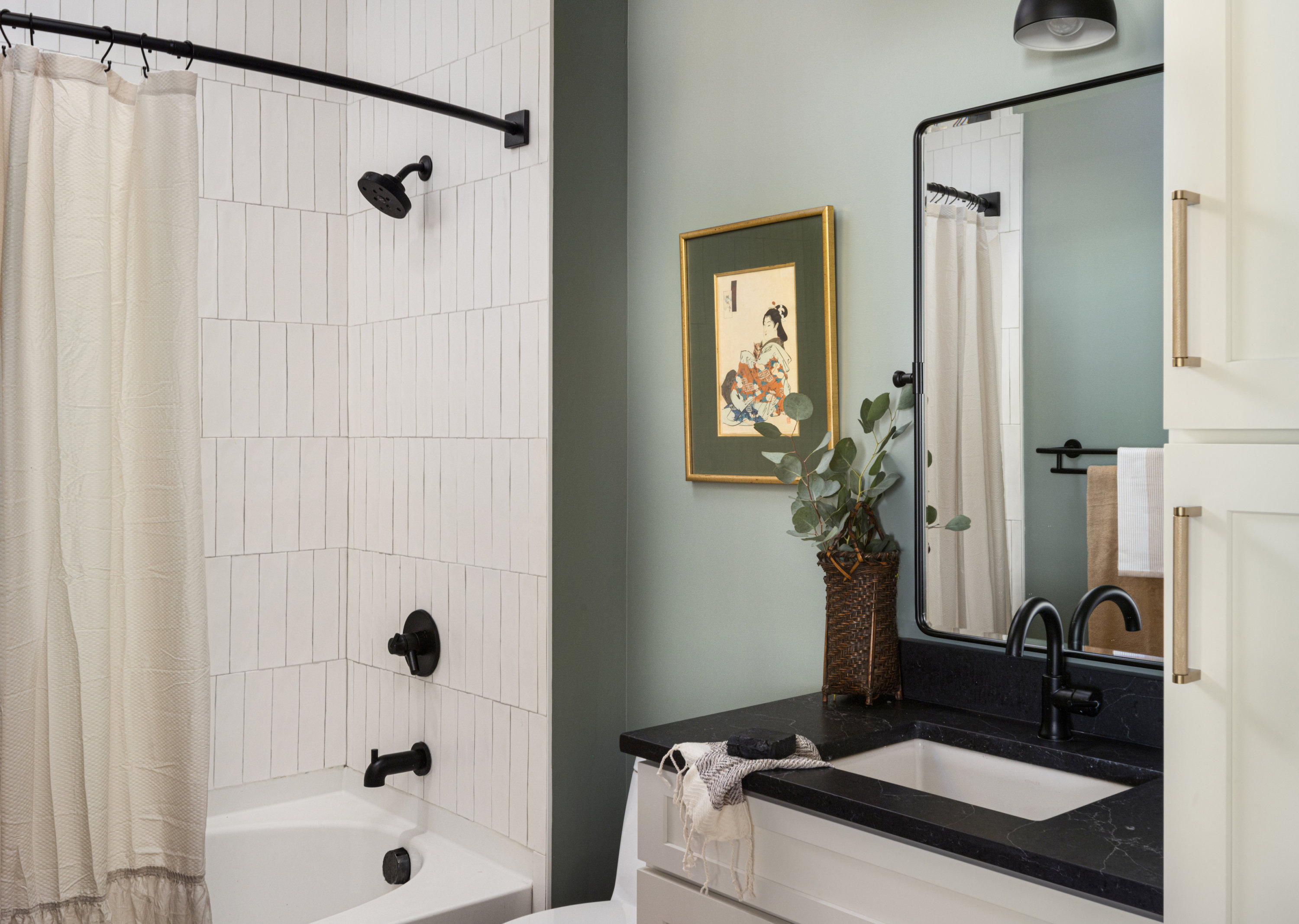 Who would your top three dream guests be for a dinner party at your home?
"Ken Burns, Michelle Obama, and William Shakespeare."
This interview has been edited and consolidated for clarity.