It seems that JD Vance has purchased a home in the Del Ray neighborhood of Alexandria.
Yesterday, Politico's Daniel Lippman reported that the Ohio Republican senator had snagged a house in an Alexandria "liberal enclave." Jen Walker, a real estate agent who works in Del Ray and is well-versed in the area's deals, says the senator recently bought a standalone home in the neighborhood. The house in question was purchased for over $1.6 million by an LLC.
When contacted, the listing agent associated with that property wouldn't comment on whether Vance purchased it; however, they did say the offer was all-cash. The buyer's agent didn't respond to request for comment.
You might remember that Washingtonian predicted the senator and Hillbilly Elegy author, who is a staunch Trump supporter, would move to McLean as a sort of safe haven (55 percent of McLean's precinct voted for Trump in the 2020 election). 
Looks like we could be wrong. But why would Vance choose Del Ray? Of course, it's a highly sought-after neighborhood close to DC with a charming strip of shops and restaurants and a close-knit, family-friendly feel. But it's also overwhelmingly left-leaning—stroll around and you're likely to see more rainbow flags and "In this house, we believe…" signs than mailboxes.
But Vance seems to have a history of purchasing in liberal areas: His $1.4 million, 5,000-square-foot Cincinnati home is apparently located in a left-leaning neighborhood called East Walnut Hills, according to Slate. The outlet describes it as "adorned with Pride flags" and filled with coffee shops selling "nut-free granola out of consideration for allergies" that advertises "its organic ingredients are delivered in electric vehicles." All this to say—not exactly the kind of setting you'd expect to find someone who makes regular appearances on Fox News.
And, as you might anticipate from such a liberal neighborhood, it doesn't seem Del Ray's residents are exactly rolling out the red carpet for Vance. In fact, a local artist and longtime neighborhood resident, who wanted to remain anonymous to avoid online retaliation, recently "yarn-bombed" the area outside the house supposedly belonging to Vance.
Along with their knitting community, the artist created and strung trans and bi Pride flags, a strip of rainbow crochet, and a sign reading "Respect Our Rights" around a utility pole, sign post, and tree outside the home.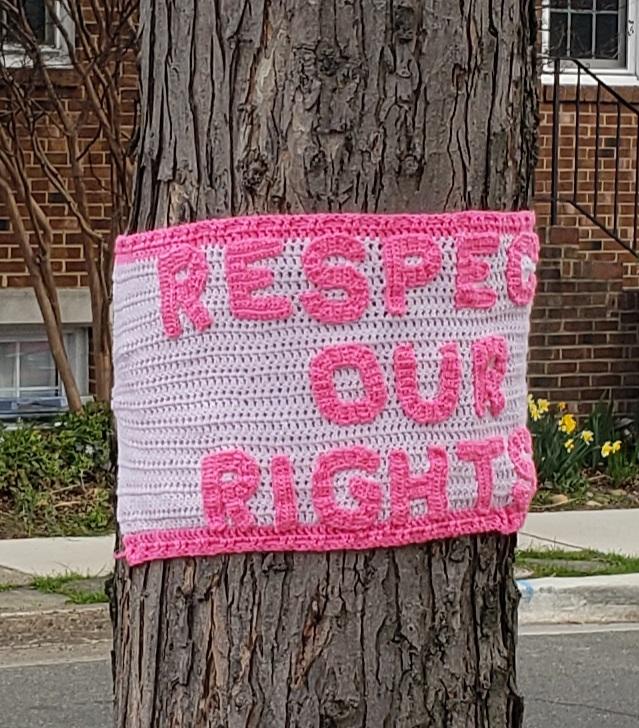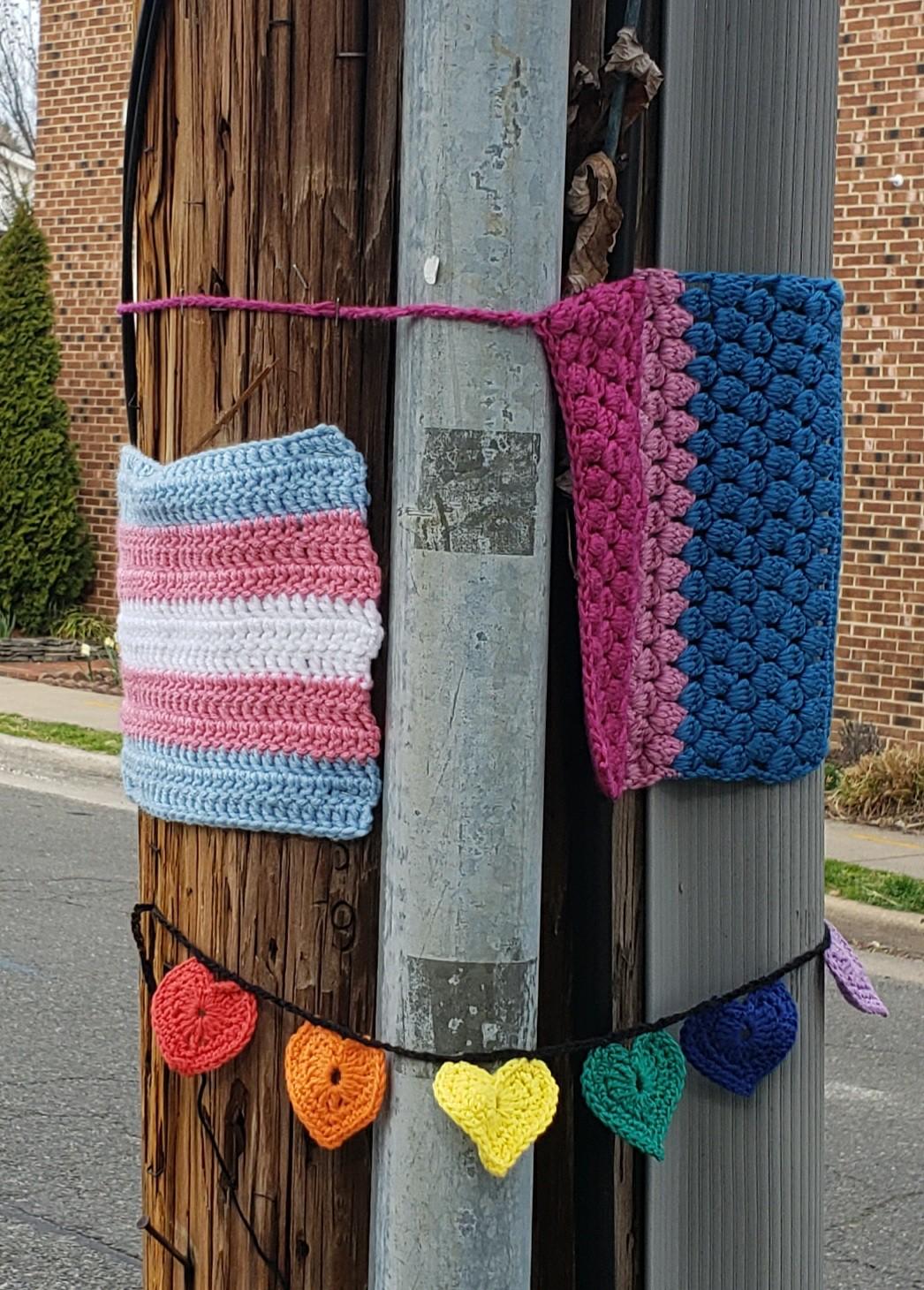 "I'm not the only person who was sort of baffled and, to be honest, a bit dismayed that someone who had so vocally expressed contempt for the kinds of people who live here and the kind of values that we hold had decided to be our neighbor," says the artist. "Knowing that this person has been really publicly antagonistic to LGBTQ people, to immigrants, to women's rights—it felt appropriate to publicly declare what we stand for in this community."
The artist understands some might argue that yarn-bombing a house supposedly belonging to someone with opposing beliefs is, in turn, a kind of intolerance. But they don't believe the balance is equal in that argument—someone making signs out of yarn versus a national politician making comments about trans kids and immigrants. "There's a big difference."
It's not unusual to see acts of protest outside of right-leaning politicians' homes in the DC area, where the majority of residents veer left, especially in today's highly politicized climate. See: people gathering outside of Supreme Court Justice Brett Kavanaugh's Chevy Chase home, Republican Senator Josh Hawley's Virginia home, and former Vice President Mike Pence's rental.
Will that happen in Del Ray? Maybe, says the artist—they've heard rumblings about residents wanting to host a Pride parade outside Vance's supposed home.