Watching a movie outside is a classic summer activity. Whether you're bringing a lawn chair or driving up to the screen, here's where to catch a flick outdoors in the Washington region. Did we miss one? Please let us know by sending an email to tbasile@washingtonian.com.
DowntownDC Summer Flicks
1332 I St., NW
DJs play tracks to accompany films in Franklin Park during DowntownDC's Monday movie series. Upcoming films: Black Panther: Wakanda Forever and The Hunger Games. Details: Free. Reserve tickets here. 
National Harbor 
165 Waterfront Street, National Harbor 
For waterfront screenings, head to National Harbor twice a week. Thursdays feature date night flicks and Sundays are for family-friendly films. Upcoming films: Jurassic World Dominion and Up. Details: Free. View schedule here.
Drive-In at Union Market
1309 5th St., NE
Park your car (or a chair) in the lot at Union Market on Fridays for an outdoor show. Movie theater snacks get an upgrade with goods from Union Market vendors, including kebabs from Yasmine, Suburbia cocktails, and cones from the the Creamery. Upcoming films: King Richard and Clueless. Details: $20 per car, free on foot. Reserve tickets here. 
Cinematery
1801 E St., SE
Spooky films get a spooky backdrop during Congressional Cemetery's "Tim Burton: The Summer of Surreal" movie series. Settle in among the headstones with your own blanket, food, and alcohol. Film screenings take place on the first Friday of the month from June until September. Upcoming films: Alice in Wonderland and Nightmare Before Christmas. Details: Recommended $10 donation. Reserve tickets here. 
CiNoMatic
227 Harry Thomas Way, NE
Unroll a blanket in Alethia Tanner Park every Wednesday until June 7. The theme of this year's movie series is "Villains We Love." Upcoming films: Men in Black and The Devil Wears Prada. Details: Free. Register here. 
Adams Morgan Movie Nights
2201 18th St., NW
Looking for a laugh? Comedy is the genre of choice for films screening outside Marie Reed Elementary School, and prior to each screening, a local comedian will warm up the crowd with a set. Upcoming films: The Birdcage and Bridesmaids. Details: Free. View schedule here.
Audi Field 
100 Potomac Ave., SW
Catch kid-friendly movies at Audi Field while sitting on the soccer pitch. Showings take place once a month on select Thursday. Upcoming films: Puss in Boots: The Last Wish and Minions: The Rise of Gru. Details: Free. Reserve tickets here.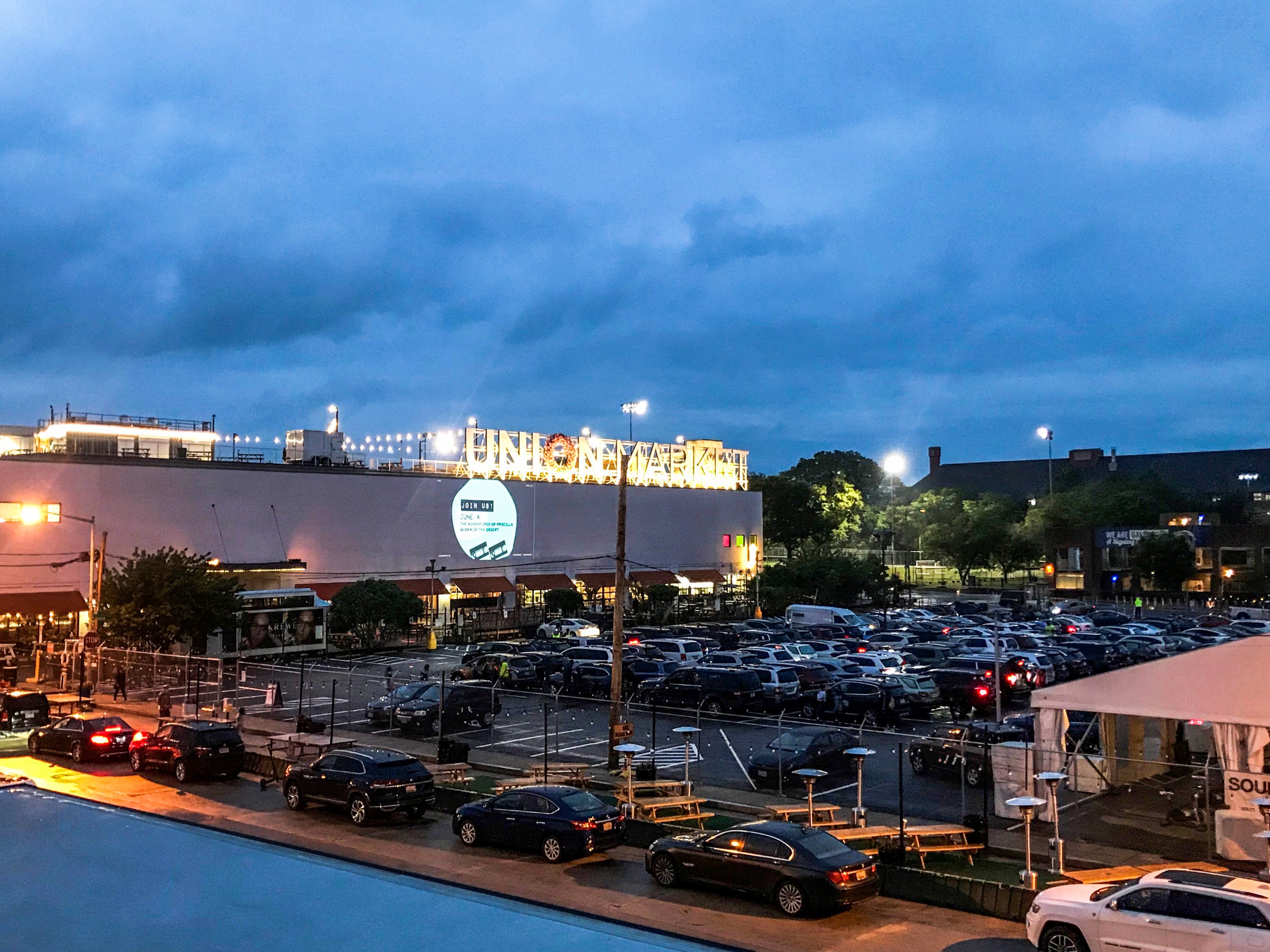 Films at the Stone
964 Independence Ave., SW
Located at the Martin Luther King Jr. Memorial, Films at the Stone is the only film series held at a National Mall memorial. Guests are encouraged to bring their own snacks, blankets, and lawn chairs to watch movies with characters fighting for justice. Upcoming films: Avatar: The Way of the Water and The Woman King. Details: Free. View schedule here. 
The Reach at the Kennedy Center 
2700 F St., NW
Head to the Kennedy Center every Friday until September 1 for films projected onto the Reach's massive video wall. Upcoming films: Indiana Jones: Raiders of the Lost Ark and A League of Their Own. Details: Free. View schedule here.
Bengies Drive-In Theater
3417 Eastern Blvd., Middle River
Looking for not just a big screen, but the biggest possible screen? Bengies offers the largest movie theater screen in America. Make sure you arrive early: No one is allowed in after the box office closes. Upcoming films: Guardians of the Galaxy and Spider-Man: Across the Spider-Verse. Details: $4 per vehicle, plus additional $12.50 per adult, and $7 per child. Reserve tickets here. 
Wolf Trap 
1551 Trap Rd., Vienna 
Immerse yourself in a live film score, courtesy of the National Symphony Orchestra. The hybrid movie and music nights take place at the Filene Center, Wolf Trap's outdoor amphitheater, during July. Upcoming films: The Planets and Star Wars: Return of the Jedi. Details: Starting at $42. View schedule here.
UDC Amphitheater 
4200 Connecticut Ave., NW
Find a seat on a wooden bench or get settled on the grass at the UDC Amphitheater. Outside food and drink, including alcohol, are allowed. Upcoming films: Back to the Future and Sister Act. Details: Free. View schedule here. 
Columbia Pike Movie Nights
909 S. Dinwiddie St., Arlington; 2501 9 Rd., Arlington
See free movies at the outdoor plazas of Arlington Mill Community Center on Fridays and Penrose Square on Saturdays from July 7 to August 25. The films are shown in English with Spanish subtitles. Alcohol is not allowed, but leashed pets are welcome. Upcoming films: Spirit Untamed and Star Wars: Episode IV – A New Hope. Details: Free. View schedule here. 
Movies in the Park
Multiple Locations
The outdoor theater rotates between Rockville parks every Wednesday in August. Bring your own chairs, blankets, and snacks. Upcoming films:  The Secret Life of Pets and Cool Runnings. Details: Free. View schedule here.
Outdoor Movies at Westpost
1201 S Joyce St., Arlington
Head to the plaza in Westpost for movie screenings every Wednesday in June. Bring blankets and chairs to picnic, or visit a local restaurants for refreshments. Upcoming films: Charlie and the Chocolate Factory, Teenage Mutant Ninja Turtles. Details: Free. View schedule here.