Go hydro biking
Potomac Ave. SE and First St., SE
Take off the training wheels with Boating in DC and try biking on the water while balancing on two floating rafts. Starting on May 25, rent a hydro bike at Ballpark Boathouse in Navy Yard. The water bicyles are available Thursday through Sunday from 12 PM to 6 PM. Rentals are $18 an hour. 
Picnic on a boat
970 Wharf St., SW
You don't need a boating license to drive a GoBoat (formerly Float DC) at the Wharf. The electric boats go between three and four miles an hour, and can carry up to eight passengers—including your furry friends for an additional fee. Bring snacks and drinks to fuel your ride. Boat reservations are $168 for one hours, available from 8 AM until sunset daily.
Balance on a paddleboard
Multiple locations in DC and Virginia
Test your core strength with an outing on a standup paddleboard. Just south of Alexandria, paddlers can explore Dyke Marsh Wildlife Preserve, which is the largest freshwater tidal wetlands near DC with paddleboards rented from Belle Haven Marina ($25 an hour). Boating in DC rentals are also available in Georgetown, the Wharf, Alexandria, and Fletcher's Cove, starting at $22 an hour.
Travel back in time
201 N Union St., Alexandria
Climb aboard the Tall Ship Providence in Alexandria to learn about the life of a sailor in the Revolutionary War. Guides are dressed in period garb to lead a dockside tour ($17 for kids, $24 for adults), or you can set sail on a sunset cruise ($39 for children, $49 for adults). Check the calendar for beer, wine, or spirit tasting journeys on the water ($59).
Bring a beverage
Multiple locations in DC
Gather your friends—and some libations—for Potomac Paddle Club's pedal-powered pontoon launching from the Wharf, Georgetown, and Navy Yard. There are 10 cycling stations, but boats can accommodate between 16 to 20 people. (A minimum of six people are needed to get the boat moving.) Depending on your origin point, passengers may cycle past the Frederick Douglass Memorial Bridge, the monuments, or the Pentagon. Tours are about two hours long and start at $45 per person. Tickets are available online.  
Pedal around the monuments
1501 Maine Ave., SW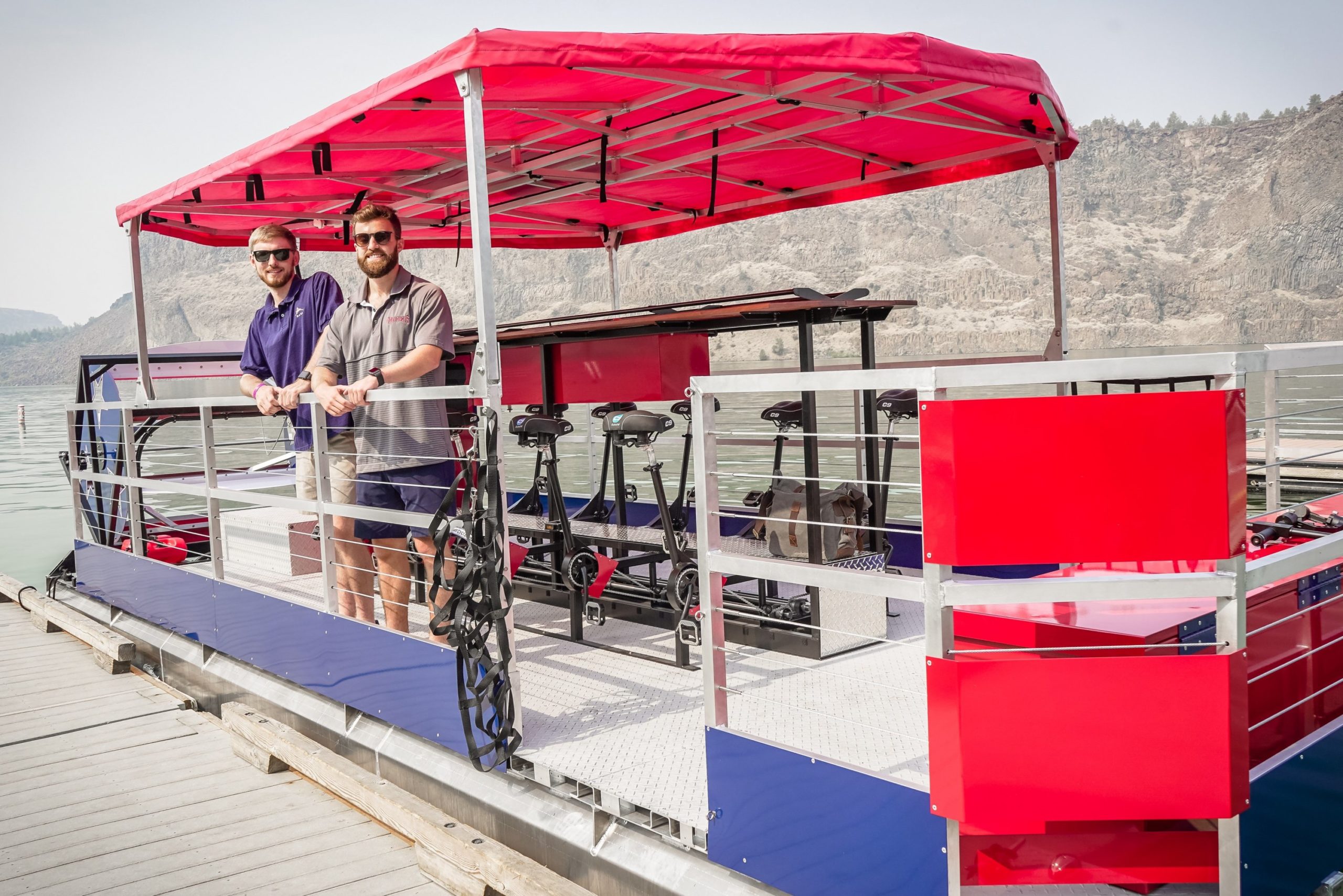 Hop on a pedal boat for a trip around the Tidal Basin with Boating in DC. Boats fit up to four people and are available from 10 AM to 6:30 PM on weekdays, and 9 AM to 6:30 PM on weekends. Reservations are $38 an hour on weekdays and $40 on weekends. 
Take a culinary cruise
970 Wharf St., SW
Yacht-charter company Nautiste offers three options for a luxurious boat ride: two motor yachts, the 72-foot Patriot and the more intimate 42-foot Independence, as well as the Cru Classé, a 47-foot French sailing yacht. The fleet launches from the Wharf, with the option to add dining experiences such as an oyster bar or brunch menu for an additional price. Prices start at $1,300 for up to 12 people.
Throw a tiki party
3100 K St., NW; 355 Water St., SE
Hop on a floating tiki bar and cruise down the Potomac River with Potomac Tiki Club. There are two boats to choose from: Tikito, a smaller boat that fits up to six people and leaves from Navy Yard, and a larger boat departing from Georgetown that fits eight to 18 people. Bring your own drinks, or sip a beverage poured by the onboard bartender. The Georgetown cruise starts at $45 a person for almost two hours. For the Navy Yard cruise, you rent the whole boat, starting at $375 for two hours. Reservations can be made online. 
Paddle the Anacostia River
4601 Annapolis Road, Bladensburg
Spend some time exploring a quiet stretch of the Anacostia River with rentals from Bladensburg Waterfront Park. (Single and tandem options are available.) Rentals are $25 for single kayaks, and $30 for tandem kayaks.
Enjoy sunset views
3000 K St., NW
Take in DC's scenery as the sun sets over the Potomac River with Capitol River Cruises. Starting at 8 PM, the boat glides past the Kennedy Center, the Jefferson Memorial, the Capitol, and the Lincoln Memorial. Drinks are available on board for an additional charge. Tickets are available online ($30 for adults, $20 for children). 
Voyage to Mount Vernon
145 National Plaza, National Harbor; 0 Cameron St, Alexandria
Play tourist for a day with a cruise to George Washington's estate. The water taxi departs from Alexandria and National Harbor. Guides provide narration as you move past sights such as Fort Washington, and then passengers have three hours to tour Mount Vernon. The taxis launch from Alexandria at 10:30 AM and return at 4:30 PM, and launch from National Harbor at 11:10 AM and return at 3:50 PM. Tickets will be available soon.