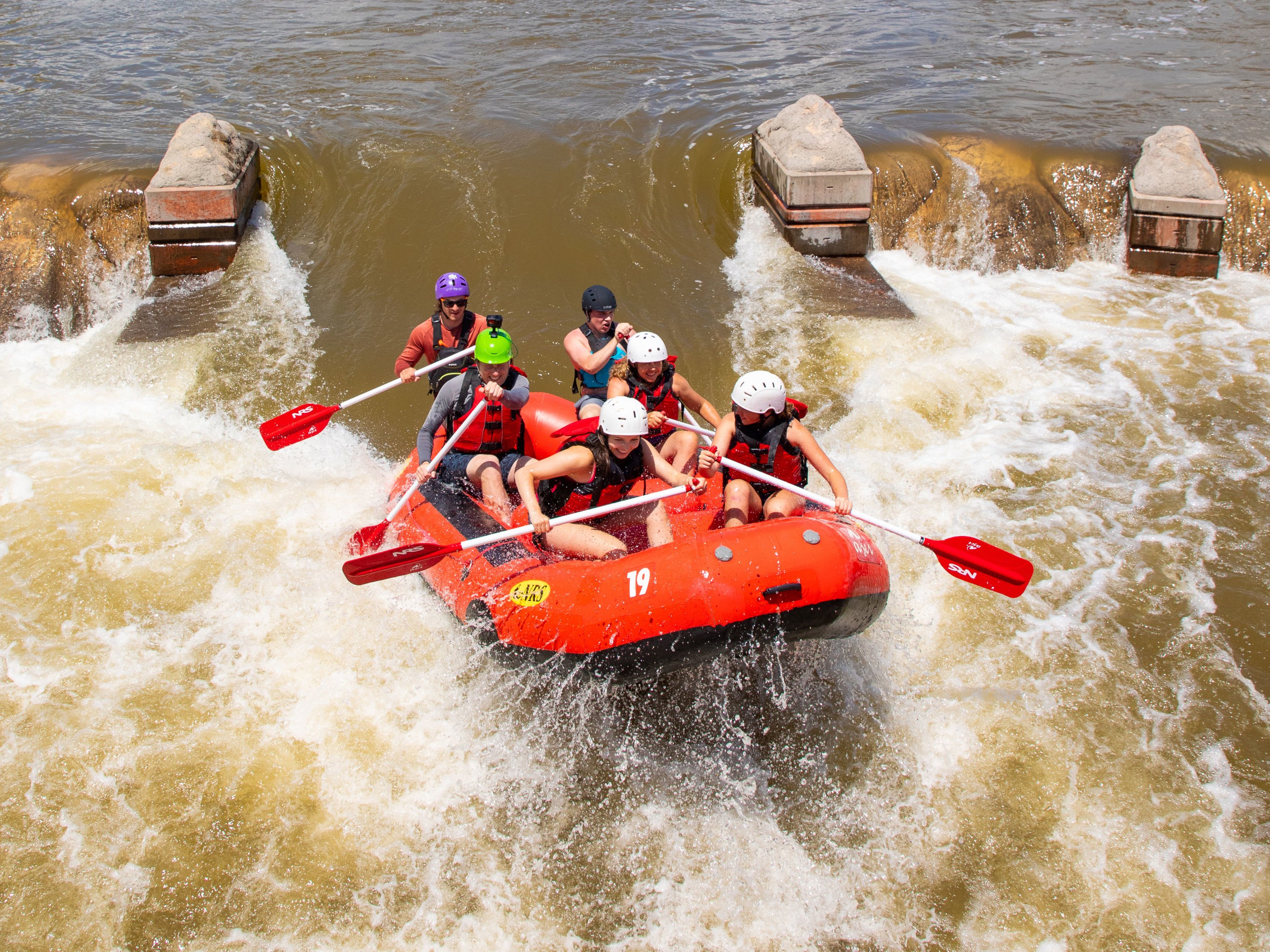 Whether you want a day trip or a weekend away, here are fun outdoor adventures that are an easy drive—including scenic hikes, sunset kayaking, treetop ziplines, and a relaxed bike ride around an island.
Places to Go Paddling
Hop on a kayak or paddleboard to experience the region's aquatic attractions. Here are three ideas for your next paddling session.
Spooky Shipwrecks
Channel Pirates of the Caribbean while paddling through the Ghost Fleet at Mallows Bay, a collection of nearly 100 sunken ships in Charles County. The moss-covered boats date to the Revolutionary War and now provide a perch for the occasional bald eagle. Atlantic Kayaks offers rentals for $29 an hour.
---
Historic Waterway
Look to the shores for kingfishers and herons during a two-hour kayaking tour of the C&O Canal led by Potomac Paddlesports ($75). Starting in Potomac at Pennyfield Lock, guides provide background information about the serene canal as they navigate the water.
---
Moonlight Paddle
Once a month, the paddling company Capital SUP runs a full-moon tour ($50), launching from Nautilus Point in Annapolis. (Times vary depending on time of year.) Watch the sun set while floating on the water, then explore Back Creek under the stars.
---
Adventure Parks Within an Hour of DC
Take to the sky on ziplines or ropes courses hidden in the trees
Day or Night Flight
Explore the forest canopy at Go Ape in Springfield, where a ropes course features 70 different obstacles. Try the one-hour aerial journey during the day or go at night to traverse wobbly ladders and Tarzan swings under the fairy lights.
---
Swiss Inspiration
Modeled after aerial courses in Switzerland, the Adventure Park at Sandy Spring Friends School in Montgomery County has 16 color-coded obstacle courses for various levels. There's a three-hour time limit for traversing the park's rolling log bridges and dangling rope walls.
---
The Long Zipline
Choose among four experiences at Terrapin Adventures in Savage, Maryland: a climbing tower equipped with nets and logs, the high swing, a ropes course, and a 330-foot zipline. Guides are posted throughout the park to help you navigate.
---
Hikes and Drinks
A great hike + a cold drink = the perfect pairing. These trails are close to a brewery or vineyard, to simplify your post-hike plans.

Rocks, Hops, and Hard Seltzer
Hike: Head to Bluemont, Virginia, to traverse part of the Appalachian Trail's craggy "roller-coaster section." The rugged Bear's Den Trail (roughly two miles round-trip) plateaus at a scenic overlook.
Drink: Relax in Adirondack chairs at Bear Chase Brewing, half a mile from the trail parking lot. The brewery grows its own hops and fruit for craft beers and hard seltzers.
---
Winery Walk
Hike: Maryland's Sugarloaf Mountain, near Frederick, features about 16 miles of loop trails and short spurts to the summit. Come early—this popular hiking spot can get crowded.
Drink: Cool off with a glass of sangria or sample a Bordeaux-inspired flight on the patio at Sugarloaf Mountain Vineyard, an easy drive from the trailhead.
---
Stroll, Then Sip
Hike: Wander through meadows and woodland at Rachel Carson Conservation Park in Brookeville, Maryland. Choose your route from six miles of interconnected grassy trails.
Drink: At the park entrance, Elder Pine Brewing and Blending Company has up to 19 rotating beers on tap. Snag a picnic table in the pine grove decorated with string lights.
---
Biking Jaunts Closer to DC
For a two-wheel adventure, try these three trails

Wineries and BBQ
The Washington and Old Dominion Trail starts in Shirlington and runs 45 miles through Northern Virginia's countryside, past historic train stations, wineries, and creeks. On- and off-ramps let you customize the length. To bike a 25-mile portion (so a healthy 50 miles round-trip), start at Green Lizard Cycling and Coffee in Herndon—where you can also rent wheels—and ride to Purcellville for lunch at Monk's BBQ.
---
Flora and Fauna
The 13-mile Indian Head Trail begins in White Plains, Maryland, and is mostly flat and paved, making it a good option for families with younger riders. Keep eyes open for eagles, wildflowers, and egrets as you cross through the Mattawoman Creek stream valley, prized for its wildlife and waterfowl. Be sure to pack snacks and water: There are few stops between the trail's start and finish. (It's not a loop—to return, you turn around.)
---
Taste of Mountain Biking
Eager to get off of smooth asphalt and onto more rugged terrain? Drive an hour to Rockburn Branch Regional Park in Elkridge, Maryland, a 415-acre wooded spread with 7.4 miles of beginner-­friendly trails. Spend time traversing rolling mounds, curved banks, and swooping tracks in the all-levels skills park. Adjoining Patapsco Valley State Park has more paths to explore.
Icons by Niky Chopra.
This article appears in the May 2023 issue of Washingtonian.