Bob's Shanghai 66
We're going to go ahead and say it: These are the best xiao long bao (soup dumplings) in the area. The plump, juicy morsels come in several varieties, but the pork and crab-and-pork XLB are essentials (watch them being stuffed and folded through a window into the kitchen). The lengthy menu can be overwhelming, but dishes marked with yellow stars—including shrimp cruller wraps and garlicky Taiwanese cucumbers—are hits.
Back to Top
A&J
These northern Chinese dim sum spots are destinations for rustic handmade noodles and dumplings. Particularly worth a journey: pan-fried pork pot stickers and wide ribbons slicked with hot-and-sour sauce. The multi-page menu has no wrong choices, but garlicky cucumbers, thousand-­layer pancake, and beef-tendon soup deserve extra credit.
Back to Top
Dama Restaurant and Cafe
This family-run Ethiopian enterprise dishes up soulful stews and sautés in the dining room, sells Ethiopian lentils and breads in the shop, and serves pastries and coffee in the cafe. Everything has a cooked-by-Grandma quality, whether turmeric-­scented lamb alicha, chili-stoked doro wat, tenderloin tibs with jalapeños, or kifto, the raw ground-beef dish that's ever so slightly warmed with spiced butter—Ethiopia's answer to steak tartare.
Back to Top
Fish in the Neighborhood
This longstanding seafood carryout in Park View has been operating from a small sidewalk window since the pandemic. But newbies and regulars alike will still experience the neighborly hospitality of owner Bill White, who always seems ready with a joke or a fist bump. Come for the fried cornmeal-crusted fish and shrimp, and don't skimp on soulful sides like hush puppies, collard greens, and seafood-­mac salad. And always go for extra mango sauce.
Back to Top
Full Key
Roast duck with crackling mahogany skin is as succulent as ever. So are soy-sauce chicken and tender pork. And while roast meats are the draw at this 31-year-old mecca of Hong Kong cuisine, there are other pleasures, including flavorful shrimp-dumpling soup, deep-fried anything with spicy salt (shell-on shrimp and bean curd are our faves), eggplant in hot garlic sauce, and bright stir-fried Chinese cress or snow-pea leaves.
Back to Top
Elephant Jumps
Banana-blossom salad usually gets top billing on the chalkboard specials menu for good reason. One of chef Songtham Pinyolaksana's signature Thai specialties combines shrimp, chicken, and fried shallots in a memorable spicy lime/coconut-milk sauce. The kitchen further excels at all things fried, whether crispy pork belly showered in frizzled basil, a tempura-­style papaya salad, or whole rockfish topped with slivers of green mango and cashews.
Back to Top
Huong Viet
The crispy, oversize crepe at this cash-only Vietnamese dining room in the Eden Center is arguably the best in the area: gossamer-thin, studded with shrimp and pork, and meant to be wrapped in lettuce leaves with fresh mint and basil. Caramelized dishes are also rave-­worthy, including pork, fish, or a chicken version amped up with crunchy bits of ginger. Shrimp with Chinese broccoli sounds same-old but surprises with a hit of chili, and the rice noodles with marinated pork, raw vegetables, and a spring roll could easily feed two.
Back to Top
Mandalay
One of the region's only Burmese restaurants made a surprise return last summer, after declaring an end to its two-decade run months earlier. What it lacks in ambience—most of the tables and chairs are foldups—it makes up for with punchy flavors and heat. A good intro is the section of chef's specialties, such as beef simmered in an onion-based curry or tofu with pickled-mango curry. Crunchy cabbage salads are another must-try, including a favorite with fresh shredded ginger and fried garlic.
Back to Top
Haute Dogs & Fries
Despite these fast-casual spots' name, there's nothing all that fancy about the hot dogs here. Yes, they're well griddled and have a nice, toasty bun, but what makes them stand out is their spin-the-globe creativity. A bánh mì dog is brilliantly accessorized just like the Vietnamese sub, with jalapeño, cilantro, and pickled carrot and daikon. We're equally enamored with the Peking-duck-inspired version, the classic Chicago dog, and the DC homage, which sports blue cheese, yellow mustard, barbecue sauce, onions, and pickles.
Back to Top
Los Hermanos
This Columbia Heights cafeteria is known for its groaning plates of rib-sticking Dominican food. Meat is the thing here, so go for the oxtail stew, fall-off-the-bone pork ribs, stewed goat, or Flintstone-size fried beef ribs. Black beans, red beans, and a variety of rices are the traditional sides, and they are good, but don't overlook the mashed plantains. They won't win any beauty contests but really are the bomb.
Back to Top
Mi Cuba Cafe
A fun vibe, top-notch Cuban fare, and tasty mojitos keep this Columbia Heights eatery humming. Happily, a newish second-­floor space has eased waits for tables. The draws? Lechon asado, or roast pork, at once crispy and juicy; beef picadillo studded with olives; pressed pan con lechon and Cuban sandwiches; curvy plantain chips; and elegant empanadas.
Back to Top
Passage to India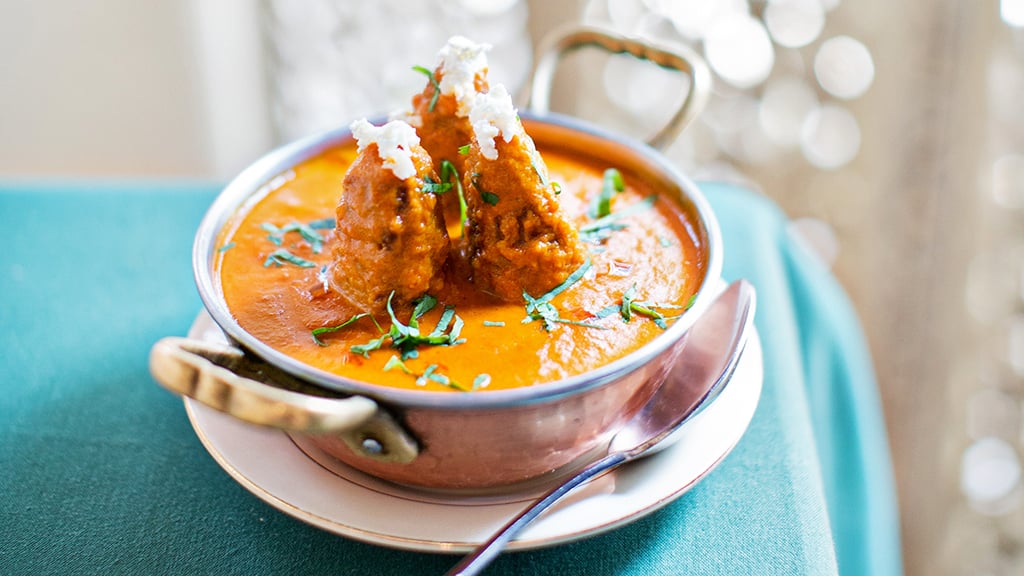 Sudhir Seth, once one of the area's top Indian chefs and the owner of this serene Bethesda dining room, died in 2021. It's a testament to his skill that the place is still going very strong. Many Indian restaurants in the States specialize in the meaty, yogurt-rich Northern Indian strain of the country's many-faceted cuisine. And while you can grab a bang-up chicken makhni to go (or at lunchtime, discounted), this is the place to sample Southern Indian specialties like eggplant in vegan sesame-peanut gravy, a Western lamb stew with apricots, or a mint-and-cilantro-scented chicken curry with Yemeni roots.
Back to Top
Ravi Kabob House
The enchanting smell of spiced grilled and stewed meats hits as soon as you enter this Pakistani carryout. Next, your eyes will home in on the display case packed with long metal spears of marinated meats. The Ravi Kabob special, with boneless chicken and ground-beef skewers, is truly a feast, complete with fresh tandoori-baked bread, rice, salad, and chutney. You can also order from adjoining Ravi Chatkhara, which specializes in lamb and chicken karahi, a spicy tomato-based curry.
Back to Top
Shamshiry
Families pack this Persian favorite all day for heaping plates of rice and kebabs. The kubideh, spiced ground beef, is a standout, and it's worth a few bucks extra to swap plain basmati for rice studded with tart barberries or perfumed by candied orange peel, pistachios, and almonds. Fill whatever table space remains with yogurt dips, salads, pickles, and herbs—plus a pitcher of doogh, a cooling yogurt drink.
Back to Top
Vace
These Italian American (with a dash of Argentinean) carry­outs have been churning out their unique take on pizza for more than four decades. The not-too-thin, not-too-thick pies are crisp on the bottom, layered with mozzarella that's baked right into the crust, and finished with ladles of bright-red sauce. At a time when a whole pizza can run you nearly $30, the ones here are a delicious steal. (The focaccia sandwiches and Italian cold-cut subs are, too.) While you're there, pick up Italian imports, frozen pasta, and an empanada or two.
Back to Top
Gom Ba Woo
Show up early and you might catch the staff at this homey Korean restaurant sitting in the corner folding up plump dumplings. You're definitely going to want the bountiful plate of these pork-stuffed specialties, either steamed or pan-fried. Equally generous are jam-packed seafood-scallion pancakes, sizzling bibimbap, and hearty stews, such as a bubbling cauldron of kimchi, pork, and tofu.
Back to Top
Taco Bamba
What happens when a former fine-dining chef opens a chain of popular taco joints? Solid al pastor and barbacoa, sure, but also some creative, globally inspired creations. Think Thai-accented shrimp-and-chorizo larb with herbs and chilies or "Peruvian-ish" chicken with green-chili purée and aji amarillo aïoli. Cocktails, such as a wood-fired-pineapple-and-mezcal margarita, are a notch above your typical fast-casual options.
This article appears in the August 2023 issue of Washingtonian.