Dr. Brian Gray, 45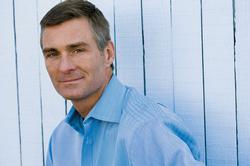 Dentist Married to a dentist; three young children
Do you work out? It's my one and only stress reliever. My rule is a 10K run a day. I start at 4:45 am. I run three marathons a year; it's 3½ hours of peace and quiet.
Do dentists make people more beautiful? It's the bulk of my practice. We routinely have patients bring in a picture of Jennifer Aniston and say they want to look like that. I'll say, "I can make your teeth look like that."
Describe your perfect day off. Get up and get in a good workout. Take the kids fishing on the Potomac, grab lunch at Taqueria el Poblano, go to a Nationals game. We'd end at a Clapton concert; he's the king.
Ever fantasized about another career? I'd love to be a charter-sailboat captain. When my wife and I married, there was one prenuptial agreement: On June 1, 2017,I'm going to sail my boat around the world, and I'm going to take three years to do it. The kids will be grown by then.
Have any beauty secrets?I love manicures. The best part is the four-minute hand massage. I get comatose.