"I think they can do something for you!"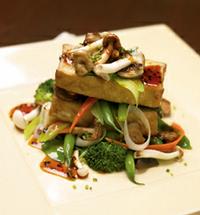 That's my wife, hand covering the telephone receiver, sounding as if I have a terminal disease and the Mayo Clinic has just agreed to treat it. Actually, the situation is slightly less dramatic: She's found an open table at Vidalia or TenPenh and the question is . . . will they agree to feed me?
I'm a vegetarian—yes to eggs and dairy but no to anything with a shell or a face. And in the world of high-end Washington dining, that usually means I'm persona non grata. Or rather, I'm persona ungrateful for the scraps thrown my way from restaurant kitchens—the perfunctory pasta primavera, the grilled mushroom the size of a Georgetown manhole cover, the passive-aggressive plate of steamed vegetables reminiscent of what I used to get at family gatherings in my native Milwaukee, where they still serve steak tartare (with raw onions) as a ceremonial wedding dish.
It's not that I can't eat out in Washington: Ethnic restaurants, from the high-styling (Zaytinya, Indique) to the hole-in-the-strip-mall (Joe's Noodle House, Myanmar Restaurant), have always been friendly. And now we have two new restaurants that cater to vegetarians—Vegetate and Viridian—as well as tasting menus at CityZen, Restaurant Eve, and 2941. More on those later. But large swaths of White-Tablecloth Land—the places that wear culinary artistry on their jus-flecked sleeves, that foodies and critics buzz over and where your significant other wants to go for that special dinner—are all but pointless for me to visit. (I almost made a trip to Palena recently for the cauliflower pot-au-feu, but a friend told me they coddle the egg in . . . foie gras? Now that's animal cruelty.) You'd think that celebrity chef Anthony Bourdain—who wrote in his book Kitchen Confidential that "vegetarians are the enemy of everything good and decent in the human spirit, an affront to all I stand for, the pure enjoyment of food"—was the overlord of Washington dining.
Well, I didn't give up my right to dine when I decided to go meatless nearly 20 years ago—just my right to dine here, it seems. I've swooned over fresh tofu made tableside at Philadelphia's Morimoto, lusted after the veggie steak au poivre with five-pepper béarnaise sauce at New York's Counter, and beamed over farro and Tuscan kale at AOC in Los Angeles. I've even chowed down on terrific vegan ratatouille at Barossa in Milwaukee.
Washington's high-end kitchens, on the other end, always offer me the same four tired entrées:
1. My Friend the Portobello Mushroom. An entrée that's proliferating like so many spores across town because of its cheapness, simplicity of preparation, and ability to resemble meat, which comforts diners at nearby tables. A steakhouse—Ray's the Steaks in Arlington—actually became my favorite restaurant for a few months last year because of its grilled portobello with spicy diablo sauce, a fiery alternative to the boring, default balsamic marinade found everywhere else.
2. Ravioli Stuffed With Baby Food. If Walt Disney had been a chef, this would have been his specialty: a G-rated dish of squash, ricotta, or mushroom filling drenched in an indifferent cheese sauce or an innocuous herbed butter, soporific instead of subtle. More than any other dish, this one says to the vegetarian: We know you're out there, and we just don't care. At Vidalia, I've seen individual raviolis the size of harem cushions, thus giving one the compensatory satisfaction of finishing the dish more quickly.
3. The Vegetarian Plate (or Komposition, as Restaurant Kolumbia calls it). Pile 'em up and knock 'em down—a cord of string beans here, a sawmill's river of carrots there, a nest of caramelized onions cantilevered over fingerling potatoes beached like sea lions. If you're lucky, as I often am at Kinkead's, your lineup will encompass some of the delectable side dishes—corn ragoût, braised escarole, or gigantes beans—that accompany the meat-based entrées. Regardless, you'll be starving just as the dessert menu arrives.
4. Risotto. Once a standby, meatless risotto—again with baby-food flavorings—seems to have gone the way of Y2K. A perfect dish for me when I want to hew to a low-carb diet, since within the first few bites I lose the urge to finish.
Robert Lalasz is a writer and critic who lives in Arlington, Va. This is his first piece for Washingtonian.
Chefs vs. Vegetarians?
"Vegetarians, and their Hezbollah-like splinter-faction, the vegans, are a persistent irritant to any chef worth a damn. To me, life without veal stock, pork fat, sausage, organ meat, demiglace, or even stinky cheese is a life not worth living."
—Anthony Bourdain, Kitchen Confidential
Nothing has inspired more debate among chefs, restaurateurs, and foodies than this passage from the New York chef and TV star. The question is: Does Bourdain speak only for himself? Or is he giving voice to the sentiments of chefs the world over? We asked area chefs: Are you with Bourdain in his distaste for the vegetarian diner? Or against him?
A few candidly agreed . . .
"When some people see a rabbit, they think 'Oh, it's so cute.' I see a rabbit and I want to skin it and braise it with garlic and sherry.
"Some vegetarians eat fish, and I think that's horrifying. That poor fish was probably just about to go back to its children. Why aren't they given the same credibility as dolphins and veal? Veal are these anointed souls. As a former vegetarian, I'm disgusted. I call it digestive fascism…. I'm not gonna make every vegetarian eat meat, but leave us alone. I cater to people that eat. I don't cater to vegetarians."
—Gillian Clark, Colorado Kitchen
"I wouldn't say it with the passion and fervor as Bourdain said it, but I agree in principle with what he's saying. If you're gonna have good cooking, you're gonna have to have some of those other things."
—Frank Ruta, Palena
While others shrug him off . . .
"Oh, come on."
—Eric Ziebold, CityZen
"I met him years ago and wanted to punch him in the teeth."
—Cathal Armstrong, Restaurant Eve
"I do not think that vegetarians are the bane of a chef's existence. I think the only trouble, the annoying thing, is they are so far out of the rest of the culture who eats meat."
—Sam Adkins, Jackie's Restaurant
"You know I have a steakhouse, right? I find Mr. Bourdain's media presence to be a persistent irritant. I work even harder to create a great vegetarian dish than I do on my steaks."
—Michael Landrum, Ray's the Steaks
"In my restaurant, which is a small cafe with a traditional setting, I'm working to bring in more nontraditional elements such as the textured vegetable proteins and the new modified foods that are popular in vegetarian communities. But it poses an interesting challenge: How do you stay true to a French bistro or Italian osteria setting with tofu chicken?"
—Barton Seaver, Café Saint-Ex
"With all the markets you have more vegetables than you can make use for. Vegetarian and vegan menus are actually immensely fun to prepare because you can use vegetables that people haven't had before—bitter melon, long squash. And the first technique you use is usually wrong, and then you have to experiment. . … If you can't make a great vegetarian menu, you suck."
—Jonathan Krinn, 2941
A Vegetarian's Survival Guide
It's not all tofu and mock meat. We found Polish crepes, fiery Malaysian curries, and crunchy Burmese salads. Oh, and a steakhouse where you can tear into your meal with everyone else.
Vegetarians here have so little choice in quality dining that it might qualify as actionable abuse. But these ten restaurants—only two of which are outright vegetarian—can rescue you from yet another squash ravioli. One's even a steakhouse.
Cafe Asia, 1720 I St., NW, 202-659-2696; 1550 Wilson Blvd., Arlington, 703-741-0870. There are dozens of options on this pan-Asian menu. Start with steamed veggie gyoza and a bowl of the seaweed salad, tousled like big hair and nicely tarted up with chili flakes. Then dive into gway tio—Singaporean flat rice noodles with egg, scallions, and bean sprouts—or the curry laksa, a Malaysian soup kicky enough to ward off your next dozen colds.
Domku, 821 Upshur St., NW; 202-722-7475. Polish-Baltic—could there be a less promising combination for the meatless? See what you think after sauerkraut-and-mushroom pierogi, clear beet soup, and the Polish crepes known as nalesniki, stuffed with kasha and veggies and doused in a cream sauce.
Huong Que (Four Sisters), 6769 Wilson Blvd., Falls Church; 703-538-6717. The area's veg-friendliest Vietnamese food—17 entrées and sides, the best of which is a fiery, caramelized tofu cooked in a clay pot with chilies and lemongrass. Also try the crispy vegetarian rolls, which are especially good when you mistakenly eat the pork-filled ones, as I did during my wedding rehearsal dinner here.
Joe's Noodle House, 1488-C Rockville Pike, Rockville; 301-881-5518. A bustling tea-house atmosphere that makes you feel anything could happen—especially for vegetarians, who get their own 93-item menu with evocative-sounding entries such as salty and crispy eggplant and boiled peanuts with seasoning.
Myanmar Restaurant, 7810-C Lee Hwy., Falls Church; 703-289-0013. Twenty-five dollars gets you a vegan Burmese feast, which should begin with one of the crunchy-hot slawlike salads—green-tea leaf and mango are outstanding. Or get the off-menu samosa salad, then go cool and hot with savory-sweet pumpkin curry and the pucker power of soft tofu sautéed with sour mustard plant.
National Museum of the American Indian, Fourth St. and Independence Ave., SW; 202-633-1000. The Mitsitam Native Foods Café is an oasis on the Mall for vegheads: Amid the venison, salmon, and pork, you can get a black-bean tamale with a side of tomato-and-corn stew, calabaza squash with raisins and pine nuts—even meatless pemmican cakes.
Ray's the Steaks, 1725 Wilson Blvd., Arlington; 703-841-7297. Maybe I have Stockholm syndrome, but I love Ray's unfussy interiors, his sides of creamed spinach and even creamier mashed potatoes, and his grilled portobello with spicy diablo sauce, whose fire will numb you to the sounds of carnivores all around you.
Sunflower Vegetarian Restaurant, 2531 Chain Bridge Rd., Vienna; 703-319-3888. If you're that unusual vegetarian who appreciates faux meat, ignore the sunflower-theme decor and dig into an all-vegan meal that features mock sesame eel, popcorn "fried chicken" made of soy protein, or hearty General Tso's Surprise—more soy protein in sour-hot Kung Pao sauce with spankingly fresh veggies.
Thann Son Tofu, 6793 Wilson Blvd., Falls Church; 703-534-1202. This tofu takeout is the closest a veghead can come to ordering at a butcher's. Get into the "tofu only" line to choose among three flavors of curd—$3 worth is enough for two meals—plus a veggie chicken with the crispness of roast duck. While you're at it, reach into the refrigerator to your left for a container of the area's best flan.
Zaytinya, 701 Ninth St., NW; 202-638-0800. Even if you're here for the ouzo martini, take a look at the veg mezze menu that's almost twice as big as the meat-and-poultry one. Standouts: feta cheese with tomato marmalade; melt-in-your-mouth fritters of carrot, apricot, and pine nut; and a purée of eggplant and the sheep's-milk cheese Kefalograviera, which usually accompanies braised lamb shank but tastes just as good neat.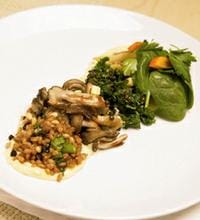 It finally hit me a few months ago at Jackie's Restaurant in Silver Spring, as I was eating perhaps the 500th mushroom risotto of my life: I don't go to restaurants for the food anymore.
So I was thrilled to hear about the vegetarian tasting menus on offer at CityZen, Restaurant Eve, and 2941—especially CityZen, where chef Eric Ziebold's playful yet exacting food has attracted a glamorous crowd. Sure enough, Maureen Dowd and Alec Baldwin were at a nearby table, having what looked like either a semi-interesting policy discussion or a really bad date.
Unfortunately, Ziebold's five-course vegetarian menu (including cheese and dessert) was underwhelming, perhaps even insufficiently tested. A carpaccio of butternut squash with red onion and dates looked cute enough—the squash cut into thin loops and arranged as if drawn by Spirograph—but it dissolved on the tongue into a uniform, slightly cloying sweetness. A chard-and-Fuji-apple charlotte was overwhelmed with salt, and the centerpiece tasting—a matsutake mushroom capping a small ragoût of chewy shelling beans—was a step down from even the workman portobello.
Lack of artistry wasn't the issue at Restaurant Eve, where the meatless tasting-menu offerings formed a cavalcade of miniature magic tricks: a thimbleful of broccoli volute; a single porcini beignet; a pumpkin-and-bleu-cheese risotto cupped in a miniature gourd and so creamy as to seem freshly churned. The problem was preciousness and a lack of pacing. The evening was all exclamation points, an ESPN SportsCenter version of the Vegetable Plate served with a ceremoniousness more suited to the delivery of a papal bull. I staggered into the night nearly four hours after my reservation time, recalling the line of my fellow vegetarian William Blake: You never know what's enough until you know what's too much.
After a juice fast, I soldiered on to 2941, whose meatless "lighter tasting menu" was easily the best of these three. If chef Jonathan Krinn feels compromised by veg cooking, it's rarely detectable in these multilayered dishes: He points up the rich honey of a butternut-squash purée, for instance, with an arc of tarragon oil and salting just to the edge of critical mass. A tiny yellow pepper masqueraded as fatty tuna before revealing a stuffing of harissa and tangy sheep's-milk cheese, which sparred with the pepper's own pungency. The dull-sounding miso charred vegetables were another thrilling trompe l'oeil—looking like a tamari-laden stir-fry but shading toward sugar on the tongue by a black-bean vinaigrette. Krinn understands vegetables, I thought. But perhaps not diners: We were flagging in appetite and attention by the obligatory risotto course. In the end, even a good tasting menu leaves you feeling inadequate to its task, simultaneously bloated and diminished. It's an uncomfortable feeling that I wouldn't want to repeat more than once or twice a year.
Vegetate, a new all-vegetarian restaurant just on the edge of Shaw's gentrification, seems at first blush an evolution from the crunchy granolaness of the '70s veg cafe. No kasha odors belching from this kitchen: Chef Matthew Eland, who has worked at Millennium—the San Francisco Valhalla of meatless restaurants—has here worked up an ambitious and cheeky menu, with vertical-food entrées such as a grilled-onion-and-olive tart napoleon. And no tables made of old telephone-cable spools, either: Vegetate's decor is West Elm meets iPod, with a DJ lounge area, espresso-colored furniture, and neo-pop-art collages by Baltimore artist Billy Colbert dominating the walls. At last, I thought, a restaurant for the hip veghead.
I just wish I liked the food better. An appetizer of wild mushrooms—a round of mushroom baba flanked by tempura oyster mushrooms and topped with a spray of enoki—is typical of Eland's uncertain execution, the baba tasting rubbery instead of earthy and the oyster mushrooms often uncooked inside their breaded coatings.
An entrée of jerked tempeh proves tough going, the usual flatness of tempeh seconded by a paint-chalky coconut jerk sauce. Eland's roasted butternut-squash lasagna—nearly all squash filling—also quickly becomes plow work. Only an appetizer of crispy goat-cheese polenta scores: three cubes of fine-grained, whisper-light polenta set off by a sundried-tomato tapenade and a sweet, herby crust. The vegetarian in me wants to protect Vegetate, but the diner in me doubts that the cooking can rise enough to sustain that loyalty.
Viridian—the dining wing of Giorgio Furioso's gallery-and-apartment development next to Studio Theatre—was a study in bipolar disorder. With a menu that oscillates between defiantly carnivorous (buffalo strip steak, half chicken) and burlap-sack vegan (quinoa with pomegranate seeds), Viridian optimistically assumes that PETA members can sup peacefully with the Ted's Montana Grill crowd.
The visual aesthetic is similarly torn, high ceilings and sumptuous beiges competing with an Earth-shoe vibe from idolatrously large 1970s photos of DC artists on the wall and brown T-shirted servers who remind you of the cast of The Electric Company. Most of the vegan offerings (eight small dishes and an entrée) proved as dull as the Ford administration: cold portobello, limp atop braised radicchio; a salad of past-their-prime golden beets with curled radish; a squash tart with barely distinguishable chanterelles and walnut sauce.
And the quinoa with pomegranate seeds—two ingredients that had nothing to say to each other—took me back to college co-op dining-hall days, when good intentions masqueraded as food. My only comfort was that the omnivores had it just as bad. "There's something vegan about the meat," said a companion, working through his half squab with a disbelieving squint. Not surprisingly, Furioso and Viridian's chef, Sidra Forman, have already agreed to part ways over creative differences.
Disappointed, I widened my quest, only to feel downright insulted. My appetite was hardly dampened by Willow's Mediterranean Plate, a round of goat cheese wrapped in pastry and loosely orbited by olives, hummus, and a few sliced cucumbers. (To be fair, Willow also offers a selection of $14 flatbreads, a faux pizza I refuse to eat unless Costco is offering samples.) 2941's two minuscule veg entrées—a mushroom risotto or a few squares of braised tofu—would have qualified as amusées had they been just an ounce or two lighter. And at Café Atlántico, the waiter started walking away with my menu before I'd even finished saying the word "portobello."
Only at Komi did I begin to feel at home. Meatlessness fits beautifully into the aesthetic of chef Johnny Monis, whose art is as much about accentuating textures and mouth-feels as it is about taste. His mushroom, chestnut, and ricotta ravioli might sound like a slog, but Monis minces the chestnuts and whips the ricotta to produce a plated autumnal chat, each ingredient announcing its own heft without being heavy.
His vegetable plate was like a linked collection of short stories—rich black beluga lentils cooked in wine giving way to a sautéed, crisply bitter rapini, a creamy pour of musty polenta, apple-syrup-coated Brussels sprouts roasted to the point of caramelization, and farro with black currants, braised spinach, and a seasoning of sour-sweet vinegar. It's a tasting menu on one plate, a progression of irresistible logic. This is what it feels like to dine really well, I thought as I tarried over a last wild mushroom—the exhilaration of a perfect plate of food unfolding over and over in your mouth. I'll be back.
But I wanted more—not just vegetables well rendered but a favorite high-end dish that I could return for again and again, in the way omnivores have the Almost Famous Pied de Cochon at Citronelle or the boudin blanc at Marcel's.
"That's not going to happen," my wife said to me one night over dinner at Asia Nora. She was about to tuck into her scallops—her favorite dish—which had arrived moments earlier with a novellalike backstory: only yesterday happily lounging off Rhode Island, now quivering with freshness on her plate. (That's another thing about vegetarian food: There's never any backstory. There's never a thrilling vignette about how your tofu was slow-cooked for hours until it fell off the bone or how your chickpeas were raised wild on a Texas preserve and then hunted with a blowgun.)
My napoleon of tofu and winter vegetables, on the other hand, appeared almost without notice—the tofu stack peeking out from around thickets of broccoli rabe, ornamented by glistening mushrooms and carrots shaved like sushi ginger. I explored. The tofu's crispy crust was grilled with a light orange-chili sauce; the inside was firm but not at all dry, pulling away in sumptuous chunks. I had never seen tofu cooked like this, and as I tasted, it provided another surprise—a slight resistance to the teeth, a resistance that plucked a distant memory, repressed beneath the sedimented layers of all those years of restricted eating. . . .
Meat. Meat! It felt like, it even tasted like . . . meat.
And it was wonderful.
Was this what I'd been looking for all along—meat yet somehow meatless? Waves of guilty pleasure welled up as I considered the ethical dimensions of my position. And then I just dug in. Destroyed the dish, to be honest, like I'd seen men dining alone do at Ray's the Steaks, tearing into a filet the size of Roosevelt Island and washing it down with a bottle of full-throated Burgundy. This entrée, with its silly name and effete presentation, suddenly tasted like a muscular badge of belonging. I'd already gotten through most of it before I saw our server standing over us, wearing a concerned look that I've seen servers wear a thousand times before. "How is everything?" she asked.
"Great," I said in as nonchalantly carnivorous a voice as I could muster.
"Good," she said, hovering, not quite convinced. "Are you a vegetarian?