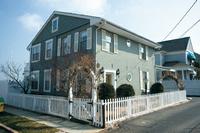 The chance to live near the Chesapeake Bay is Anne Arundel County's biggest lure. Residents say the lifestyle makes up for high home prices and long commutes to DC from Annapolis-area neighborhoods like Eastport and Galesville.
"You have to have a good sense of humor to live in Eastport," says Jessica Pachler, an event planner and entertainment columnist who lives in the Annapolis neighborhood. Annual community events include a tug of war against downtown Annapolis and a spring sock burning.
Eastport once was a working-class locale. Now tiny bungalows sell for $350,000 or more. Prices for waterfront properties are far higher; even ramshackle homes on the water cost nearly $1 million. Many have been torn down to make way for larger houses.
Despite an influx of affluent empty-nesters and young families, Eastport retains its low-key atmosphere. "People call it the Key West of the '70s, pre-Buffett," says Dick Franyo, owner of the Boatyard Bar & Grill, a neighborhood meeting place. "Eastport formalwear" means khakis, blazers and boat shoes (without socks).
Nearly everyone spends time on the water—sailing, powerboating, or kayaking. Downtown Annapolis is a short walk, and Eastport has its own highly regarded restaurants plus a gym, post office, movie theater, yacht club, and several marinas.
Situated on the West River about 15 miles south of Annapolis, Galesville has the small-town atmosphere common on the Eastern Shore but within commuting distance of DC. Everyone gathers on the Fourth of July for a parade and fireworks. The West River Market & Deli, which opened in the 1850s, still sells some of Maryland's best pies. Three waterside restaurants serve the catch of the day, and sailboats crowd the river.
When Peter and Luuk Oleson bought their home in Galesville in 1996, their agent predicted they would have an instant network of friends. "We found that to be true," says Peter, a former Pentagon official. They catch up with neighbors at the post office (there is no home delivery), and friends drop in for a cup of coffee, which is especially nice for Luuk's mother, who lives with the couple.
Galesville's 200-plus homes include everything from Victorians to 1970s split-levels to new Cape Cods. Prices start at around $400,000 for a two-bedroom cottage. Large houses on the water have sold for nearly $2 million.
Ginny Meerman and her husband, Chris, first stumbled upon South River Colony in 1999. Construction of the planned community in Edgewater had just begun, but they noticed the plentiful trees, public golf course, and people walking and jogging. "As soon as we drove through the entrance, I said, 'This is it,' " Ginny says.
Now that construction is nearly finished, South River Colony includes more than 900 condos, townhouses, and single-family homes. Walking trails weave around the neighborhood's traditional houses—mostly brick Colonials—and trim yards. There are two community centers, each with a swimming pool and tennis courts, and a commercial area that includes a post office, library, gym, doctors' offices, shops, and restaurants.
A social committee plans events where neighbors meet, including Halloween parades, happy hours, and charity benefits. There are no waterfront homes, but the South River floats past one tip of the neighborhood, and residents keep boats at nearby marinas. Prices start at around $300,000 and go as high as $2 million for a large home on several acres.
HOUSE PRICES
EDGEWATER
3 BEDROOMS
$497,000
EASTPORT
3 BEDROOMS
$972,000
GALESVILLE
3 BEDROOMS $695,000
Where Prices Have Climbed the Most in Anne Arundel
| Neighborhood | Zip Code | Avg Price 2005 | Avg Price 2004 | % Change | 2005 Sales | 2004 Sales |
| --- | --- | --- | --- | --- | --- | --- |
| Shady Side | 20764 | $372,586 | $301,360 | 24% | 107 | 139 |
| West River | 20778 | $537,599 | $436,206 | 23% | 36 | 38 |
| Pasadena | 21122 | $346,396 | $281,545 | 23% | 1,210 | 1,399 |
| Glen Burnie | 21061 | $258,164 | $211,949 | 22% | 776 | 820 |
| Edgewater | 21037 | $521,530 | $428,335 | 22% | 487 | 540 |