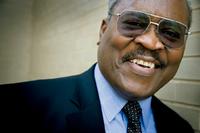 Colbert King, who has connected the Washington Post editorial page to the local community for the past 16 years, has told Post Company chair Don Graham that he will leave his job at the end of the year.
"It's been a great ride," the deputy editorial-page editor told The Washingtonian. "The world has changed. It needs a different pair of eyes."
King, 67, will not disappear. He will continue to write a Saturday op-ed column, show up on Post radio, and join the chattering class on Sunday TV talk shows.
But his voice in Post editorials will go silent on December 31.
"It's a huge loss," says editorial-page editor Fred Hiatt. "He is not replicable."
Says King: "After 45 years, I'm not going to work full-time."
In the small but influential world of the Post editorial board, King's retirement is a seismic shift. He is the last editorial writer hired by legendary editorial-page editor Meg Greenfield, who represented a connection to the heady days when the Post was run by publisher Katharine Graham and executive editor Ben Bradlee.
King has occupied unique turf within the Post opinion pages. He is an African-American born, bred, and schooled in the District of Columbia. His columns benefited from his knowledge of and love for the city, but they also burned with his anger at DC officials he believed had stood by as his hometown deteriorated.
In addition to writing many of the Post's editorials on local matters, King has written a Saturday column at the top of the op-ed page. In 2003 he won the Pulitzer Prize for commentary for what judges called his "against-the-grain columns that speak to people in power with ferocity and wisdom."
King used those columns to shine a light on what he saw as outrages perpetrated by public officials. His recent series of columns on the death of New York Times writer David Rosenbaum prompted investigations into DC's emergency-management services.
King was principally responsible for political endorsements for DC mayoral, council, and school-board candidates. He was a strong voice for the Post's backing of incoming DC mayor Adrian Fenty.
Lee Hockstader, the other editorial-board member who writes on local matters, focuses on the suburbs.
Born in 1939, King went to Dunbar High School and got an undergraduate degree from Howard University. He worked at Riggs Bank, where he concentrated on international banking. In 1979, President Jimmy Carter nominated him to serve as executive director of the World Bank. Before that he was deputy assistant secretary of the Treasury. He served in the State Department from 1964 to 1970, including a stint at the U.S. Embassy in Bonn.
In 1974 he worked on the Senate committee that drafted DC's home-rule legislation. Greenfield hired him for the editorial page in 1990. He became deputy editor in 2000.
"It's time to move on," King says. "This is a different place 16 years later."
Any thought of a replacement?
Says Hiatt, "I'm still reeling from the news."