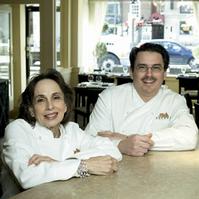 Palena, Frank Ruta's very personal, eclectic Italian eatery in Northwest DC has been added to the Mobil Travel Guide's roster of four-star restaurants for the first time — the 2007 list was released today in New York.
Other area eateries already on the list of four-star places are CityZen and Citronelle in DC, and Maestro in Tysons Corner. The region only has one five-star restaurant, the Inn at Little Washington in Washington, Virginia. Gerard's Place in DC, a longtime holder of four stars, only got three stars this year– not a surprise since chef Gerard Pangaud left recently to head L'Academie d'Cuisine in Bethesda.
The prized four- and five-star ratings are hard to come by — there are only 145 four-star and 16 five-star restaurants in the country.
So what do the uber-critics at the Mobil Travel Guide look for when they dine incognito? How quickly they're greeted — within 60 seconds is the ideal. How conversant the staff is with dishes on the menu. How much eye contact is made. How well the staff anticipates a diner's needs (those water and wine glasses, for instance, shouldn't be empty for more than 30 seconds). And finally, how a restaurant handles mishaps, complaints, and catastrophes.
Mobil Travel Guide vice president Shane O'Flaherty says in sticky situations "how a place overcomes a problem" is important. He tells the tale of the inspector who had a large painting fall on him while dining. The staff was so solicitous he didn't bat an eyelash and kept eating — and he didn't take away any stars.