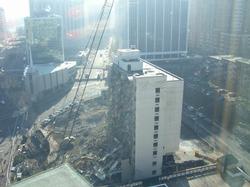 Wrecking balls began tearing into the Best Western Hotel in Rosslyn this month to make way for a 25-story luxury condominium called Turnberry Tower.
When completed in late 2008, the all-glass building will be Rosslyn's tallest condominium. Turnberry Ltd., the Florida-based development company, has built a host of ultra high-end properties, including the Fairmont Turnberry Isle Resort and Golf Club in South Florida and Turnberry Place, a $650-million high-rise condominium overlooking the Las Vegas Strip.
Prices for units range from $700,000 to more than $7 million, making the development one of the most expensive in the area. According to Turnberry Tower's web site, the "ultra-liberal list of amenities definitely favors the wealthy." The most eye-catching include elevators that open directly into units, private glass balconies, individual garages for cars and motorcycles, Jacuzzi tubs, floor-to-ceiling windows, and smart-home technology.
The 247 units range in size from about 1,300 square feet for a one-bedroom apartment to more than 5,300 square feet for the tower suite, which includes three bedrooms, six bathrooms, a library, and staff suite.
Is Washington's cooling condo market affecting sales? The Turnberry Tower sales office says the building is almost 40 percent sold. However, a December 2 Washington Post article reported that Turnberry is offering a Bahamas vacation to real-estate agents who sell units in the building, an indication that sales may be slower than expected.