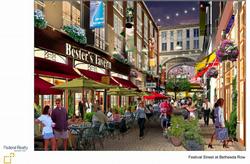 If you thought downtown Bethesda couldn't handle any more development, think again.
A new complex of stores, restaurants, and apartments built around a pedestrian walkway is scheduled to open at the end of next year. Called "Festival Street," it will extend the popular Bethesda Row collection of restaurants and shops and anchor the corner of Arlington Road and Bethesda Avenue. Restaurants and stores will include The Market, a wine bar from the owners of Sonoma on Capitol Hill; the area's fifth Lebanese Taverna; and a Blue Mercury cosmetics boutique. Above the retail level will be 180 one-, two-, and three-bedroom apartments—the leasing office is expected to open next summer.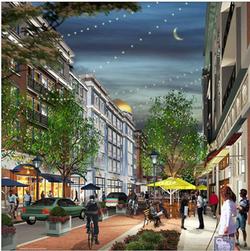 Rockville Town Square is also getting a makeover. Eleven new retailers, all expected to open this spring, are moving into Rockille's downtown. Anchored by brewing chain Gordon Biersch at the corner of Maryland Avenue and Middle Lane, the new development will include restaurants Austin Grill, Stonefish Grill, and Red Parrot as well as a drycleaner, toy store, and nail salon. The accompanying Rockville Town Square condominiums, which are already about 50 percent sold, will have 660 one-, two-, and three- bedroom units. Prices start at $400,000 and top off at about $1 million.
Federal Realty Investment Trust, whose portfolio includes The Village at Shirlington and Pentagon Row, is developing the projects.
Thankfully, both will include parking.