A few months after moving into a DC apartment, my roommate and I realized that our bare walls needed something. Although we had all of the necessary furniture (collected from our parents' basements and IKEA), the new place was seriously lacking "decor." Where do recent college graduates with entry-level salaries go for art? Local galleries were out of the question but we hit the jackpot at HomeGoods, the Marshall's or TJMaxx of home decorating—the same parent company owns all three.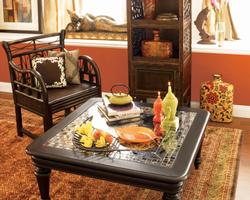 Shoppers must be patient—looking through the disorganized aisles of canvases and framed prints can take the better part of an afternoon. But after putting in some time and effort, we came away with several tasteful-looking pieces of artwork and two decorative mirrors, none of which cost more than $49.99. HomeGoods is also a one-stop shop for accents such as end tables, ottomans, lamps, rugs, kitchenware, bedding, and home accessories at bargain-basement prices.
HomeGoods, five area locations: White Flint Plaza, Rockville; Village Mart Shopping Center, Olney; Crossroads Place Shopping Center, Falls Church; Kingstowne Towne Center, Kingstowne; Fair Lakes Shopping Center, Fairfax.