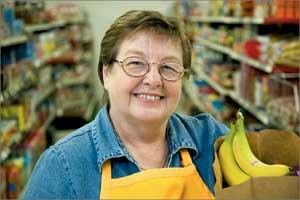 It started 27 years ago with a pot of coffee. Private investigator Jean Guiffré had gone to visit her ailing mother in Hyattsville. When Guiffré offered to make coffee, her mother admitted that her cupboards were bare. A supermarket was only a block away. But for a woman with severe arthritis and congestive heart failure, that market could have been on Mars.
Guiffré started shopping for her mother. She soon discovered that lots of elderly and disabled people needed this kind of help, but they didn't ask for fear that they would lose their independence.
"I realized nobody else was going to do it," Guiffré says. So she started Top Banana Home Delivered Groceries with $2,000 and an old van. "I picked the name to make people smile," she says.
Today Top Banana serves 520 people in DC and Prince George's, Montgomery, and Charles counties. Clients call to order their groceries. The items are delivered to the door or the kitchen. Drivers will unpack, loosen jar lids for arthritic hands, and make sure clients are doing well.
"Sometimes they are the only people these seniors see," says Theresa Grant, director of Aging Services in Prince George's County. Clients do pay for groceries and service—but that covers only 55 percent of Top Banana's costs. When times were tough, Guiffré remembers taking the delivery truck out herself. "I got in the back and I railed at God," she recalls. "I couldn't turn my back on these people. And somehow we made it."
Guiffré worries that there are still many people who need Top Banana, but even those closest to them don't know it. "Be sure to give out our number," she says. That's 301-372-food.