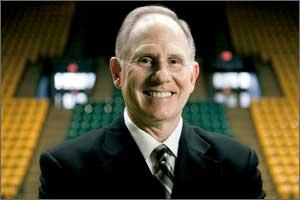 When George Mason University's men's basketball team ended up in the Final Four in the 2006 NCAA basketball tournament, it seemed like coach Jim Larranaga's finest hour. But for many at Mason, Larranaga's most shining moments were off the court.
He demanded more from his players than winning games.
When one of his stars, Tony Skinn, punched an opponent during a major game, Larranaga benched him for the first round of tournament play. Larranaga's action won fans who never set foot in an athletic arena. One Mason philosophy professor says, "Instances of such courageous holding to principle are rare."
Skinn apologized, rejoined the team, and scored three critical free throws to beat defending champion North Carolina.
Larranaga's high standards hit home. When his son Jon was diagnosed with juvenile diabetes at age eight, Larranaga coached Jon to deal with his illness head-on. Jon never missed a day of elementary school, Larranaga recalls, and both of Larranaga's sons grew up to be academic All-American basketball players.
Larranaga started the Coach L Shootathon to raise money for the Juvenile Diabetes Research Foundation. GMU players worked out with kids with diabetes, and Jon came to show how he had coped with the disease. The Shootathon ran for five years, raised $150,000, and is now part of JDRF's annual walkathon.
This year will be tougher for the Patriots: Before, they were the underdogs; now every opponent will prepare "like it's the biggest game of the season for their school," Larranaga says. Coach L isn't worried. He quotes Albert Schweitzer: "Success is not the key to happiness. Happiness is the key to success."
By any standards, Jim Larranaga is a very happy man.