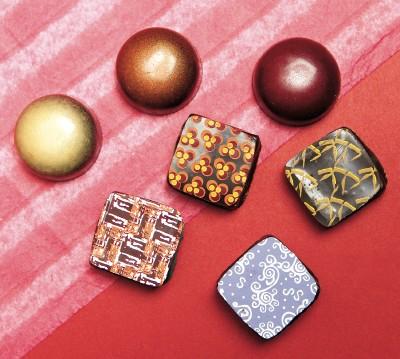 The best Valentine's chocolates are like romance: mysterious, sensual, and satisfying. In recent years, local makers have upped the bar on a simple box of chocolates with offbeat flavors, custom designs, and singular packaging. Made in small batches and handcrafted from quality and often local ingredients, these boutique bonbons have given chocolate lovers reason to look beyond mass-market brands like Godiva and Mrs. See's. All bear the personal visions of their creators, making them just the thing for the most personal of holidays, Valentine's Day.
Artisan Confections, 4815-B Lee Hwy., Arlington; 703-239-0616; artisanconfections.com. With delicate shells and clear flavors, these refined chocolates by former TenPenh pastry chef Jason Andelman are as marvelous to look at as they are to eat. Standouts include the gold-cocoa-butter-brushed salted butter caramel, another bonbon with Tahitian-vanilla-infused ganache, and a praline with lemon-hazelnut crunch. Four truffles $8; 24 pieces $40.
Blue Moon Chocolatier, Bethesda, bluemoonchocolatier.com; fax 301-897-8468. Molecular biologist turned chocolate-maker Barbara Norman packs her elegant creations in a midnight-blue box with silver logo and lettering. Standouts are the blood orange in a dark-chocolate shell and the silky 72-Percent Chocolate, spiked with Cognac. From $3.75 for a two-piece box to $74.95 a pound.
Buzz on Slaters, 901 Slaters La., Alexandria; 703-600-2899; buzzonslaters.com. The silken espresso-bean bark is crunchy with crushed coffee beans, while a white-chocolate truffle with toasted coconut is the essence of girlie sweetness. Bag of bark $2.50 to $5; from $1.50 for one truffle to $15 for box of ten.
Cynthia's Chocolates, 800-247-8413; cynthiaschocolates.com. Sweet tooths will go for this Alexandria chocolate-maker's creamy cappuccino truffle. From $3.95 for a box of four to $39.95 for a pound.
Gearharts, 416-C W. Main St., Charlottesville; 434-972-9100; gearhartschocolates.com. These bonbons have a homemade, fudgy quality. The pistachio toffee orange and the apricot brandy are the standouts. From $19 for a 16-piece box to $40 for a 32-piece box.
Kingsbury, 1017 King St., Alexandria; 703-548-2800; kingsburychocolates.com. The caramel-coffee truffle with a sprinkle of brown sugar on top balances sweet and bitter beautifully, while hazelnut toffee with its chewy, nutty outer shell eats like a cookie. From $18 for a 12-piece box to $46 for 36.
Praline, 4611 Sangamore Rd., Bethesda; 301-229-8180. These Ping Pong-ball-size truffles with whipped chocolate inside and a dusting of cocoa power outside could double as dessert. $1.75 a piece.
Want more Valentine's Day advice and information—from where to dine, to where to go, to what gifts to buy? Click here for the Washingtonian Guide to Valentine's Day.