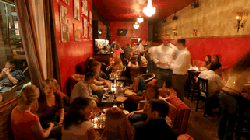 Chefs just can't sit still. Following news that Frank Morales has left the kitchen at Penn Quarter's Zola for Alexandria pizza-and-beer spot Rustico, and Anthony Chittum is trading the top toque spot at Notti Bianche for the one at Old Town's Vermilion, comes word that Antonio Burrell is changing restaurants too.
This past November, chef Burrell left Logan Circle's Viridian with plans to run the kitchen at Rain, a new restaurant/nightspot in Fairfax from the owners of Northeast DC mega-club Love. We hear Burrell is no longer involved with the project—on February 1 he took the executive chef post at Eleventh Street, a lowlit Clarendon lounge which had been without a chef for the past eight months.
This week, Burrell will unveil his new menu. Eleventh Street, he says, "is known as a nice place to have drinks. We want to establish it as a place that you can also have a very good meal." He's introducing a selection of small plates and snacks–think roasted olives and charcuterie and cheese plates–plus entrees and sandwiches. "It's food that's really conducive to sitting, chatting with friends, having a glass of wine," says Burrell.
The chef changed his plans, he says, due to "personal reasons." "I live in Georgetown, and Arlington is a much nicer commute for me than Fairfax. My wife didn't want me driving 45 minutes home at 1 AM after working 15-hour days."
Taking over the kitchen at Rain will be Nathan E. Bearfield, formerly of Smith Point and before that, Le Paradou in Capitol Hill and Lutece in New York. Bearfield has done away with Rain's planned Nuevo Latino theme, and will instead put in place a modern American menu of "traditional, old school dishes with a twist." Look for Wisconsin beer-and-cheddar soup, and pan-roasted snapper with smoked potato puree. Rain opens today, and the club's soft opening is planned for tonight.

Eleventh Street Lounge, 1041 N. Highland St., Arlington; 703-351-1311; eleventhstreetlounge.com.

Rain, 10418 Main St., Fairfax; 703-865-6150; fairfaxrain.com.