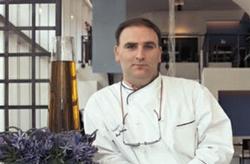 You'd think keeping up five restaurants (Zaytinya, minibar, Jaleo, etc.)–plus starring in a hit TV show in Spain–would keep Jose Andres busy enough. But the hyper-self-promoting chef is speeding up his schedule even more.
He's just announced that he'll begin shooting a 26-part cooking series for American TV this spring (for a glimpse of Andres's Emeril-on-fastforward television persona, check out this Youtube clip of him cooking with a Spanish pop singer on Vamos a Cocinar). 2008 is also when we can expect to see his second cookbook, Passport to Spain. His first book, Tapas: A Taste of Spain in America, came out in 2005. What, you don't want to wait that long? You can also catch Jose on the Food Network April 1 when he does battle on Iron Chef.
And in other Andres-related news, the Penn Quarter incarnation of Oyamel, his glam Mexican streetfood cafe, will open on February 23 (though they're taking reservations for a soft opening tonight and tomorrow night) with former Majestic Cafe chef Joe Raffa behind the stoves.
Oyamel, 401 Seventh St., NW; 202-628-1005.