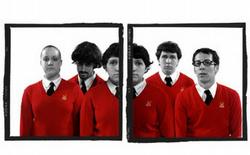 Monday | Tuesday | Wednesday | Thursday
Monday, Feb. 26: Looking to inject a little color and vibrancy into these gray winter days? You can find some at "Girl Power! Girls' Comics From Japan," an exhibition at the Japan Information and Culture Center
(1155 21st St., NW) about the history of shojo manga, Japanese comics geared to girls. These illustrated stories, often dealing in themes of love, helped redefine the roles and power of females in Japan beginning
around World War II. 9 am–5 pm. Free.
For a post-work snack and drink, head to Ella's Wood Fired Pizza (901 F St., NW). Every Monday evening, the happy hour features not only drink specials ($3 sangria and Sam Adams) but also free pizza. I went recently and snacked on everything from plain-cheese pies to those topped with prosciutto and more. But don't count on this for dinner—pizzas are served only a few times an hour, and the hungry crowds can demolish the offerings quickly. 5–7 pm.
Tuesday, Feb. 27: If your poor showing in this year's Oscar pool left you sour on Hollywood, rekindle your love of film and old-school glamour by attending a lecture at the Corcoran (500 17th Street, NW) tonight with George Stevens Jr., founder of the American Film Institute and an award-winning writer, director, and producer. Stevens will talk about his book, Conversations with the Great Moviemakers of Hollywood's Golden Age at the American Film Institute, and his interactions with some of Hollywood's greatest. 7 pm. $16; $12 for members.
Wednesday, Feb. 28: Even though it doesn't much feel like it, we can only continue to hope that spring is right around the corner. And what says spring like shopping for new clothes? And what says shopping for
new clothes better than attending this evening's District Sample Sale (3307 M St., NW)? The sale brings together more than 20 local boutique and designers selling their end-of-season wares at bargain prices. Bonus: There will be cocktails, appetizers, and an after party with DJs and dancing. Extra bonus: All proceeds go to charity. $35–$50, 6–9 pm.
(The Sounds of) Kaleidoscope, a DC staple who has been creating noisy psych pop layered with shoegaze influences for more than ten years, is at the Warehouse Next Door (1017 Seventh St., NW). With Relay and
Lymbyc System. 9:30 pm. $8.
Thursday, Mar. 1: Cusp, the young-female-oriented luxury boutique from Neiman Marcus (which we love even more because they have an adorable blog), is expanding from its Tyson Corner location into Georgetown. It celebrates this evening from 7–9 pm with a big ol' launch party. 3030 M St., NW. Call (703) 288-1940 for more information.
You can listen to the keyboard-driven, harmony-saturated pop rock of Baltimore's Karmella's Game, but the true pleasure is seeing the energetic and adorable group live. They play the backstage at the Black Cat (1811 14th St., NW) in support of the documentary From the Back of the Room. I'm not lying when I say they're one of the funnest live bands I've seen in years. I'm also not lying when I say that, even though they're from Charm City, they don't play locally as much as they should. Make sure to head out and see them—because who knows when they'll be back next? Listen: Coming Going Leaving, and much more at their Myspace page. Ingrid and Panda & Angel open. 9 pm. $8.