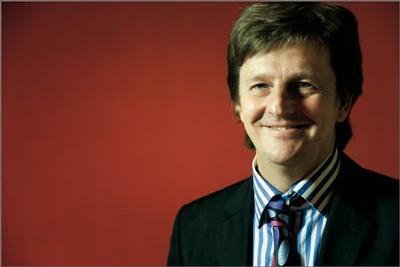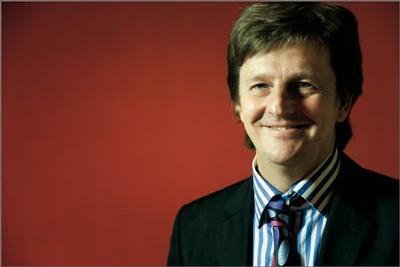 Eyebrows were raised when Paul Greenhalgh arrived in Washington in April and announced that in less than a year he would bring a show to the Corcoran that would be the biggest and most expensive the museum had ever put on.
The Corcoran was in shambles. A new wing designed by celebrity architect Frank Gehry had been killed, the fund raising for it lagging well behind its rising cost. The Gehry project's chief proponent, Corcoran director David Levy, had stepped down, with some board members—and donors—following him out the door. The institution was broke and running a deficit. Art critics were pronouncing the museum adrift and grappling with an identity crisis, even questioning its survival.
"We'd been so focused on building a new building over the last ten years that sometimes everyone lost sight of what our real mission was," says chief curator Philip Brookman.
Greenhalgh, 51, a British painter and art scholar, started making changes quickly after his selection as the new head of the Corcoran gallery and school, slashing the staff even before he'd left his job as president of NSCAD University, Nova Scotia's college of art and design. Once here, he described to the board a plan for an "epic event" that would announce to the world that the Corcoran was back in business.
For the new Corcoran chief, it was a gamble—but not a tough sell. "Among Paul's many talents is making a good first impression," says Van Penick, former board chair at the Nova Scotia school.
Greenhalgh (pronounced "Greenhalsh") is so ebullient, so brimming with ideas, that superlatives seem to leap from his tongue. He could be describing a Vermeer show—"shockingly popular and fantastic ally scholarly"—or this city—"fab!"—or his vision for the museum—"You should come here and be so shocked with pleasure that you lose your mind!"
He once pulled DC gallery owner George Hemphill aside at a Corcoran dinner party and told him breathlessly, "You gotta come look at this pot!" He revels in the Corcoran's treasures, declaring the Beaux Arts atrium "a good place for a booze-up" and showing off the paintings he pulled from storage to adorn his office.
"I've been a bit of a naughty boy," he says, pointing to more than a dozen masterworks on his walls, including a Corot nude that hangs above his desk. "Having her breathing down your neck while you're trying to do e-mail has proven a great distraction."
Then there's the whole British thing. The accent alone "is worth ten points on the scale," notes developer and Corcoran board member John T. "Til" Hazel. At Nova Scotia, Greenhalgh secured large donations—including an entire building for the college's film school—on the strength of his charm and personality, says Penick.
It's an aura that has made Greenhalgh—a sort of dapper Paul McCartney—a hit on the social scene here. The divorced father of two grown sons jokes that he's been to a quarter of a million cocktail parties as he tries to figure out Washington society.
The biggest, most momentous party now awaits.
"Modernism: Designing a New World 1914–1939," the show that Greenhalgh described to a skeptical board last spring, will fill the Corcoran's two floors beginning March 17.
A $2-million exhibition of nearly 400 works and 50 film clips, it has stretched the Corcoran in many ways, forcing it to change everything from the structure of its staff to its gallery spaces to the way it insures art objects.
The exhibition, which originated at London's Victoria and Albert Museum, where Greenhalgh was head of research in the late 1990s, will serve as yet another debut moment for the 138-year-old Corcoran Gallery of Art, which has a history of hitting rough patches.
Columns and stonework have been blasted clean and a new entranceway constructed. A second gift shop is being added. Book clubs, classes, lectures, package deals with local hotels, a conference, a kids' mini camp, even a new menu at the cafe have been developed around the exhibition.
The staff and board members, who expect up to 150,000 visitors, say it is a make-or-break moment for the museum.
"It's basically announcing that we have great confidence in the institution, that the Corcoran is still alive, still breaking new ground," says board president Jeanne Ruesch. "A lot hangs on this exhibition."
At the start of this year's spring semester, a dozen students who've just transferred to the Corcoran College of Art & Design straggle into a library outside Greenhalgh's office. They are a pack of hoodies, piercings, tattoos, multihued hair. The director who greets them is a picture of artsy elegance, his orange wire-rimmed glasses, chartreuse tie, and knotty red cuff links jazzing up a black suit.
Greenhalgh shows the students a plan of the Modernism show, which he curated along with Brookman, and explains that Corcoran faculty and students designed it. Soon they, too, could be involved in mounting an exhibition. He tells them he may be seeing them in the classroom; he teaches a course on modern European decorative art.
In some ways the students are key to Greenhalgh's vision for the Corcoran. His idea is to break down the barrier between the museum and the college and think of the Corcoran as a single institution. The college, after all, is the one thing the Corcoran has that few other art museums in the country can boast.
The Modernism exhibition, similar in scope to a large Art Nouveau show Greenhalgh curated at the Victoria and Albert Museum—it came to Washington's National Gallery of Art in 2000—has been the perfect vehicle for the new director's plan. He tapped a faculty member from the school, Catherine Armour, to design the show rather than hiring an expensive outside exhibition designer. Several dozen students are working on the show as part of their coursework.
"It says over our door that we're 'dedicated to art'—that seems pretty straightforward," says Greenhalgh. "But we're dedicated to art in two ways, through its display and through education. There isn't one thing the Corcoran will do, in the way the Hirshhorn is a great modern-art museum. We will always be more complex than that. But we have a particular approach, a didactic approach."
To that end, the director moved the gallery's education department—which organizes lectures and events around exhibitions, trains docents, and runs outreach programs—to the college. More curators will be teaching classes at the college. Students will work as docents.
Greenhalgh hopes to double enrollment to 900. The old Randall School building in Southwest DC, bought by the Corcoran from the District government in November, will give the institution a new campus for expansion as well as a presence in another part of town.
Greenhalgh says he's eager to build on outreach programs his predecessor started and has talked about lending works of art to public high schools if security concerns can be addressed. "You'd be showing respect to school kids," he says. "It might be totally impossible, but I don't think so."
His passion about arts education, he says, comes from his experiences as a boy in a working-class neighborhood outside Liverpool, getting encouragement from his art teacher and going to galleries with his dad. Neither he nor his dad really "got" the art, he says. But it didn't matter. His father, a construction worker, wanted his son exposed to new worlds.
"I have powerful memories of that," says Greenhalgh, who studied in British art schools and has written seven books on art and culture. "My own arts education is solely and completely responsible for giving me every chance I've had in life."
When Greenhalgh went to his first American football game last fall—Redskins versus Cowboys—he figured out the basics pretty fast: "I worked out that you have to stop every five minutes to do TV advertising and eat and drink a large amount of stuff," he says. And also this: A lot of people paid a lot of money to go and have a good time.
If people were willing to shell out hundreds of dollars for a football game, he pondered, why would they not pay a lot less to come to his museum—one of the nation's oldest art museums, renowned for its collection of American art—and see something truly great?
Gilbert Stuart, Winslow Homer, Frederic Church, Edward Hopper, Mary Cassatt, John Singer Sargent, Whistler, Warhol—the list goes on.
But getting people to come to the Corcoran and pay the admission fee—now $14—has been the challenge for the private museum ever since the National Gallery of Art opened its door in 1941, taking the Corcoran's place as the city's premier art museum and offering its world-class collection for free.
For several decades, the Corcoran's struggle to attract audiences and donors has grown even tougher as it has competed with more and more free museums along the Mall. Last year, the Smithsonian's American Art Museum reopened, a direct challenge to the Corcoran's strong collection of American art.
"As a private institution, the Corcoran is always going to have a very hard time unless it can do something really dramatic," says former Corcoran head David Levy.
Levy's dramatic idea was a new stainless-steel wing designed by Frank Gehry, the world-famous architect who turned Bilbao, Spain, into a hot tourist destination with the art museum he designed there. Levy thought a Gehry building could work the same magic here—be sensational enough to entice tourists at the Air and Space Museum or National Gallery to make the hike or cab trip to 17th Street. But when the area's high-tech boom ended, key sponsors of the $200-million project vanished.
Art critics and observers have proposed other ideas—turning the Corcoran into a museum of photography or focusing more on local artists. Levy had thought about amassing a permanent collection of American fashion, building on an exhibition of Jacqueline Kennedy dresses he brought in that attracted large audiences.
Greenhalgh thinks the museum should celebrate its five key collections—historical American art, historical European art, contemporary art, photography and media arts, and decorative arts—and present temporary exhibitions that reflect and glorify those areas.
"It's not rocket science in terms of the collections. We're going to put some of the great, great masterworks out on a permanent basis, and we're going to have a changing-exhibitions program that is stunning and shocking and wonderful," he says.
The Modernism exhibition, which features everything from a Czech Tatra car to a Frank Lloyd Wright office chair to life-size Oskar Schlemmer figurines, touches on all of the museum's core areas. And it's designed to have broad appeal—board president Ruesch calls it a "lifestyle exhibition"—with displays of film, photography, fashion, technology, furniture, and architecture as well as painting and sculpture.
Levy was pilloried by art critics for such exhibitions as the Jackie Kennedy dresses and sculptured renditions of Impressionist paintings by J. Seward Johnson Jr., shows that drew crowds but were considered low brow. Greenhalgh won't comment on those but says, "We will not be putting on any exhibitions here that we are not proud of intellectually, and we will not be putting on any exhibitions that nobody comes to. It's a complete myth that populism and academic respectability are incompatible."
Later this year Greenhalgh plans to bring to the museum the photography of Ansel Adams and Annie Leibovitz, and next year Richard Avedon. Other big shows are likely for the distant future—one on postmodernism and another on the Aesthetic movement, the great art of late 19th-century and early 20th-century England and America—as well as smaller exhibitions of works by contemporary sculptor Claes Oldenburg and American painter John Singer Sargent.
Greenhalgh has other ideas for the institution, some of which he admits are pipe dreams at the moment, like creating an Italian-style piazza with a restaurant and sculpture court next to the museum or developing a vocational program to train students in museum-related skills like picture hanging and carpentry.
"He comes up with so many ideas, they actually compete with each other," says Jonathan Binstock, the Corcoran's curator of contemporary art.
More immediately, Greenhalgh intends to repair and restore the building and reclaim much of the original gallery space used for the past 50 years as offices and storage.
Eventually, says curator Philip Brookman, the staff would like to install the permanent collection on the ground floor—and if donations start flowing, make admission to that part of the museum free—with temporary exhibitions on the upper floor.
A new wing, Greenhalgh says, is not on the agenda. He is a Gehry fan, a "massive lover" of the Bilbao museum. But, he says, "at this moment, product is the key. We want to become famous for the academic programs we run in our college and the exhibitions and permanent displays we put up in our galleries. Once we've done that, everything else will follow."
Like money, he hopes. A new financial officer, Chris Leahy, helped the Corcoran erase its deficit and finish 2006 with a small surplus. But the museum has had a hard time finding corporate sponsors for its Modernism show, a reflection of the late start and also the tumult of the last two years when many donors who promised money for the Gehry wing took their pledges back.
So the board is counting on lots of visitors to help pay for the exhibition and spark renewed interest in the museum.
"We have to show we're worthy of people's support," concedes Leahy, who came to the Corcoran last summer from the Phillips Collection. "It's not going to happen overnight. But we'll be back on top—or at least in the running."
Some arts watchers think the Corcoran will continue to struggle until it better defines its mission. "The trustees have to approve a very specific list of priorities that demonstrate what the Corcoran's reason for existence is if they want to get corporate support," says Aldus Chapin, a former Corcoran board chair and a founder of the United Arts Organization of Greater Washington. "I don't think the public knows what its priorities are."
The staff and trustees don't disagree. They're working on a five-year plan, to be released this summer, that will "rebrand" the institution, says vice president Rebecca Gentry, and convey "who we are and what our niche in this community is."
But Greenhalgh, whose gamble on Modernism will be at the Corcoran through July, says he's figured out the basics pretty fast.
"Do really good things," he says, dispensing for the moment with talk of fantastic piazzas and Hopper paintings in high schools. "It's not a lot more complicated."