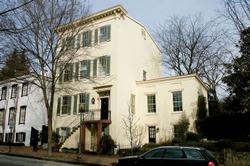 When former North Carolina senator and presidential hopeful John Edwards sold his Georgetown home for $5.2 million in December, the buyers garnered as much attention as the sellers.
At the time of the purchase, documents identified the buyer only as P Street LLC. The Washington Post later reported that Paul and Terry Klaassen, who founded the assisted-living giant Sunrise Senior Living, created that limited-liability company to buy the house.
According to DC settlement attorney David Deckelbaum, creating limited-liability companies and trusts is an increasingly popular way to maintain anonymity in a real-estate deal. LLCs and trusts also carry estate-planning benefits. For example, if a home is owned by a trust, it can be passed on to children or grandchildren at the time of death without incurring some taxes.
Many prominent Washingtonians have used LLCs and trusts. According to tax records, BET cofounder Sheila Johnson's $9.7-million, 200-acre estate in Middleburg is owned by Salamander Group LLC. When the Carlyle Group's William Conway sold Merrywood, the 47-acre estate that was the childhood home of Jacqueline Kennedy Onassis, in November 2005, public records said the buyer was Merrywood LLC. In reality, AOL cofounder Steve Case was behind the $24.5-million deal. Former lobbyist and felon Jack Abramoff also created a limited-liability company—DL/JA LLC—to purchase his Silver Spring home, which is worth more than $1.7 million.
DC's property-assessment database says that the $4.4-million Spring Valley home of NBC's Tim Russert was purchased by "Robert E. Madden Trustee." Madden, a District lawyer who specializes in estate planning, has written a book called Tax Planning for Highly Compensated Individuals.
Another common practice is for a home to appear only in the name of one spouse. Talk show host Tucker Carlson's $3.8-million manse in DC's Kent comes up under his wife's name, Susan Carlson. The Georgetown house of Washington Post reporter Bob Woodward, which is assessed at $2.6 million, appears under the name of his wife, Elsa Walsh, also a writer and reporter. And Massachusetts senator Ted Kennedy's $5.7-million Kalorama house is credited to his wife, Victoria. Although a search for Speaker of the House Nancy Pelosi comes up fruitless, her husband, businessman Paul Pelosi, owns a $1-million-plus condo on Georgetown's waterfront.
Residents of Fairfax County have an Internet advantage: They can ask that their names be removed from the online database of real-estate tax assessments. Under the field "owner name," the houses of former Secretary of State Colin Powell and Supreme Court Justice Clarence Thomas read "name withheld by request."
If only it was really that simple.