Name: Morgan Hungerford
Hometown: Alexandria, VA.
How long you've lived in the area: I've lived in the area all my life, excluding the years I was away at school. I moved into the city proper in 2005.
Occupation: Designer, blogger at panda head, thrifter, substitute teacher. Sometimes not in that order.

Your blog bio says you're "intent on dispelling the myth that the District can't dress." What do you mean by that? And how are you dispelling this myth?
This city has a bad reputation for being stodgy, conservative, and old, fashion-wise. The intent behind panda head is to show that there are people here who don't dress exclusively for work and who pay attention to and interpret trends (or sometimes buck trends completely). Panda head provides photographic evidence.
Where are some of your favorite places to shop in DC, Virginia and Maryland?
My favorite places to shop in DC are Junction, the flea market at 9th & U, and even though it's not clothing I love Miss Pixie's on 18th street. In Virginia, it's the Remix, Forever 21, and the Salvation Army on Little River Turnpike—I also recently pillaged Virginia's many targets for their Proenza Schouler pieces. I don't get to Maryland that often but when I do it's to hit up their Super Thrifts. I'm more of a window shopper than anything else; I love to check out Muleh and Redeem on 14th street and Barney's Coop in Georgetown. I'll spend money on basics (at H&M and American Apparel, mostly) but if there's something I really want I'll either keep an eye out for it in the thrift stores or make it myself.
More with Morgan below.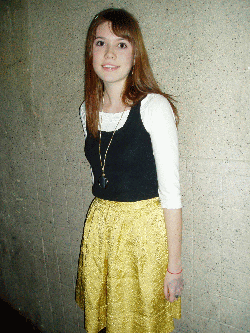 How did you get the idea for your blog, panda head?
Panda head came about late August of 2006. I had been spending an insane amount of time on facehunter and the Sartorialist and I realized that DC had more than enough people with style to justify starting a street fashion blog. My friend Lindsay Hart came on soon afterwards as a contributor, and since then I feel like panda head has gained its own identity, especially after we started running interviews with particularly stylish DC residents, local designers, and shop owners.
Can you talk a little bit about your experience being a local designer and how you got to where you are now?
I really love being a designer in DC. My line is called Muss and it's been going now for close to 3 years. I reconstruct vintage pieces, and I focus mostly on skirts and dresses. There are a lot of opportunities here for the independent designer; most locally-owned shops sell indie and events like Crafty Bastards and Styleistics provide a lot of exposure and networking.
What fashion trends are you enjoying now? What do you think will be big for spring and summer?
A current trend I'm really enjoying is color! Gray is still big but with spring and summer coming up people are throwing in shots of nu-rave fluorescents and brights. Yellow is already and is going to continue to be everywhere. Same with high-waisted denim. Skinny-legged pants aren't going anywhere for a while, but a more '70s silhouette is also coming back in—'m glad I held onto my sailor pants.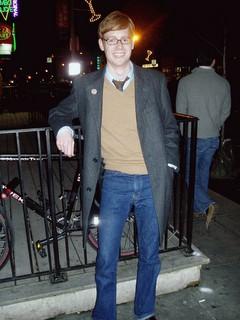 How do people react to you asking them to take their photo and post it on the internet?
People are generally really friendly and open about being photographed for panda head, which is great because I loving finding out where people shop and the story behind their outfits. Lindsay and I have each been turned down for pictures a handful of times, which can be disappointing if they're wearing something really great.

Favorite local bar? Bartender?
When I go out it's generally for a show, so my favorite bar by default would probably be the Red Room at the Black Cat. I also like Rock and Roll Hotel and 9:30 Club. In my neighborhood (Adams Morgan) I like Asylum for brunch and 25 cent beers and also Pharmacy Bar. Oh, and Reef! My favorite bartender would have to be Al at the Black Cat.
Favorite neighborhood?
My favorite neighborhood would have to be Adams Morgan. I live there now, on the same street my grandfather did when he was younger and I just love it, especially in the spring and summer. It's kind of obnoxious when you're trying to get home on the weekend and you're having to elbow your way up 18th street through jumbo slicers and drunk girls in tube tops, but it more than makes up for it the next day when every place on the street is open for brunch.