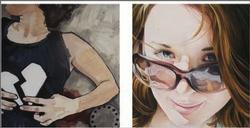 Monday | Tuesday | Wednesday | Thursday
Monday, March 12: I'll be over at the Shins' show at DAR Constitutional Hall (along with our ticket giveaway winner Rob)—but if you couldn't get a ticket to the sold-out concert, there's still fun to be had, especially with this lovely weather. Why not pay a visit to Tabaq (1336 U St., NW; 202-265-0965), whose bartender I interviewed a couple of weeks ago for the Belly Up feature? The evening weather will permit the restaurant to open its stunning rooftop with incomparable views. The food's pretty good, too.
Or, like Sara over at the Best Bites blog suggests, head over to Perry's in Adams Morgan for the special kaiseki (sake-paired) seven-course tasting menu. (202)234-6218 for more information.
Tuesday, March 13: Tired of catching shows at those old standbys the Black Cat and 9:30 Club? How about an indie-music performance at an embassy? The Swedish Embassy (901 30th St., NW; 202-467-2600) hosts Ane Brun, a Scandinavian songstress whose lulling melodies and moody lyrics are sure to create an interesting atmosphere. The event is also presented by Hej Hej, the only local DJ night dedicated to Scandinavian pop and rock. A ticket for the show is just $5; doors open at 6:45, and the performance starts at 7:30. There are no advance ticket sales, so get there early—it's likely to sell out. There'll be a cash bar, too.
Bob Woodruff—the former coanchor of ABC's World News Tonight who was nearly killed by an IED attack while reporting in Iraq—will be at the Friendship Heights Village Center (4433 S. Park Ave., Chevy Chase) to speak about his experience and his new book written with his wife, Lee, In an Instant: A Family's Journey of Love and Healing. Call 301-656-2797 for more information and to reserve a spot; the event starts at 7:30 pm and is likely to fill up, so get there early.
Wednesday, March 14: As part of the Francophonie Festival, the Hirshhorn Museum shows the film Delwende, which details how, in rural parts of Burkina Faso, women are often blamed for unexplained deaths. They are seen as witches of a sort and become scapegoats of the society. This film from that country sheds light on women's rights around the world as well as here in the United States. 7 pm; $10 for members, $13 for nonmembers. For more Francophonie events, check out our previous blog post on the topic.
Thursday, March 15: Tonight's the opening reception for "Women's Work: Five Distinct Points of View From Young Female Artists," an exhibit at the Nevin Kelly Gallery (1517 U St., NW; 202-232-3464) featuring works by Molly Brose, Mary Chiaramonte, Jenny Davis, Abbe Mcgray, and Laurel Hausler. Join the artists for the exhibit's opening reception, 6–9 pm.
DC's annual Environmental Film Festival opens today and runs through March 25. You'll have your pick of 115 green screen features at more than 40 venues throughout the area. A few films are having local premieres, including Hurricane on the Bayou, about Hurricane Katrina, and Sharkwater, dealing with the global threat to sharks. Admission ranges from free to $17. For more details and a schedule, visit http://www.dcenvironmentalfilmfest.org.
The Richmond-based band Bio Ritmo makes their way up to the Black Cat (1811 14th St., NW; 202-667-7960) Thursday evening. Their unique musical mix of salsa, electronica, and a big-band sound is sure to make for a danceable show and an enjoyable evening. At the very least, it should be interesting to see how the nine-member band fits onto the stage in the Black Cat's backstage. $10, 9 pm. LISTEN: "Dime Vida."
John Stirratt, longtime member of the alt-country act Wilco, joins forces with musician Pat Sansone for his side project, The Autumn Defense. The band churns out hummable, classic '70s-style pop. Catch them tonight at Jammin' Java (227 Maple Ave. E., Vienna; 703-255-1566). $15, 8 pm.