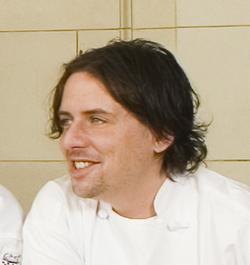 Michael Hartzer is settling in at Logan Circle's Viridian, where he took over as executive chef last month. This new job is much more convenient for the 31-year-old Capitol Hill resident, who spent the last year and a half running the kitchen at Ray's the Classics in Silver Spring. Before that, Fairfax-born Hartzer worked at Citronelle for five years, climbing the ranks and ending his tenure as Michel Richard's chef de cuisine. Here, Hartzer reveals some of his food favorites and guilty pleasures, from his all-time favorite dish to his go-to late night spot.
All-time favorite meal:The best meal I've ever had in my life was in Paris at L'Arpege. It's a three-star Michelin place. The most memorable dish was a really simple appetizer—a carpaccio of perfectly caramelized onions topped with perfectly shaved parmesan, fleur de sel and cracked pepper. That's it. It's one of the most perfect things. It's all about technique.

Favorite local restaurant: Some of the best cooking in town is at Palena. On a more regular basis, I go to Tom [Power]'s place, Corduroy. He does an amazing job. Of course, I think Citronelle, CityZen, and Maestro could compete with anybody anywhere.

Favorite local bar: After work, Bar Pilar, and closer to home would be the Argonaut.

Favorite drink: Gin and tonic

Favorite late night eats: My guilty pleasure is cheesesteaks with tahini from George's Townhouse King of Falafel in Georgetown. They're open until 4 AM on weekends. It's quite special.

Favorite breakfast: Crepes. I like them with ham, cheese, and mushrooms.

Favorite dish to cook at home: A whole roasted chicken with some fresh vegetables from the market. Or my wife's favorite, spaghetti and meatballs from scratch.

Favorite five-minute meal: Most of the time it's a quesadilla, with leftover roasted chicken, maybe some onions and pepper, green chilies, whatever fresh herbs I have laying around, and good cheese.

Favorite food television personality: Even though it can be goofy, I really like Alton Brown's Good Eats. He gets into some real science and technique, and actually tells people to buy the real ingredients.

Least favorite foodie personality: Not that his food is all that bad, but Tyler Florence. He just bugs me.

Favorite cookbook: For technique and science, Harold McGee's On Food and Cooking. For inspiration, Michel Bras's books, and British chef Richard Corrigan's book, From the Waters and the Wild, to get inspiration for fresh from farm cooking.

Favorite dish on your Viridian menu right now: It would have to be our scallop appetizer, called scallop romesco. It's two diver scallops with basically a deconstructed version of the classic Spanish romesco, which is typically a pesto-type sauce. This dish has a red bell pepper and ancho chili puree, toasted hazelnuts and almonds soaked in 50 year old sherry vinegar, burnt scallions, and fried bread.