The adage says that April showers bring May flowers—what if you don't want to wait?
House plants are a great way to bring spring's bright colors and fresh smells into your home. We caught up with Joe Carmack, owner of Garden District in Logan Circle, for advice on plants that thrive indoors this time of year.
Rather than a bouquet of flowers, Carmack suggests house plants because they are less expensive and last longer. Whereas bouquets wilt after seven to ten days, house plants bloom for three to six weeks. Says Carmack, "You don't have to have a house plant forever. And then when you get tired of it, you can try something new. Your investment is less."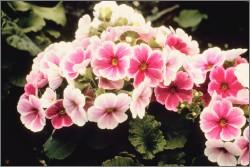 Rieger begonias (Begonia x hiemalis), primroses (Primula obconica), gerber daisies (Gerbera jamesonii), and crocuses top Carmack's list because, he says, they are in-season now. Plus, they are affordable—all sell for $5 to $8 at Garden District and are easy to find at other area nurseries and florists. (For a list of good garden stores and nurseries click here)
A decorative pot adds style, hides the plant's plastic container, and catches water from drainage holes. If you have a larger pot, use pea gravel or terra cotta shards to fill the bottom, then drop in your plant, plastic container and all. Spanish moss can add flair and hide the plastic.
For more advice on gardening, check out Joe Carmack's blog.
More flower pictures after the jump.