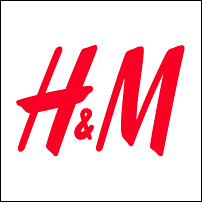 Curious about Madonna's H&M line debuting at the stores today, but couldn't get out of work to go check it out yourself? Well, no worries—After Hours was there. I arrived at the H&M on 10th and F Streets NW, 45 minute's before the store's opening expecting a line at least half-way around the block. But the reality was that I was literally the second person there. As time went on, a few more people lined up and chatted with me, but by the time the store's doors opened a bit before 10, there were still only six or seven people waiting to enter.
That number may not bode well for the sales of the M by Madonna line in DC, considering that other designers like Stella McCartney and Victor & Rolf, who have also done H&M lines, caused total chaos and bedlam when they debuted. A woman who joined me in line recalled the opening of the Viktor & Rolf line last fall, saying that there were huge crowds, plenty of elbows being thrown, and clothes flying off the shelves before she could get her hands on any.
In comparison, the Madonna experience at H&M was completely tame. The collection is rather small, and features a few dresses, leather jackets, pants and blouses—plus a cream trench coat that seemed to be the object of most people's desire. I found one dress I liked so much—a well-draped silk rayon piece that Madonna wore to the launch party for her line—that I bought it in both gray and black. There were accessories as well, including a large pair of wraparound sunglasses emblazoned with sideways Ms on the side, wide patent leather belts, totes, and shoes.
Thinking about heading to snap up some of your own M by Madonna items this evening? A sales associate this morning said she thought there'd still be items left through the day–but several afternoon calls placed to the Metro Center H&M went unanswered, so perhaps untold and unexpected hoards descended on the store and turned it into a post-apocalyptic wasteland, and the salesclerks are cowering behind the cash registers? Who knows! If you dropped by or plan on it, leave a comment about your experience.