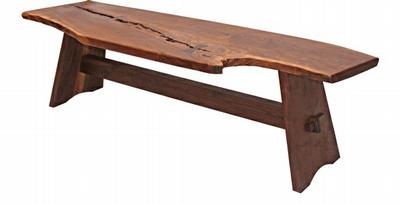 What do architect Hugh Jacobsen, political commentator Andrew Sullivan, and actor Chris Eigman have in common? They all own furniture by Dave Stine.

After graduating from George Washington University Law School in 1997 and practicing for one year, Stine abandoned law in favor of his first love: carpentry. In the garage of his house on Adams Mill Road in Adams Morgan, he began making furniture and opened his own business, Stine Woodworking. Born on a dairy farm in rural Illinois, Stine learned woodworking and craftsmanship from his father and grandfather. In 2002 he and his family left Washington and returned to Illinois, where he set up his wood shop in a restored farmhouse.
Tomorrow night, Stine hosts a show and sale at the Woolly Mammoth Theatre Company. His work includes hand-crafted benches, beds, tables, bookcases, and cabinets in oak, black cherry, mahogany, maple, and chestnut. Stine selects, harvests, and saws the lumber himself—his pieces are available in any size, wood, or finish.
Woolly Mammoth Theatre Company | 641 D St., NW | 5 to 8 pm
More furniture pictures below.