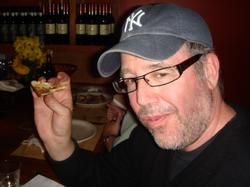 Attorney Mark Kuller specializes in tax litigation, but he's also well-versed in wine, food, and cooking. A New York native, he's called Washington home for 25 years. Now, he's about to take on a new career–restaurateur. Kuller is the owner of Proof, a wine-centric restaurant slated to open in Penn Quarter (701 Eighth St., NW) on May 25. This afternoon he took a break from law and restaurant-planning to tell us about his love of Palena's roast chicken and the killer grilled cheese sandwiches he makes at home.

All-time favorite meal: One would be a pastrami sandwich at Katz's in New York. Another one is Palena's roast chicken–I go there every week and order it. One memorable meal was a dinner at Chinois, Wolfgang Puck's restaurant in Santa Monica, about ten years ago after watching Brazil beat Italy in the World Cup. Dennis Hopper was sitting behind us, and Henry Kissinger was in the restaurant too. We were singing "Ole Ole Ole!" All the waiters and busboys started singing, and then we had the whole restaurant singing, including Dennis Hopper and Henry Kissinger.

Favorite local restaurant: Palena by far. The Cafe at Palena is the best restaurant in the city.

Favorite wine list in the area: Citronelle is outstanding–Mark Slater does a great job there. At most places I bring my own wine and pay the corkage fee. DC has a liberal corkage policy, so my favorite wine list is my own.
Favorite dish to cook at home: A grilled cheese sandwich. I make the best grilled cheese sandwich in the world. I usually use whatever cheeses are in the fridge–some cheddar, some Parmigiano-Reggiano, some Pleasant Ridge Reserve if I have it, it's a great caramel-y cheese from Wisconsin. And you have to have a slice of American in there. It has to be a hodgepodge. I also love anything to do with eggs, like scrambled eggs in duck fat. I love making that at home and it'll be on the brunch menu at Proof. I've never seen it on a restaurant menu before. Everyone does fries in duck fat, but never eggs.

Favorite dish on soon-to-open Proof's menu: It's not even on the menu yet, but Haidar [Karoum, the chef] has a way with fish, and I know his sablefish is going to be one of my favorites. He experimented with a lamb burger the other day. There were three left over and I found myself eating one for breakfast the next morning. That was really great.

Favorite cocktail: Grey Goose martini, straight up with a couple of olives.

Favorite wine and food pairing: Sauternes and sauteed foie gras. Chateau d'Yquem. It's one of the most wonderful experiences.

Favorite course (of a meal): I like hors d'oeuvres and appetizers, small bites. I love restaurants like Joel Robuchon, where it's lots of small tastes. Proof is modeled after that type of eating.

Dessert or cheese plate?: Definitely cheese. I'm not a dessert person. I had a friend in town last night take me to Citronelle, and I opted for the cheese.

Coffee or tea?: Strong coffee black or espresso.

Favorite cookbook: I love Michael Chiarello's The Tra Vigne Cookbook, from his restaurant in California. He's also on TV now.

Favorite workday lunch: A turkey or roast beef sandwich at Hodges, right around the corner from the restaurant.

Favorite ethnic cuisine: Probably Italian food. My favorites are Teatro Goldoni and Tosca–I don't want to get one mad at me. Those are the two best.

Favorite junk food: Pizza. In this city, from 2 Amys.

Favorite late night snack: Probably a grilled cheese sandwich.