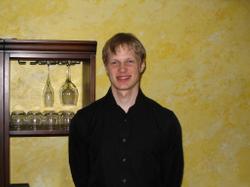 By day, Bill Jensen studies Latin American history and economics at the University of Maryland. But five nights a week, you'll find him at Dupont Circle's Greek-accented Komi, where he works as a server. His first restaurant job, while in high school at Bethesda-Chevy Chase, was food-running at Rio Grande Cafe. Before Komi, he handled the crowds at the always-bustling Cleveland Park pizza spot 2 Amys. Though he's never worked in a kitchen, Bill is an avid home cook—here, he shares some foods he loves to prepare as well as his favorite dish at Komi. And no, he doesn't get dinner there every night–no staff meals in such a small place–but the addictive house-made crackers are his late-night snack of choice.

All-time favorite meal: It was at a restaurant called Cal Pep, a very famous Barcelona institution. I sat at the bar, and the only reason I could afford it is because a lot of European places have an inexpensive lunch special. The chef, Pep Manubens, was there expediting and that was really cool–he's pretty famous. He taught me how to eat langoustines, something like a Catalan crawfish. I had my first great fritto misto there. Altogether, an unforgettable experience in an amazing city for food.

Favorite local restaurant: As a student, I'm a huge fan of Colorado Kitchen. They have a relatively small menu, but everything they do is well-executed and just feels homey. And there's an awesome, really diverse clientele.Favorite dish to cook at home: Something I do a lot for family special occasions is a bruschetta bar with lots of different toppings. One thing I make for it that I love is a romesco—it's a traditional Spanish sauce. You roast peppers, tomatoes, almonds, and throw everything in a food processor with red wine vinegar, some chili. It's nice not to have to adhere to strict measurements. In terms of a dish I make more often, I'd have to go with oven-roasted Roma tomatoes. You just cut them in half, remove the seeds, and throw them on a baking sheet with some olive oil, kosher salt, pepper, a few cloves of garlic, and maybe a little thyme. I slow roast them at 200 degrees for a few hours. They're great on their own with a little crusty bread, or as a meal with penne and goat cheese.

Most ambitious dish you've prepared: I tried my hand at a coffee-amaretto souffle. I over-beat the eggs a little bit, but it rose in the end. It was a Jacques Pepin recipe, and surprisingly easy to execute.

Favorite dish from Komi: I really like the old-world appeal of the restaurant, so I like a lot of the entrees that reflect that. We've had the katsikaki on the menu for a while. It's spit-roasted goat with a really nice, smoky crust, served on the bone. It's relatively rustic by fine dining standards–traditional Greek island food.

Best dish to describe to Komi's customers: Ha! I can be accused of over-describing. We've been doing this dish with padron peppers from Galicia, Spain. About one in ten is spicy, the others are mild. It's really fun to explain them to guests. I like to break out the Spanish expression about them with tables: "Algunos pican e otros non." Literally translated, "some itch [the tongue], and others not." We serve them with a panna cotta, lately english pea and mint, which works well because the chemical compound that makes peppers hot – capsaicin – is neutralized by dairy.

Favorite pizza toppings at 2 Amys: They put a lot of stock in the specials menu, which changes seasonally. That's all I ever order from when I go back there. But my favorite pizza is the Norcia, with salami and roasted red peppers.

Dessert or cheese plate?: I love desserts, and our pastry chef is really awesome, but I'm definitely a cheese guy.

Coffee or tea?: My girlfriend makes fun of me, but I've gotten into gourmet tea. I'm a big fan of Pu-erh, a Chinese tea. It has a nice, musty, earthy taste and smell. I love Ching Ching Cha in Georgetown.

Red or white wine?: Definitely red.

Favorite cookbook: My parents have an old battered copy of the Joy of Cooking that's indispensable. I have The New Basics— it's in paperback so not as expensive–and they take a really modern, ingredient-based approach.

Favorite fast food: I'm a huge Chipotle fan—the shredded beef burrito.
Favorite late night snack: The crackers at Komi. I snag a few before I leave at the end of the night.