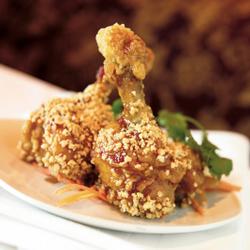 No meal engenders more extreme reactions than brunch. People either love it or hate it. Maybe that's because brunch is so often either really good or really bad.
A good brunch can be a wonderful thing, a time to unwind on a lazy Sunday with family or friends over a comforting feast. But a bad brunch has a way of ruining the weekend. And there are a lot of bad brunches out there, with their omelet stations (complete with last night's lobster) and bottomless mimosas that put can you in a stupor. You'll snap to when the bill arrives: Brunch for two at some of these places can set you back $150.
With brunch season about to kick in, we set off in search of weekend feasts worthy of our time and money. We turned up some good, traditional-style brunches that sidestepped the usual clichés.
But many of the brunches we gravitated to are a little unconventional: a dim sum feast with Thai roots, an Eastern European–style smorgasbord, a Southern spread with a pickled-vegetable bar, and the best chilaquiles around. We think they're interesting enough to make a believer of even the most hardened brunch hater.
Related:
Guide to Bottomless Champagne and mimosa brunches
Summer Brunch Trends
DC Chefs Chat About Brunch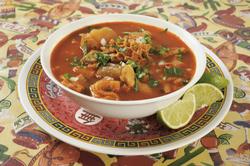 Big Bowls
Pho VN One (11000 Baltimore Ave., Beltsville; 301-931-3302; pho $5.70 to $6.45). A steaming bowl of oxtail-flavored broth and noodles for breakfast? Why not? In Vietnam this soup is often the first order of the day. This bright and stylish Beltsville restaurant opens at 10:30 every morning, and its pho, served in a hefty tureen, is rich, fragrant, and gently spiced. If brunch is about taking time out for a leisurely meal with friends or family, then a bowl of pho is pretty much an ideal brunch food, encouraging slow, sensual contemplation and allowing time for conversation.
La Sirenita (4911 Edmonston Rd., Hyattsville; 301-864-0188; entrées $8 to $18.50). If you hear the word "menudo" and think of the Puerto Rican boy band, you've probably never enjoyed this Mexican meal in a bowl. Like many classic dishes, menudo is a food of necessity, the transformation of humble organ meats into something delicious. It's a weekend-only special at this scruffy roadside restaurant, and locals pour into the jukebox-blaring space as soon as it opens for a taste of the rich, slow-cooked tripe soup; devotees know to brighten their bowls with a spritz of lime and a few scatterings of chopped onion. Don't overlook the huevos rancheros and chilaquiles—torn-tortilla casseroles interleaved with spoonfuls of red or green sauce and capped with a fried egg.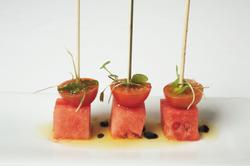 Small Plates
Café Atlántico (405 Eighth St., NW; 202-393-0812; dim sum $1.95 to $8). Chopsticks at Café Atlántico? Only on weekends, when this Nuevo Latino mainstay rolls out its Latin American–style dim sum brunch. No pushing of carts—instead, there's a menu with nine seafood and 11 vegetarian options. First-timers should set their sights on the $35 deluxe tasting menu—a Minibar-style extravaganza featuring 25 larger-than-bite-size tastes of chef Katsuya Fukushima's reinterpreted Latin dishes: simple corn soup with warm foie gras, conch fritters with a liquid center, and shaved pineapple with plantain powder.
Duangrat's (5878 Leesburg Pike, Falls Church; 703-820-5775; dim sum $4.95 to $6.95). The Sunday meal at this freshly renovated dining room might be billed as "Thai dim sum." The parade of generously portioned small plates covers the pan-Asian bases: from Vietnamese-style lemongrass-chicken summer rolls to slabs of pork breaded and fried katsu-style to drumettes of Kung Pao chicken. Look for anything in a pastry crust—flaky crepes holding sweetly braised massaman beef, a buttery-crusted pocket of curried salmon, or warm roti filled with fried duck. If the hushed formality of the bow-tied waitstaff and Muzak seem out of place at 11 am, the leisurely pacing and vibrant flavors make up for it.
A&J Restaurant (4316-B Markham St., Annandale; 703-813-8181; 1319-C Rockville Pike, Rockville; 301-251-7878; dim sum 95 cents to $5.95). Both cheery locations offer a northern Chinese dim sum feast with more choices than most big hotel brunches could dream of, and at remarkably good prices: Most dishes are under $3; nothing is over $5.95. The menu focuses on bread-based dishes of the north that don't show up in Hong Kong–style dim sum parlors—a scallion pancake, crispy outside and chewy within, and a thousand-layer pancake, a conversation piece that customers pass around the table and tear into pieces.
The latter doubles as an excellent vehicle for sopping up sauces, like the zippy hot-and-sour drizzle that dresses a tangle of cold angel-hair-like noodles. Also look to the irresistible pan-fried and steamed dumplings—also known as buns—stuffed with juicy pork or beef and, to go with them, a counterbalancing plate of spicy pickled cucumbers.
Hollywood East Cafe (2621 University Blvd. W., Wheaton; 240-290-9988; dim sum $2.50 to $4.95). The brunch "buffet" at this pink-walled and crystal-chandeliered dining room swings by your table via a fleet of carts laden with Chinese dim sum. Diaphanous shark-fin dumplings, shiny barbecue-pork buns, and tiny sautéed clams with garlicky black-bean sauce are choice picks. Pace yourself and be bold: Salt-and-pepper anchovies and crispy chicken feet are surprisingly delicious. Dim sum is a phrase that means "eat to your heart's content," and that's the best way to revel in this feast.
Light Repasts, Euro-Style
Leopold's Kafe & Konditorei (3315 Cady's Alley, NW; 202-965-6005; entrées $8 to $15). It's not brunch, it's Frühstück—that's German for "breakfast"—served daily at this Georgetown cafe until 4 pm. Later in the day, you'll see lounging European transplants chatting in all kinds of accents and tucking into plates of simple "Leopold's Fruehstueck"—eggs served the Viennese way, soft-boiled with cured and smoked ham. A more exciting weekend menu offers housemade knockwurst with eggs and a goat-cheese-and-cured-tomato omelet. Espresso machines whir all morning, and there are rich hazelnut linzertortes and not-overly-sweet apricot Sachertortes. Fresh-squeezed grapefruit juice is a nice foil to the wursts and buttery pastries.
Domku (821 Upshur St., NW; 202-722-7475; entrées $4.50 to $10). From the eclectic decor—mismatched sofas and sparkling chandeliers—to the Eastern European/Scandinavian theme, everything about this DC treasure feels novel. The Nordic eggs Benedict is a mini tower of toasted sourdough rounds layered with dill-flecked gravlax (a nice alternative to Canadian bacon) and cloudlike poached eggs. Then there's the heart-shaped Swedish cardamom waffle, golden brown and glazed with maple syrup. Owner and former Peace Corps volunteer Kera Carpenter runs the place, serving bloody Domkus—made with red-chili-infused aquavit—while her seven-year-old daughter tags along delivering glasses of black-currant juice and the bill of fare at the end.
Heartier Fare
Lia's (4435 Willard Ave., Chevy Chase; 240-223-5427; entrées $9.95 to $16.95). Crespelle is Italian for crepe. But don't expect Gruyère-and-ham-filled rectangles at this Friendship Heights trattoria. These light crepes are slathered with mascarpone and a drizzle of blueberry and lemon zabaglione or layered napoleon-style with scrambled eggs, prosciutto, and arugula (a little overstuffed but pleasing). Largesse is a hallmark of all Geoff Tracy's (a.k.a. Chef Geoff) restaurants, and Lia's—with its convivial bar, brightly lit dining room, and sidewalk cafe—is no exception.
Indigo Landing (1 Marina Dr., Alexandria; 703-548-0001; $35 prix fixe). Forget tired omelets and warmed-over pancakes. Indigo shatters the buffet-brunch clichés with house-cured molasses salmon, roasted oysters, and steamed mussels. Jars of pimiento cheese and house-pickled cauliflower keep the Lowcountry vibe going; alas, the fabulous biscuits and jalapeño muffins don't fare well on the buffet—they need to be hot. For the $35 tab you also get a glass of Barboursville Brut sparkling wine, an entrée like the luscious creamed-spinach omelet dressed with fried oysters, and a view of the Potomac and the monuments beyond.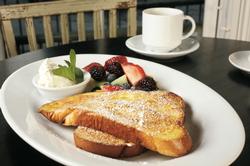 In the Tradition
Black Market Bistro (4600 Waverly Ave., Garrett Park; 301-933-3000; entrées $10 to $14). "This is everything brunch should be," says a gray-haired woman at a nearby table. Every detail at Jeff and Barbara Black's wainscoted, no-reservations Garrett Park restaurant—packed from the 10 am get-go—has been considered: There's lovely housemade applesauce with the potato pancakes, bacon made even better with a brushing of maple syrup, French toast scented with orange and vanilla bean. It makes you take things like the fresh orange juice for granted. The only blight, besides the sometimes long wait: You have to pack up the leftovers yourself.
Blue Duck Tavern (1201 24th St., NW; 202-419-6755; entrées $14 to $26). Even if you don't spring for the $15 glass pot of Extreme Display tea—a flower emerges from the cluster of tea leaves as it's steeping—brunch at Blue Duck is rife with elegant touches. A square of scrapple shows up on a silver salver. Sugar comes by the lump. And tongs are everywhere. Window tables are the most coveted perch for savoring briny Revel Island oysters, a perfect Benedict with thick slices of pink Irish bacon and ethereal hollandaise, or a silkily robust veal-and-mushroom stew. And though they're not billed as dessert, crisp Belgian waffles with a ramekin of fresh whipped cream make a good one.
Poste Moderne Brasserie (555 Eighth St., NW; 202-783-6060; entrées $11 to $19). This hopping restaurant pumps new life into the standard hotel-brunch menu by emphasizing big, palate-awakening flavors: a zesty, overstuffed duck-Reuben sandwich; grilled toasts smeared with aïoli and capped with briny white anchovies and pear tomatoes; wonderful lavender-flecked doughnuts (yeast, not cake) cooked to order and rolled in sugar. There's the usual complement of eggs and such, all dressed up with unexpected touches and handled with the sort of finesse that should banish any memories of a station-style hotel brunch.
And the award for best hangover cure goes to . . .
BlackSalt (4883 MacArthur Blvd., NW; 202-342-9101; entrées $8 to $17). If it's a sunglasses-indoors morning, head to this sleek fish market/dining room in DC's Palisades, which is kept dark and quiet at brunchtime. Strong Illy coffee, a gratis bowl of chopped pineapple and melon, and a plate of Louisiana-style Benedict—two runny poached eggs over cornbread with cayenne-stoked hollandaise and a vinegary, spicy sauté of crawdads—not to mention gentle prices, will put some spring back in your step.
>> Guide to Bottomless Champagne and mimosa brunches
>> Summer Brunch Trends