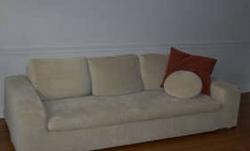 This champagne-colored contemporary sofa is going for $1,200 on Craigslist. Made by high-end Italian designer Minotti, the couch retails for more than $7,000, or so the post claims. The owner is offering to knock $100 off the price for anyone who picks it up before Saturday.
More cool stuff:
• Antique oak dresser with mirror for $395
• Five modern dining room chairs for $400
• Maple china cabinet for $1,800
• White wooden bench for $220
• Side table with sewing machine leg base for $45
• Wrought iron dining set—glass-top table and four chairs—for $400
• China cabinet/buffet for $360
Thanks, Craigslist!