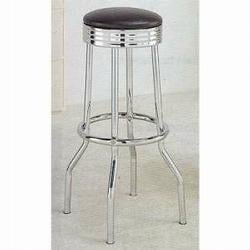 Check out this retro bar stool with swivel seat—the owner is selling a set of two for $79. It looks like something from a 1950s diner or malt shop. I could see these in a basement bar, along a drafting table, or in a modern kitchen with stainless appliances.
More cool stuff:
• Mahogany rocking chair for $35
• China cabinet and buffet from Ethan Allen for $200
• Nine handwoven couch pillows for $99
• Vintage desk lamp for $35
• Walnut desk for $125
• Matching wrought iron floor and table lamps for $100
• Mahogany library table for $210
Thanks, Craigslist!