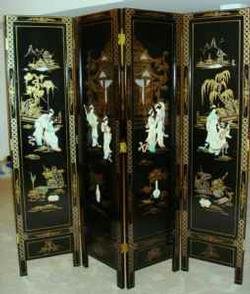 Slim pickings on Craigslist today, but I did find this four-panel, painted room divider for $100. Those of us with small apartments sometimes need to make one room serve two purposes—this could be the answer. And the elaborate design would give a studio apartment a stamp of originality.
More finds:
• Wrought-iron and glass dining table with four chairs for $300
• Two-piece, painted cupboard for $500
• Floor lamp for $200
• Stained hardwood park bench for $55
• King-size sleigh bed for $600
• Cherry bookcase for $200
Thanks, Craigslist!