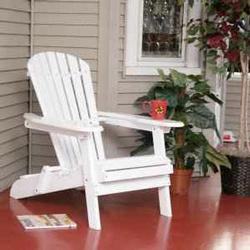 With warm weather around the corner, here's my Craigslist Treasure Hunt pick of the week: a set of two white Adirondack chairs. $120 buys the pair—and many hours of enjoying the outdoors this summer.
More good finds:
• Dining room table with four chairs for $1,100
• Honey pine crib for $175
• Wrought iron and wood corner stand for $135
• Set of two dark wood end tables for $100
• Red side table from Pottery Barn for $50
Thanks, Craigslist!