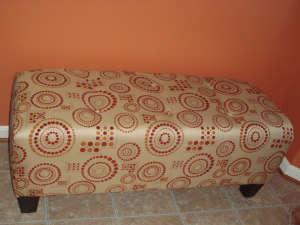 This modern bench is lively and colorful. It's going for $200 and measures 48-by-20—a good size for a hallway or foyer.
More finds:
• Contemporary glass and wood dining table for $1,500
• Entertainment center from Pier 1 for $350
• Coat rack and storage bench for $180
• Bar-height table and chairs for $250
• Breakfast table with four chairs for $125
• Glass-top coffee table made by Mitchell Gold for $350
Thanks, Craig!