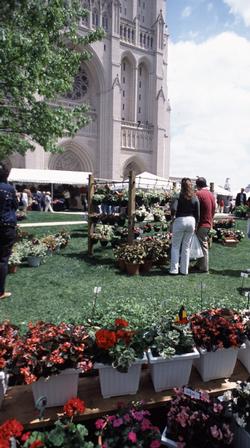 After a few false starts, it looks like spring is here for good. And with May's arrival come flowers—and the Washington National Cathedral's annual Flower Mart festival. This Friday and Saturday, May 4 and 5, the Cathedral turns its grounds into an open-air garden market with food vendors, a mini-Ferris wheel, historic carousel, and climbing wall.
For the garden enthusiast, the real attractions are the 50-plus tents and booths selling everything from perennials to gargoyles. If you have an outdoor garden, look for a range of sun- and shade-loving annuals like geraniums, pansies, and gerber daisies plus perennials like black-eyed susans and daylilies.
If you don't have outdoor space, you can still find ways to dress up a condo or apartment. Hanging baskets add color and vibrance to a room without taking up space; a wide selection of herbs like lavender, rosemary, basil, and thyme would be useful—and decorative—additions to a kitchen. There also will be garden ornaments, handbags, jewelry, and the chance to chat with gardening experts.
This year's theme is Canada, so look out for a Royal Mountie on horseback, an Inukshuk workshop, and tea featuring Canadian culinary specialities. Inside the Cathedral, countries from around the world—from Ecuador to Armenia to New Zealand—will display flower arrangements celebrating their region and culture.
Washington National Cathedral | Massachusetts and Wisconsin avenues, NW | Friday 10 to 6 and Saturday 10 to 5