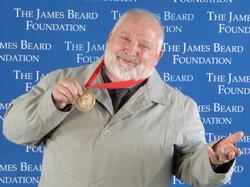 DC chefs rocked at last night's James Beard Awards, held at Avery Fisher Hall in New York City. Real quick, the local winners are…
Outstanding Chef Award: This is one of the night's top honors, and it was ebulliently taken by Michel Richard of Citronelle (and Central). Other nominees were Tom Colicchio of Craft, Jean Joho of Everest, Lee Hefter of Spago, and Paul Kahan of Blackbird.
Best Chef, Mid-Atlantic: This category had the most DC area talent, and it was ultimately won by not one, but two local chefs: Vidalia's R.J. Cooper tied with Palena's Frank Ruta. They bested Cathal Armstrong of Restaurant Eve, plus Jose Garces of Amada (Philly) and Maricel Presilla of Cucharamama (Hoboken).
Outstanding Wine Service: Another big win for Citronelle, whose sommelier Mark Slater took home this medal. He was up against Brian Duncan of Bin 36, Greg Tresner of Mary Elaine's at the Phoenician, Robert Smith of Picasso, and Charles Scicolone of Il Trulli.
Rising Star Chef of the Year: He's not a local anymore, but Virginia native David Chang (check out our interview with him in the May issue) was given this coveted prize for his two New York restaurants, Momofuku Noodle Bar, and Momofuku Ssam Bar.
You can find the rest of the winners here.