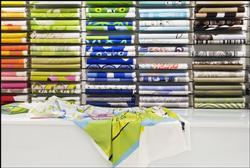 I've blocked out my Saturday already for this great fashion event. Marimekko (8519 Georgia Avenue, Silver Spring), the new fantastic clothing and decor store in Silver Spring, will be hosting a do-it-yourself fashion event at their store this Saturday from 11 am until 1 pm.
The deal? Show up, and select a scrumptious fabric from Marimekko's 2007 line (trust me, if you've seen their prints, you could spend hours on selecting a fabric alone). Then pick you embellishments for the bag, cut the fabric in the shape you like, and the professional team at Marimekko will sew it up for you. And voila! You'll have your own personalized bag.
The event is a first-come, first-served sorta thing, so make sure you get your RSVP in there. Email marimekko@thepattongroupinc.com with a preferred time. The event costs $45.
Related: Check out Open House's First Look at Marimekko here.