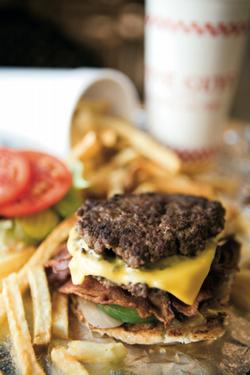 Since Wednesday's New York Times article on the preponderance of fat–in the form of lardo, pork jowl, and lamb belly–on upscale restaurant menus, upwards of 300 eaters have been gleefully recalling their favorite gluttonous moments, whether fat-laced, butter-soaked, or fried, on the newspaper's Diner's Journal blog.
Among the celebrations of deep South pig pickings, all-you-can-eat foie gras fests, and Mallomars face-stuffings, DC gets some love. Poster Brandon N puts in a vote for "Five Guy's [sic] cheeseburger with bacon, lettuce, pickle, barbecue sauce, and satueed onions. With french fries. A HUGE bag. They don't suck the starch from the fries, so they suck up the peanut oil and explode with potatoey goodness on contact. Not to mention the burger, which by the time you dig through the layer of fries is threatening to bust through the bottom of the grease-comprimised [sic] bag."
Uncle Sid recalls "Chicken In a Pot, fixed the way they did at the old Duke Ziebert's."
My local favorites? It's tough to narrow them down, but the fried duck with chilies at Bangkok 54, a sausage-and-peppers sub from Litteri, and porchetta from 2 Amys all jump to mind. What are yours?…
…Fire up those Opentable accounts and start booking early for this summer's DC Restaurant Week, held from August 6 through 12. You probably know the drill: During the promotion, participating restaurants offer three-course lunches for $20.07, and three-course dinners for $30.07. Though restaurants haven't been announced yet, the most in-demand tables are at places that let you choose from the entire regular menu. In the past, those have included Vidalia, Ceiba, Acadiana, DC Coast, Ten Penh, Ristorante Tosca, Circle Bistro, Viridian, and Corduroy…
….Prematurely-grizzled, expletive-barking chef Gordon Ramsey is back on Fox for the third season of his behind-the-line reality show Hell's Kitchen. Among the masochists, er, contestants is Spotsylvania resident Rock Harper, who's currently executive chef at B. Smith's, right here in DC's Union Station…
…When I think bake sale, I think Duncan Hines brownies, Giant sheetcake, and gooey homemade cupcakes. This Sunday, June 17, you'll find a more distinguished (and delicious) range of sweets at Share Our Strength's Great American Bake Sale, held between 9 AM and 1 PM at the Dupont FreshFarm market (1500 block of 20th St., NW, between Massachusetts Ave. and Q St.). Confectioners taking part include Shoebox Oven and Best Buns Bakery, and proceeds benefit SOS's local efforts to end child hunger…
…If you're thinking of dining out Sunday night, keep in mind that many local chefs will be tearing it up on the dance floor at the 25th annual RAMMY awards (this year's theme: "Black Tie and Boas"), held at the Marriott Wardman Park. The Restaurant Association of Metropolitan Washington's annual ceremony honors local restaurants and culinary talent. You can check out the list of nominees here…
…The Chef Shuffle: Former Firefly chef John Wabeck has landed at New Heights…
…Back in January, John-Paul Damato left his longtime job overseeing the kitchens of Jaleo's three locations to become executive chef and partner in new restaurant Mio. Now, just one month after the downtown spot's splashy opening, comes word that Damato has left Mio and is back working for his old boss Jose Andres. Damato is now "executive chef of special projects" at THINKfoodGROUP, where he's helping to develop recipes for Andres's upcoming television show and new cookbook. Mio's sous chef, Ryan Wheeler, is currently manning the kitchen…
…Joy Ludwig, who previously worked under it-boy pastry chef Johnny Iuzzini at New York's Jean-Georges, is now in charge of the desserts at the Oval Room (helmed by fellow Jean-Georges alum Tony Conte) and the Bombay Club. She'll turn out such sweets as a chocolate-banana custard tart with chocolate-rum ice cream, and rhubarb-strawberry bread pudding.