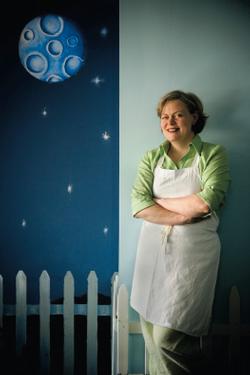 Liz Davis is known to her Del Ray neighbors as the Dairy Godmother, the smile behind the frozen-custard shop of that name on Mount Vernon Avenue in Alexandria.
A native of Waukesha, Wisconsin, she first moved to Washington in 1965 after her father, Glenn Davis, was elected to Congress.
Davis is a graduate of New York's Culinary Institute of America and had long dreamed of opening such a store while working as a pastry chef. Now her place is known for its whimsical frozen custards, whose flavors change every two days and range from Mozambique (cinnamon, nutmeg, and cloves) to root-beer float.
She has two children: Nora Livengood, 19, a sophomore at Clemson University, and Robert Livengood, 15, a junior at T.C. Williams High School.
Where's your favorite spot in Washington? Where the farmers market is! I am especially fond of Del Ray and Eastern markets. I love being outside and finding treasures to cook with. It is important to keep these local farmers in business.
Favorite pastime? Because I spend a lot of hours at the shop, I love being at home with my kids and dogs. If I'm not there, I am at a T.C. Williams football game. Since Alexandria has only one public high school, there is a fabulous sense of community . . . andI get to hang out with the other parents and kids.
Favorite television show? The Green Bay Packers games.
Favorite read? As the Dairy Godmother, I am drawn to fantasy, Arthurian legend, sci-fi such as Orson Scott Card. I read what my college daughter puts in my hand, as she is an avid reader and she really knows me.
What's on your bookshelf? Around the Roman Table by Patrick Faas has a fabulous discussion of Roman dining customs. The Farm Journal's Complete Pie Cookbook; although out of print, Farm Journal cookbooks are my go-to references. I seldom pick up anything published after 1970. There was a big shift when people stopped eating most of their meals at home. You will not find a cookbook put out by a restaurant chef on my shelf.
Favorite song? "Count Your Blessings" by Irving Berlin.
Favorite song on your jukebox? "Do You Believe in Magic?" by the Lovin' Spoonful. I still like "Puff, the Magic Dragon" even if the customers do play it every five minutes. I think my employees would like to take it out and smash it.
Favorite flavor? The Godmom doesn't play favorites!
Favorite Fourth of July tradition? I'm always working on Fourth of July. The flavor of the day is Snickerdoodle Dandy, chopped snickerdoodle cookies in cinnamon-and-nutmeg custard.
Favorite everyday restaurant? Al's Steak on Mount Vernon Avenue in Del Ray.
Favorite food? I'm interested in eating and cooking with some specific flavors such as orange-flower water, cardamom, and gooseberries. They're almost like little obsessions.
Favorite summer drink? A meerwasser (sorbet float) with West Indian lime sorbet (lime, fresh bay leaves, and clove) and ginger ale. I seldom drink alcohol. I'm on the brain-cell-conservation plan.
Best meal ever? July 1981, Fort Collins, Colorado. Fresh tomatoes, corned-beef hash, cream biscuits, and buttermilk chocolate cake at Susan McCreight Lindeborg's house. She is really the finest cook I have ever met. Washington suffers without her.
Favorite vacation spot? I don't get out of town except when I close for a few weeks in January. So I guess that means Milwaukee in January is the place to be! The custard stands are open, and the lines are short. I once went to a gelato conference in Italy instead, but it wasn't the same.
Favorite object you own? A cracked green McCoy vase solely because my son once said, "Where that is feels like home." Otherwise it is one of the least valuable things I own.
If you could be doing anything else, what would it be? I'd be running a boarding house. Washington used to be full of them because single people came from all over to work for Uncle Sam. Cooking large family meals and providing a loose-knit family structure for individuals—I may do that next.
What makes Washington special? The way so many folks come from so many different places and yet manage to make a home for themselves here. All contribute something whence they came, whether it be customs, language, ideas, or frozen custard. Washingtonians make Washington special.