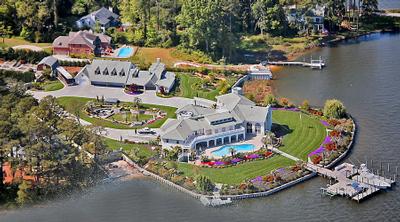 Where: Linkhorn Bay, Virginia Beach
Listing Price: $19.9 million
Time on the Market: 8 months
Bedrooms: 10
Bathrooms: 17
Details: In honor of the beach-getaway tradition of the July 4th weekend, we're highlighting this $20-million waterfront mansion, the most expensive property on the market in the area that includes Hampton Roads, Norfolk, and Virginia Beach.
A wrought-iron security gate guards the expansive 21,000-square-foot home and its more than three acres. Built in 2002 and called Edgewood Estate, the four-level main house offers an elevator, two master suites, an art studio, a ballroom/party room, a game room, and a library. It also has two docks, three boat lifts, a private beach, a heated pool overlooking the bay, a cabana with a kitchen, and a 3,000-square-foot guest house. A drive-through lower level in the main house can hold up to 18 cars, and attached garages fit 10 more.
More pictures below.