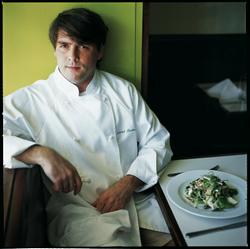 There was no "going-out-of-business" plan in mind for Dahlia chef/owner David Scribner. But two weeks ago, the DC native closed the doors to his Spring Valley dining room (4849 Massachusetts Ave., NW) and decided it was time to re-focus his energies on a new idea for the space. He hopes to combine aspects of neighborhood-friendly Dahlia with Jetties, the sandwich shop he co-owns in the Palisades.
"This won't be another Jetties," Scribner promises. But since the casual, eating-on-picnic-benches vibe has clearly worked at the laidback spot, where madras pants-wearing families and Georgetown students nibble on roasted turkey sandwiches, he'll definitely mimic the same easy-living feeling.
Since Scribner–who once ran the kitchens at Felix and Smith Point–is still very much in the early planning stages and still discussing details with his landlord, he can't divulge much. He says that he'll unveil the new concept with a new name, sometime "September-ish." He says he'll stay focused on the student- and family-heavy clientele that Dahlia has served, and thinks they want something low-maintenance and inexpensive, maybe pasta, pizza or sandwiches. Though he doesn't want an elementary school playground atmosphere, Scribner, a dad himself, is very amenable to a creative kids menu. No fried stuff (most moms and dads wouldn't approve) but something fun and easy like individual-sized pizzas, which were a favorite at the old Dahlia.