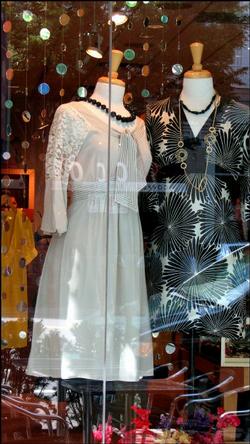 A few fabulously dressed mannequins peer out the front window of Luna boutique in Bethesda. One wears an outfit that needs no publicity. It has already been immortalized on thousands of Web sites and on television.
When Paris Hilton needed a demure look for her first postjail TV appearance, she chose this simple beige BCBG dress with lacy sleeves. Now it now can be yours—for $338.
Luna ordered the outfit long before Hilton's Larry King Live interview, and it arrived in the store shortly thereafter, says manager Rachel Presley.
But apparently the Hilton connection doesn't matter much around Washington, seeing as the dress hasn't sold particularly well.
"It's sold just as I would expect a $300 longer-sleeve dress to sell in July," Presley says. "It's more of a fall dress."
This isn't the first time Luna has had celeb clothes in stock. Right now there's a low-cut satiny blue top by Rory Beca that Britney Spears recently sported in US Weekly. Several 15- and 16-year-olds have bought it.
A few people have commented on the Hilton dress, says sales associate Claire Durante: "I had people try it on just to see what it looked like—what it would feel like to be Paris Hilton—but they didn't buy it."
BCBG is one of the best-selling lines at Luna. As of this morning, there were five Paris Hilton dresses still in the store. So if you want to feel like an heiress who gives infuriatingly evasive interviews, you've still got a shot.
Or forget about Paris. "The dress is classic and pretty," Presley says, "and the price point is good."
Luna, 7232 Woodmont Ave., Bethesda; 301-656-1111.