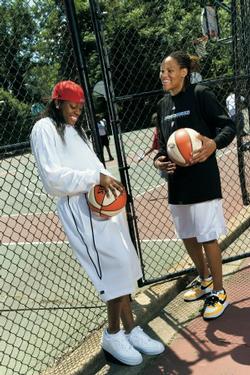 Just before halftime, in a game against the New York Liberty, Mystics guard Nikki Teasley takes off after a rebound. In one fluid motion, she darts past her defender and launches the ball from behind the half-court line. It arches high and through the hoop for a three-pointer as the buzzer blares.
Teasley's flashy style of basketball might confound WNBA defenders, but to Mystics forward Monique Currie, the origins of her teammate's moves are obvious.
"You know another city player when you see one," Currie says. "It's in the way they carry themselves. It's the way they handle the ball, like Nikki does."
For both players—two of the best ever to come out of the Washington area—their obsession with basketball was born on DC blacktops in pickup games.
Currie, 24, skinned her knees on the outdoor courts at Fort Stevens. She was a star at the Bullis School—scoring 46 points against Georgetown Visitation her senior year and winning Ms. Basketball honors in Maryland three years straight.
At Duke University, she became the first player in ACC history to post 2,000 points, 800 rebounds, 400 assists, and 200 steals.
Teasley, 28, followed a similar road back to Washington, with a few detours.
As a girl, she used a pipe for a goal in a church parking lot in Anacostia—but when gunfire shattered the windows of her family's apartment, her mother moved them to Frederick to live with Teasley's aunt.
At St. John's at Prospect Hall, Teasley's no-look passes, acrobatic ball handling, and clutch shooting earned her a 1997 High School Player of the Year award. The following year, at the University of North Carolina, she helped lead the Tar Heels to an ACC championship.
In her junior year at UNC, Teasley began suffering from severe depression. Her coaches encouraged her to take a break, and she moved back to Frederick, working a construction job to clear her mind.
That spring she returned to Chapel Hill, where she went to therapy. Her senior year she broke UNC records for career assists and three-pointers.
As a WNBA rookie, she hit a three as time expired to give the LA Sparks their second WNBA championship. She was traded to the Mystics in 2006.
"It's a dream come true to play in front of my home crowd," Teasley says.
Her return has been a homecoming marred by tough breaks. This season the team began with eight straight losses.
The team's struggles led general manager Linda Hargrove, three games into the season, to trade for Currie, one of the league's best young scorers. In the Mystics' first win of the season, against the Phoenix Mercury, Currie scored a game-high 25 points.
Currie's father, who works for Giant Food, jumped up and down in a seat behind the Mystics bench. He used to take his daughter to Mystics games; afterward, Currie, in her oversize jersey, would wait at the players' exit to catch a glimpse of Chamique Holdsclaw and other stars.
After the Phoenix game, young girls waited to catch a glimpse of Currie.
"We want the girls in DC to know," Teas­ley says, "that if you work hard and make sacrifices, this can happen to you."