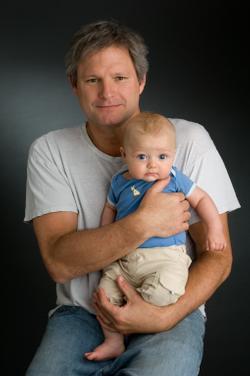 James Kegley photographed premier distance swimmer Kate Ziegler for the August Washingtonian. This was his second time working with Ziegler; for the June 2004 story "Chasing the Gold," about Olympic hopefuls, he spent time with Ziegler and her coach, Ray Benecki.
At that 2004 session, Ziegler struck him as a sweet young girl. Kate today is still sweet, Kegley says, but she's "clearly in control of her destiny with the focus that high achievers in the sport possess."
Kegley was a swimmer in high school and college at Indiana University, where his coach was the legendary James "Doc" Counsilman, who sent 60 swimmers to the Olympics. As a high-schooler, Kegley once ranked fourth in the world in the 1,500-meter freestyle. He swam that event in the 1976 Olympic Trials, finishing 13th, not high enough to qualify.
When Kegley first photographed Ziegler, she was a few months away from her first Olympic trials. Benecki asked Kegley to talk with her about the experience.
Kegley told Ziegler, who was 16 at the time, that she shouldn't count herself out: "A lot of people come out of nowhere and make the team."
Ziegler didn't make the team, finishing fourth in the 800-meter freestyle. But she's the swimmer to beat in that event at the 2008 trials next summer in Omaha.
See Kegley's photos of Ziegler from 2004 and 2008 below. To see more of Kegley's work, go to www.jameskegley.com. He lives in Washington with his wife, Lindsay Moran, a writer and regular Washingtonian contributor who wrote the 2004 Olympics hopefuls story, and their son, Shep, who's seven months old.
To see the photo gallery, please click here.