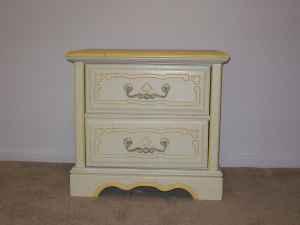 This painted yellow kids' bedroom set is a good deal. Four pieces—a dresser, desk, chair, and nightstand—are going for $100.
More good finds:
• Oak dining room set for $1,000
• Two contemporary bar stools for $30
• Mahogany dresser for $200
• Coffee table from Ethan Allen for $120
• Two candle holders and candles from Pottery Barn for $36
• Pine dry sink for $400
Thanks, Craigslist!