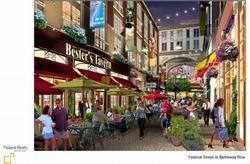 Three Georgetown retailers are setting up shop on "Festival Street," an extension of the popular Bethesda Row collection of restaurants and boutiques. Argentinian gelato shop Dolcezza, clothing boutique Urban Chic, and Le Pain Quotidien—a bakery chain that plans to open its first local outpost in Georgetown soon—will open in Bethesda early next year.
The shops are part of a new mixed-use development on the corner of Arlington Road and Bethesda Avenue that will also house a wine bar from the owners of Sonoma on Capitol Hill; the area's fifth Lebanese Taverna; a Blue Mercury cosmetics store; and Lucy Activewear, a national chain that sells women's athletic clothing and accessories. Above the retail level is Upstairs at Bethesda Row, more than 100 one- and two-bedroom apartments.
Looks like Bethesda is giving downtown DC a run for its money.