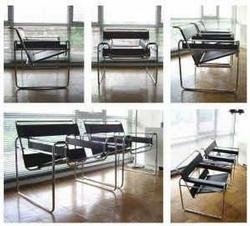 This pair of Wassily chairs is going for $600. Originally designed by Marcel Breuer in 1925, the Wassily chair has become an iconic symbol of the Modernist movement, and like many similar designs, has been mass-produced since the 1960s. Although it's unclear whether these leather armchairs are replicas or the real thing, they are still a good find.
More cool stuff:
• Antique oak baker's cabinet for $400
• 19th Century Victorian sofa for $1,450
• End table with magazine storage for $45
• Antique iron bed for $200
• End table from Ethan Allen for $25
• Dining room table with six chairs and table leaf for $500
Thanks, Craigslist!